Last offseason the Yankees remade almost their entire bullpen. In fact, the only reliever who was in both the 2014 and 2015 Opening Day bullpens was Dellin Betances. Everyone else had been replaced. (Adam Warren was another bullpen holdover, but he moved into the rotation.) Bullpen turnover is not uncommon and the Yankees went through a lot of it last winter.
One of the new bullpen additions was right-hander David Carpenter, who came over from the Braves with Chasen Shreve in the Manny Banuelos trade. Carpenter had been one of Craig Kimbrel's primary setup men in recent years and was expected to fill a similar role in 2015. Fellow righty Andrew Bailey also re-upped with the Yankees last winter as he continued to rehab from shoulder surgery. Neither player contributed much this season.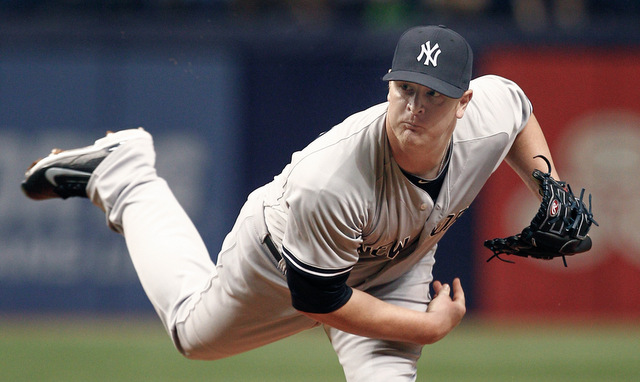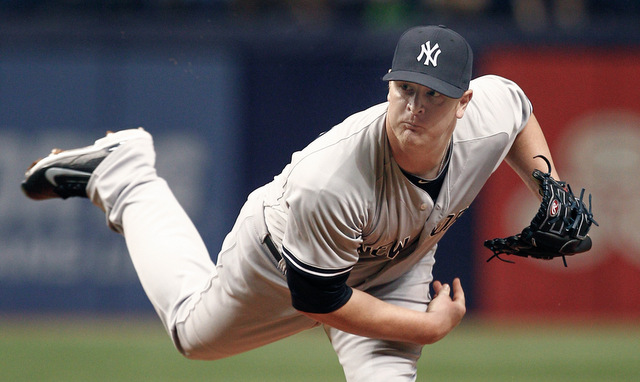 When Good Relievers Go Bad
From 2013-14, Carpenter pitched to a 2.63 ERA (2.88 FIP) in 126.2 innings for Atlanta. He missed bats (27.4 K%), he limited walks (7.0 BB%), and he threw hard (95.3 mph). Carpenter was pretty much everything the Yankees look for in a reliever. That he came with three years of team control as an arbitration-eligible player was icing on the cake.
Carpenter never did come close to repeating that success with the Yankees. After starting the year with four mostly low-leverage appearances — because the Yankees lost a lot the first week of the season — Carpenter was asked to protect a one-run lead in the sixth inning against the Orioles on April 15th. He gave up a game-tying home run on his second pitch and was ultimately charged with three runs in one-third of an inning.
Just like that, Carpenter fell out of the Circle of Trust™. Joe Girardi had Andrew Miller and Betances in the late innings, and both Shreve and Justin Wilson were pitching well, so Carpenter was relegated to very low-leverage work. Here are the game situations when he entered his next ten appearances following the meltdown in Baltimore:
eighth inning, Yankees up nine
eighth inning up nine
seventh inning up two
seventh inning tied
eighth inning up three
nine inning up six
sixth inning down four
eighth inning up five
sixth inning up five
sixth inning down three
Not many important innings in there. Even in that third appearance, when he entered with the Yankees up two in the seventh, Carpenter was only asked to get one out. Carpenter allowed eight runs (seven earned) on ten hits and three walks in 6.2 innings spanning seven appearances in mid-May, at which point he had really fallen out of favor.
The Yankees didn't want to cut Carpenter loose so early in the season — after all, he was pretty good from 2013-14 and they controlled him through 2017 — so they stuck with him. Girardi gave Carpenter plenty of work too. He appeared in nine of 17 games at one point in late-May/early-June. The Yankees kept running him out there hoping something would click.
The final straw came on June 2nd, when Carpenter was brought into the sixth inning of a tie game against the Mariners. Seattle had runners at the corners with two outs, and all Carpenter had to do was retire Austin Jackson, who ultimately hit .259/.299/.358 (83 wRC+) against righties in 2015. Carpenter got ahead in the count 1-2 but couldn't put Jackson away, eventually allowing a go-ahead double.
The Yankees designated Carpenter for assignment the next day, opting to keep Jacob Lindgren on the roster when Masahiro Tanaka came off the DL. Carpenter finished his stint in pinstripes with a 4.82 ERA (5.33 FIP) in 18.2 innings. He also allowed four of nine inherited runners to score. His strikeout rate (13.4%) was way down even though
his velocity was mostly fine
. Rather than factor into the end-game equation, Carpenter was a big liability for the 2015 Yankees.
A few days later the Yankees flipped Carpenter to the Nationals for infield prospect Tony Renda. Carpenter allowed one run in six innings across eight appearances for Washington before landing on the DL with a sore shoulder. He didn't pitch again the rest of the season and the Nats outrighted him off the 40-man roster a few weeks ago. Carpenter elected free agency and recently signed a minor league deal with the Braves. Relievers, man.
The Return of Bailey
Over the last few years the Yankees have rolled the dice on injured relievers, rehabbing them to health while hoping they'd contribute down the line. They did this with Matt Daley and David Aardsma, though neither paid dividends. They tried it again with former All-Star Andrew Bailey.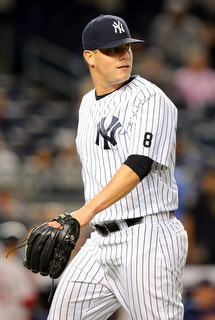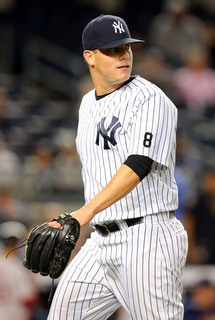 The Yankees first signed Bailey to a minor league contract last offseason that included a club option for 2015 worth $2M or so. He never did pitch last year as he rehabbed from shoulder capsule surgery — Bailey suffered a few setbacks — so the Yankees declined the option and signed Bailey to a new minor league contract. This one included a $2.5M club option for 2016.
Bailey's rehab progressed nicely, enough that he was able to pitch in Spring Training. He allowed four runs in 5.2 innings, but while the results stunk, the important thing is Bailey was healthy and actually pitching. It was progress. The Yankees had Bailey stay behind in Tampa to continue working his way back after Grapefruit League play ended. He made six appearances with High-A Tampa in April before suffering another setback.
It wasn't until late-June that Bailey was healthy enough to pitch again. The Yankees took it very slow with him and let him climb the minor league ladder gradually. After some tune-up appearances in Tampa, Bailey spent a month with Double-A Trenton then another month with Triple-A Scranton. He finished the season with a 1.80 ERA (2.87 FIP) in 35 minor league innings.
The Yankees put Bailey through the grinder immediately before calling him up. They had him work back-to-back days, multiple innings, enter in the middle of an inning … the works. They really tested him with the RailRiders before bringing him up when rosters expanded. Bailey passed every test and joined the team in September. He made his first MLB appearance since 2013 on September 2nd, allowing a run on a hit and two walks in one-third of an inning against the Red Sox.
Bailey threw 12 strikes with his 22 pitches that afternoon and looked pretty amped up. I can't say I blame him. Girardi continued to pick his spots with Bailey — remember, the Yankees were trying desperately to stay in the AL East race and later clinch a wildcard spot — which is why he entered eight of his ten appearances with the Yankees trailing. The other two where his first game (Yankees up by nine) and his ninth game (11th inning of a tie game).
With the bullpen taxed and the Yankees barely hanging on in the AL East race, Girardi turned to Bailey with the Yankees trailing by one in the seventh inning against the Blue Jays on September 23rd. It was a game they basically had to win to stay in the division race. Instead of keeping it close, Bailey served up a three-run home run to Russell Martin that all but crushed New York's AL East hopes.
Bailey's month in pinstripes featured a 5.19 ERA (6.48 FIP) in ten appearances and 8.2 innings. He also allowed three unearned runs (so eight runs total in 8.2 innings) and two of six inherited runners to score. Bailey had nearly as many walks (five) as strikeouts (six) despite a healthy 12.0% swing-and-miss rate. The Yankees really could have used another reliable bullpener down the stretch and Bailey had the pedigree, but it didn't happen.
As expected, the Yankees declined Bailey's $2.5M option after the season. They could have held on to him as an arbitration-eligible player, but instead outrighted him off the 40-man roster because space is tight. Bailey elected free agency rather than accept the assignment, and he is currently a free agent. Like Daley and Aardsma, the Yankees didn't invest much in Bailey, but they didn't get much of a return either.