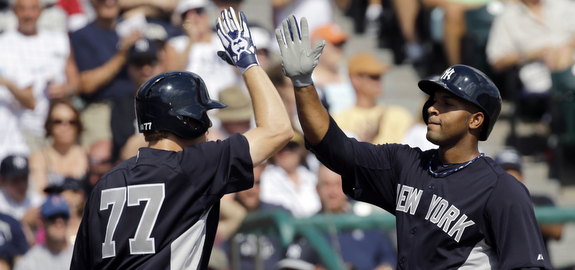 The Yankees beat the Braves in their first game of the Grapefruit League season this afternoon. David Phelps allowed three singles in two scoreless innings and was the only projected big leaguer to pitch. Robinson Cano reached base in each of his three at-bats, twice on errors and once on a solo homer to left. Juan Rivera (1-for-2, 1 BB) took the early lead in the right-handed outfield bat competition over Matt Diaz (0-for-3, 2 K), plus Zoilo Almonte hit an opposite field two-run homer off Jordan Walden. He also threw a runner out at third from right field and is the early favorite for Spring Training MVP.
Frankie Cervelli got the catching competition underway by going 0-for-2 with a walk, though apparently he had a base hit taken away on a diving stop by shortstop Andrelton Simmons. Cervelli also threw a runner out trying to steal second. Austin Romine took over in the sixth and plated two runs with a two-out, bases loaded single in his first at-bat. He grounded out to third in his other at-bat. Can't believe this catching thing is really happening. Anyway, here's the box score and here's the rest from Florida…
As always, Chad Jennings has the workouts assignments for everyone who didn't travel for the game. Joba Chamberlain threw a simulated game while Boone Logan threw a side session. The club is taking it slow the left-hander (and his elbow), and I believe this was his first time on a mound this spring.
Derek Jeter (ankle) continued to ramp up his workouts by doing agility drills and running with teammates for the first time. Hooray for that. [Erik Boland]
Phil Hughes (bulging disk) finished his round of anti-inflammatory medication and plans to begin working out in a pool tomorrow. He's still a ways off from picking up a baseball. [Andy McCullough]
Right-handed relief prospect Nick Goody is on crutches with a sprained right ankle. Apparently he got hurt in a car accident and will be shutdown for a while. That stinks. [Jennings]
Right-hander Adam Warren will start tomorrow's exhibition home opener against the Blue Jays, which will be on television (1pm ET on YES). It'll be interesting to see whether Brett Gardner or Curtis Granderson plays center field.
Here is your open thread for the evening. The Rangers and Islanders are both playing, but talk about whatever you like here. Enjoy.