I want to thank everyone for being such great followers, fans and readers during this incredible season. It's been a wild and crazy ride, and your loyal support has meant so much to me and the rest of the RAB crew. The Chase for 28 begins today. #Lovethisteam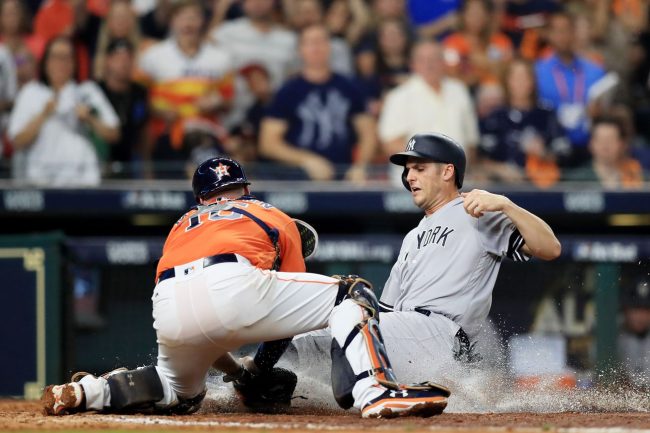 Trouble in Texas
Riding a huge wave of momentum following their epic comeback against the Indians, the Yankees flat-lined in the ALCS opener, losing 2-1 and digging themselves into an early series hole yet again. They were flummoxed by Dallas Keuchel, who also made a little history along the way:
He is the fourth pitcher to hold the Yankees without a run and strike out at least 10 guys in a postseason game, joining Cliff Lee (2010 ALCS), Randy Johnson (2001 World Series) and Pedro Martinez (1999 ALCS)
Combined with his 2015 Wild Card Game masterpiece (6 innings, 0 runs, 7 strikeouts), Keuchel is the first pitcher ever to strike out at least seven guys and allow no runs in back-to-back playoff starts against the Yankees
The Yankees wasted their one big scoring opportunity in the fifth inning when Aaron Judge laced a single into left field and Greg Bird was thrown out at home plate trying to score from second. We'll let Bird explain the play in his own words: "I'm too slow," Bird told reporters after the game. "Wish I was a little faster. That's baseball."
Hard to argue with that analysis. Bird is the second-slowest Yankee according to Statcast's Sprint Speed metric, ahead of only Chase Headley. Bird tried to make up for his rally-killing blunder with a two-out solo homer in ninth that trimmed the deficit to 2-1. The 399-foot drive was notable because, with the Yankees down to their last out, he saved them from being blanked and produced our first Obscure Yankeemetric of the Series:
The last Yankee to hit a postseason homer with two outs in the ninth to prevent a shutout was … yeah, you guessed it … Scott Brosius in Game 5 of the 2001 World Series. Of course, Brosius also had Jorge Posada on second base at the time, and the outcome was much much different.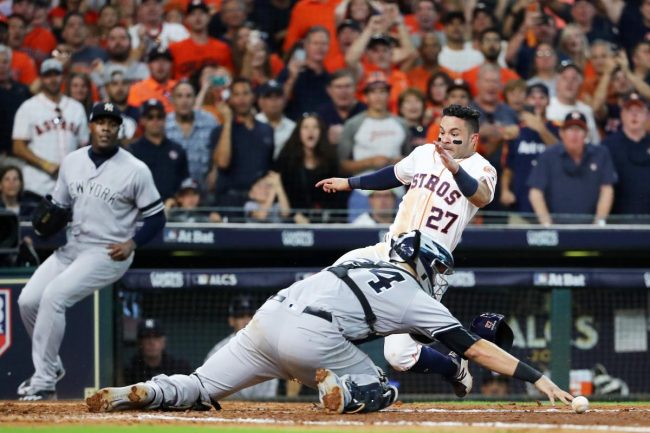 Deja vu in Texas
More heartbreak, more losses for the Yankees on Saturday as they dropped a second straight excruciating game by the score of 2-1, this time via Carlos Correa's game-ending double, and put themselves in yet another 0-2 series hole.
It was their second walk-off loss in October, making this only the second postseason in franchise history they've dropped two games in walk-off fashion. The other year was 2004.
What makes the two-games-to-nil deficit so crushing – and historic – is the double-whammy effect of losing two close contests while getting outstanding pitching in both matchups. Only one other team in postseason history lost each of its first two games of any series by one run while giving up no more than two runs in each game. In the 1950 World Series, the Phillies lost by scores of 1-0 and 2-1 Games 1 and 2 to the Yankees, who eventually finished them off in a sweep.
They were dominated again by an Astros starter, as Justin Verlander tossed a masterful 13-strikeout complete game while giving up one run. Only four other pitchers have gone the distance while striking out at least 13 Yankees in the postseason: Hall of Famers Sandy Koufax (1963 World Series) and Bob Gibson (1964 World Series), plus Dodgers righthander Carl Erskine in the 1953 World Series.
Combined with Keuchel's 10-strikeout gem in Game 1, they are the first set of teammates with back-to-back double-digit strikeout games against the Yankees in a playoff series.
One of the few Yankee highlights was Tommy Kahnle's brilliant and near-perfect two-inning performance. Coming off his ALDS Game 4 outing when he retired all six batters faced, Kahnle joined Mariano Rivera (1996, 2003) and Goose Gossage (1978) as the only Yankees with back-to-back postseason games of at least two hitless innings pitched.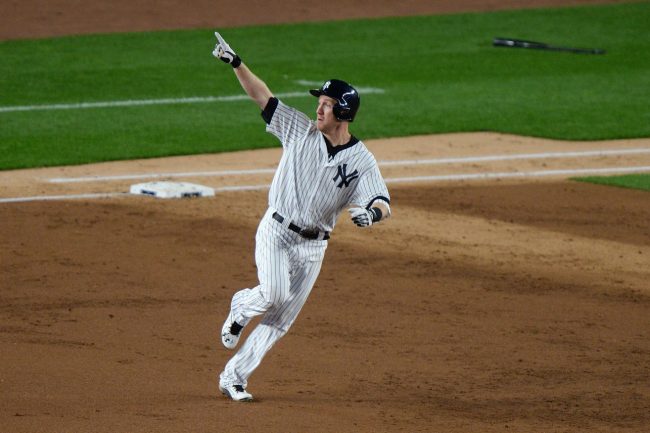 Home sweet home
A return to the Bronx was the perfect elixir for the ice-cold Yankee bats, which broke out of their mini-slump in a 8-1 blowout Game 3 win. More importantly, the victory snapped a miserable seven-game losing streak in ALCS contests, which was the second-longest in MLB postseason history, and trailed only a 10-game slide by the Red Sox from 1988-1999.
Todd Frazier ignited the offensive outburst in the second inning when he golfed a 95-mph fastball at his shins into the right-field seats for his first career postseason homer. While it is remarkable that the homer left his bat at 100 mph and went an estimated 365 feet, the fact that it found the seats was nearly as shocking:
Per Statcast data, a batted ball with an exit velocity of 100 mph a and launch angle of 21 degrees produces a homer just six percent of the time. And per Hittrackeronline.net, given weather conditions of 70 degrees and no wind, the hit would have cleared the fences in only one ballpark.
So let's give Frazier a nice #FunFact shout-out for that improbable blast: he is the first Yankee third baseman to homer with at least two men on base in a postseason game since … Scott Brosius' three-run, go-ahead homer off Trevor Hoffman in the eighth inning of Game 3 of the 1998 World Series.
Aaron Judge capped off the offensive fireworks with a screaming liner over the left-field fence in the fourth inning that plated three runs to make it 8-0. The only other time the Yankees hit multiple three-run homers in a postseason game was when Lou Piniella and Graig Nettles each did it in Game 2 of the 1981 ALCS against the A's.
Perhaps no player on the Yankees has personified their Fighting Spirit more than CC Sabathia, who delivered yet another vintage clutch performance. He tossed six shutout innings – amazingly, his first career scoreless postseason outing – and bolstered his season-long reputation as The Stopper: Sabathia improved to 10-0 with a 1.69 ERA in 13 starts following a Yankee loss in 2017.
At the age of 37, Sabathia has thrived by working the edges of the zone and generating tons of weak contact. Among starters (min. 300 batted balls), no pitcher had a lower opponent average exit velocity than Sabathia (83.9 mph) during the regular season and his soft-contact rate was the fifth-highest (min. 140 IP). He used that formula on Monday, too, with an average exit velocity allowed of 73.7 mph, the lowest by any starter in a postseason game since Statcast began tracking the data in 2015.
With this latest dominant outing, Sabathia also extended his playoff run of stingy pitching in front of the hometown crowd. He has a 1.61 ERA in seven postseason starts at Yankee Stadium, with two earned runs or fewer in each of those games. The only other Yankee pitcher that can match his streak of seven straight postseason starts at home and no more than two earned runs allowed is Whitey Ford.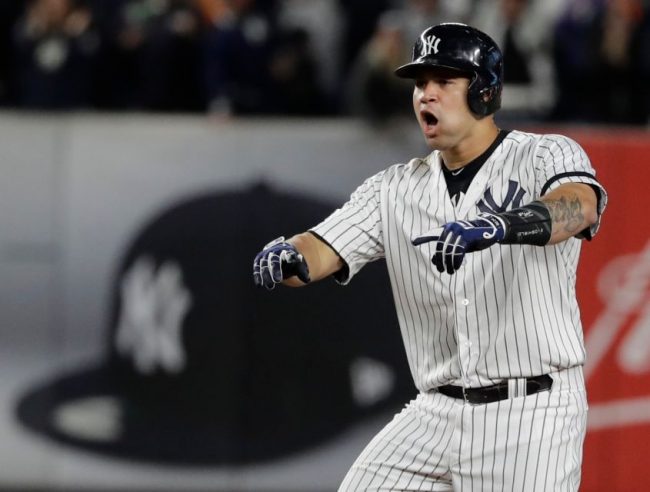 Bedlam in the Bronx
The Comeback Kings struck again on Tuesday night as this never-say-die, no-quit team staged yet another stunning late-game rally to beat the Astros 6-4 in a Game 4 thriller. Down 4-0 with nine outs to go? No problem!
This was the Yankees first postseason win in the Bronx when trailing by at least four runs since Game 7 of the 2003 ALCS. They've also made a habit of overcoming big deficits in the postseason, regardless of venue. Since the start of 2009, their five playoff wins when trailing by at least three runs at any point in the game are the most of any team in that span.
The unbelievable comeback wouldn't have been possible without a dazzling performance on the mound by Sonny Gray. He was charged with two runs (one earned) and held the Astros to one hit before hitting the showers in the sixth, yet he got stuck with a no-decision because the Yankee bats were lifeless through the first six frames. Gray has now thrown 21 1/3 innings in the playoffs over four starts and received exactly zero runs of support while in the game.
Let's get back to the incredible rally, which was sparked by a solo homer from Aaron Judge in the seventh. He drilled a first-pitch curveball 427 feet into Monument Park, an impressive feat given his struggles against curves this postseason. Since the start of the Division Series and prior to the home run, Judge had seen 57 curveballs, and hit none of them in fair territory. This is how it broke down:
29 called balls
14 called strikes
14 swings
12 whiffs
2 fouls
Judge later added to his growing October Legend with a game-tying double – off a slider! – in the eighth inning. Let's reward Judge with another #FunFact: He's the second Yankee age 25 or younger to have consecutive playoff games with at least one homer and two RBI. The other is a fella named Lou Gehrig, who did it in the 1928 World Series.
Finally, Gary Sanchez went from Goat to Hero with one swing of the bat when he smoked a go-ahead double into the right-centerfield gap for a 6-4 lead. Before that clutch hit, Sanchez was 0-for-13 in the series and hitless in his last 18 at-bats, the longest drought without a hit of his major-league career.
El Gary earns our Obscure Yankeemetric of the Series for his game-winning heroics. Only three other Yankees have hit a tie-breaking double in the eighth inning or later of a postseason game: Thurman Munson (1977 World Series Game 1), Tino Martinez (1996 ALCS Game 3) and Alex Rodriguez (2009 World Series Game 4).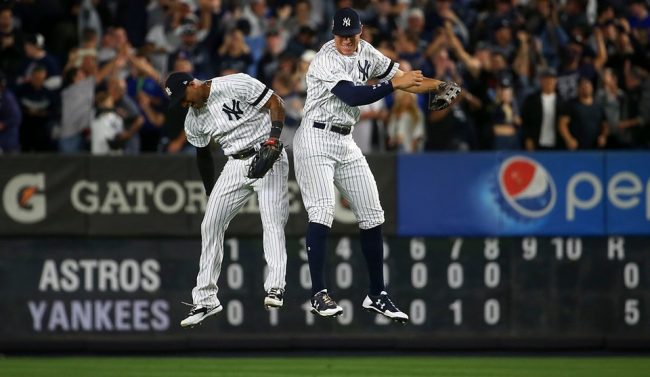 Masterful Masahiro
The Yankees continued their magical October run in the Bronx with a drama-free 5-0 win over the Astros in Game 5.
They pummeled ex-Yankee-killer and former postseason ace Dallas Keuchel, who entered the game with the lowest career ERA (1.09) against the Yankees of any pitcher in baseball history (min. 50 IP) and the lowest postseason career ERA (1.69) of any active starter (min. 25 IP). He no longer holds those titles after getting battered on Wednesday by the unstoppable Bronx Bomber bats.
Gary Sanchez led the way with two run-scoring hits, an RBI single in the fifth and a solo blast in the seventh. That homer was his third of the postseason, as he matched two of his fellow Baby Bombers (Greg Bird and Aaron Judge) and Didi Gregorius for the team lead.
The Yankees are the first team in major-league history to have three players age 25 or younger hit at least three home runs in the same postseason. And this is the first postseason in Yankees history they've had four players – of any age – with three-plus homers.
Aaron Judge drilled a double down the left-field line in the third inning to score Brett Gardner for his team-leading 10th RBI of the playoffs. He joined a 25-year-old Manny Ramirez in 1997 as the youngest corner outfielders to drive in at least 10 runs within a postseason.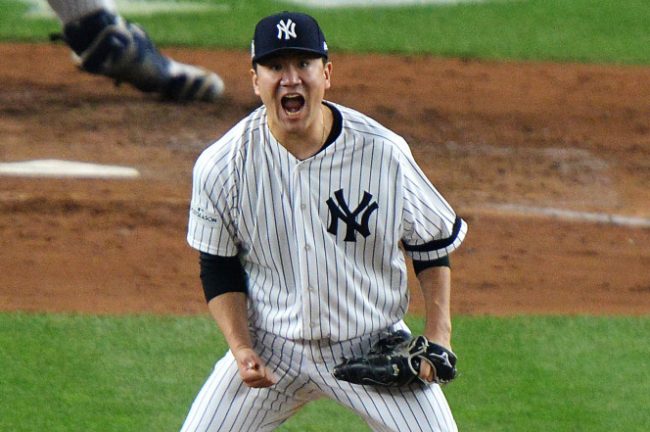 The true superstar of the game was the Yankees latest ace on the mound, Masahiro Tanaka. He dialed up another gem, blanking the Astros over seven brilliant innings while scattering three hits and striking out eight. Combined with his nearly identical effort in Game 1 of the Division Series, Tanaka joined Roger Clemens (2000) as the only Yankees with multiple starts of at least seven scoreless innings and three hits or fewer allowed in the same postseason.
Tanaka has put together a stellar postseason resume with a 1.44 ERA and 0.80 WHIP in four career starts. Most impressively, he's given up no more than two runs and no more than four hits in each of those games. The only other pitcher in baseball history that can match Tanaka's dominance – two or fewer runs and four or fewer hits allowed – in each of his first four postseason starts was Blue Moon Odom for the Oakland A's in 1972.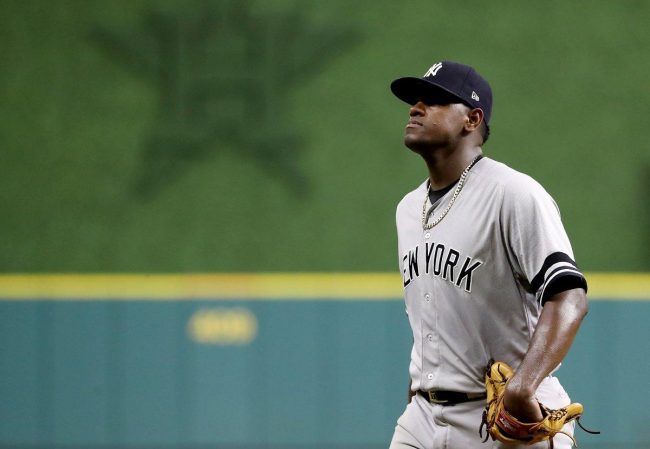 Bump in the road
The series headed south for the final two games and the Yankees found themselves in trouble again deep in the heart of Texas.
They lost 7-1 in Game 6, tied for their second-largest loss in a potential clinching game on the road …. and you probably want to forget the largest (a 15-2 blowout in Game 6 of 2001 World Series in Arizona). Making the loss even more miserable was the fact that the Astros were winless in their five previous playoff games at home when facing elimination.
The Astros bats exploded for seven runs on eight hits against the normally tough Yankees pitching staff, which had actually been on an incredible run dating back to the middle of the Division Series. They'd held the Indians and Astros to no more than six hits in eight straight games from ALDS Game 3 through ALCS Game 5, the longest such streak by any team in MLB postseason history.
Still, they could have nearly pitched a perfect game and it wouldn't have mattered given how dominant Justin Verlander was once again with his team on the brink of a long winter. He tossed seven scoreless innings with eight strikeouts, racking up a bunch of notable feats:
First player in major-league history to pitch three consecutive scoreless starts of seven-plus innings with his team facing postseason elimination.
Third straight playoff start against the Yankees giving up no more than one run (dating back to 2012 ALCS Game 3), the only pitcher ever to have a streak like that against the Yankees in October.
Combined with his 13-strikeout performance in Game 2, he is the fourth pitcher to strike out at least 20 Yankees in a single postseason series. Bob Gibson (31, 1964 World Series), Curt Schilling (26, 2001 World Series) and Sandy Koufax (23, 1963 World Series) are the others.
Aaron Judge helped the Yankees avoid the embarrassment of getting blanked with a mammoth solo blast in the eight inning, his third homer in the ALCS and fourth of the postseason. His four total dingers set the rookie franchise record for a postseason, while he joined Alex Rodriguez (2009 ALCS) and Hank Bauer (1958 World Series) as the only Yankee right-handed batters to go deep at least three times in a single playoff series.
The game turned into a rout thanks to a rare implosion by David Robertson in the eighth inning. He faced four batters, who went homer-double-single-double before he was pulled. His final line – four runs, four hits, no outs – was ugly and historic: Robertson is the only Yankee ever to cough up at least four runs and four hits while recording zero outs in a postseason game.
You can't win them all …
The Yankees magical, rollercoaster season finally came to an end thanks to a 4-0 Game 7 loss on Saturday night in Houston. Their comeback mojo expired, the Fighting Spirit went dry and this never-say-die team was unable to survive another do-or-die game. Still, what the Yankees were trying to accomplish, defying all expectations to make the World Series under the toughest circumstances, would have been such an incredible and rare feat. Consider these odds:
Only two teams have ever defeated 100-win teams in both the Division Series and League Championship Series (2001 Yankees and 1998 Padres)
The Yankees were the fifth team to play the maximum number games in the LDS and LCS in the Wild Card era — only one of those five were able to win both series (2012 Giants)
Only two teams have ever comeback from multiple 0-2 series deficits in the same postseason (1981 Dodgers, 1985 Royals), and neither of those teams faced two 100-win teams, which was the unprecedented task facing the Yankees
Ultimately, the Yankees inexplicable road/home splits sealed their fate this postseason. Saturday's blanking was the second time they were shut out in the playoffs — the other was Game 1 of the ALDS in Cleveland — making this the first postseason in franchise history they suffered two shutouts on the road. They were held to one run or fewer for the fourth straight road game, tied for the second-longest such streak in MLB postseason history, trailing only the Brooklyn Dodgers' six-gamer from 1916-20.
The Yankees somehow finished 1-6 on the road while going a perfect 6-0 at home in the playoffs. They are the fourth team ever to complete a postseason with a 6-0 or better record at home. That's good! The other three clubs (2008 Phillies, 1999 Yankees, 1987 Twins) each won the World Series. That's … less than good.
Regardless of the bittersweet ending, this season was so so much better than good.