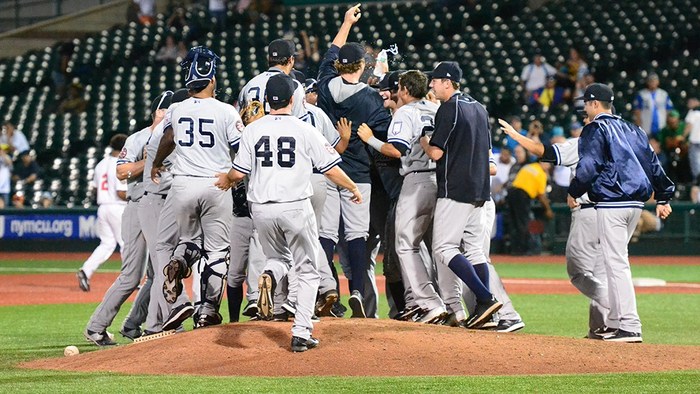 For the first time in a very long time, the Yankees relied heavily on their farm system last season. Every time a need arose, the team opted for an internal solution and rarely went outside the organization. Eighteen different players made their big league debut with the Yankees last summer. Eighteen! Some were top prospects and some were organizational fodder. All came from within.
Thanks to all those debuts and the emphasis on the farm system, four of last year's Top 30 Prospects graduated to the big leagues in 2015: Luis Severino (No. 2), Greg Bird (No. 5), John Ryan Murphy (No. 9), and Chasen Shreve (No. 26). Six other players on last year's list are no longer in the organization due to trades (Eric Jagielo, Rookie Davis, Jose Ramirez, Ramon Flores), waivers (Danny Burawa), and the Rule 5 Draft (Jake Cave). Lots and lots of turnover.
I find this very hard to believe, but this is my tenth Preseason Top 30 Prospects List here are RAB. Time flies, man. We've come a long way since the days of Humberto Sanchez and Marcos Vechionacci, haven't we? All of my previous Top 30 Lists are right here. As a reminder: I am no expert. I'm a guy who reads a lot (Baseball America, Baseball Prospectus, Keith Law, MiLB.com, etc.) and has opinions. That's all. Disagree and mock me as you please.
As for prospect eligibility, I stick with the MLB rookie limits (50 innings or 130 at-bats) with no attention paid to service time. That stuff is too difficult to track. Ranking prospects is all about balancing upside with probability, stats with scouting reports. There is no perfect mix. Everyone weighs things differently, often from player to player. This is baseball. If you're batting 1.000 when evaluating players, you aren't taking enough swings.
I changed the format of this year's Top 30 Prospects List just a bit to liven things up. Hopefully it works out well. All head shots come from MLB.com or MiLB.com, unless noted otherwise. This year's Preseason Top 30 Prospects List begins after the jump. Enjoy.
[Read more…]