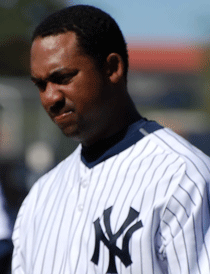 Juan Miranda
Pos: 1B
Bats: Left Throws: Left
Age, DOB: 24, 4/25/1983
AFL Stats: AVG 295 OBP 423 SLG 551 with 5 HR's and 17 RBI's
Background:
Juan Miranda played for the Cuban National Team from 2001-04, where he put together a career batting average of .303 with 27 HR's, 73 BB's while striking out only 87 times. He was used as an outfielder and first baseman in Cuba but his best tool has always been his ability to hit for power while still showing great plate discipline. He defected from Cuba in 2004, after two prior attempts, and was granted his citizenship in the Dominican Republic in 2005. After defecting, he stood firm on his contract demands and was finally able to come to terms with the Yankees when they announced his signing in December of 2006. He was signed to a four-year major league contract that was reported to be worth just over $2 million. He was immediately added to the 40-man roster and assigned to the Tampa Yankees of the Florida State League (Class A Advanced).
Miranda's first year in the minors received mixed reviews. He batted .265 with 16 HR's and 96 RBI's while splitting the year between Class A Tampa and AA Trenton. The biggest concern was the drop in his batting average and BB/K rate (52/106) but that should be expected from a player that was away from the game for nearly two years. There was also strong speculation that he's actually two years older than reported, which would make him 26yrs old if his DOB is in fact 4/25/1981, as listed on Rotowire.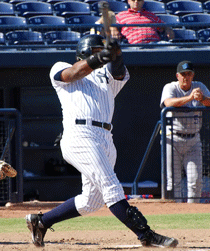 Offense:
During the AFL, Juan Miranda had an uncanny ability to hit the ball hard to any part of the field. He's primarily a pull hitter but he's shown the ability to go with a pitch when needed and has tremendous power to the opposite field. He relies mostly on powering through the ball, rather making solid contact, so I have some doubt about whether he can maintain a high average in the majors. However, he should be able make up for that with a good on-base percentage. His advanced plate discipline returned during the AFL where his BB/K rate (16/18) returned to the levels he produced in Cuba.
He uses an open batting stance and steps in with his front leg when the pitch is delivered. Early in the season, he had a tendency to let his front hip fly open a little bit early, which resulted in a lot of ground balls to the right side of the infield. He was at his best with runners are on base, which is quickly becoming his calling card in professional baseball. In those situations, he seems to make more of a concerted effort to stay back and just make good contact with the ball. I'm sure the Yankees are working with him to implement that approach in every at bat.
He received some glowing reports during the AFL but the biggest compliment may have come from Tony Franklin's (Javelinas Manager) decision to bat him in the cleanup spot in every game that he played. The AFL teams are traditionally stocked with the best hitters from each organization and the Javelinas' lineup was no different. They had a prospect laden line-up that included high profile names like the Seattle Mariners first round pick Jeff Clement (third overall in 2005), Justin Maxwell who debuted with the Nationals this year after collecting 27 HR's in the minors, as well as Matt Tuiasosopo who comes from a legendary sports family in the Pacific Northwest. But Franklin got to see what Miranda was capable of when he managed him in Trenton last season and his loyalty paid off. He was an RBI machine and was challenging for the HR and RBI lead until he was removed from the roster about a week before the season ended.
His main objective in the AFL was to get more exposure against LHP's and he did just that by facing them in over 40% of his AB's. He didn't have a good average against lefties (.152) but he didn't look over-matched (BB/K was 4/6) and he had good power numbers (1 HR, 2 doubles and 5 RBI). However, his numbers against righties were exceptional. He hit an even .400 with 4 HR's, 3 doubles 12 RBI and had a ridiculous OPS of 1.268. He's been compared to Carlos Delgado because of his power to all fields and he could be ready to share a platoon role with Shelly Duncan as early as next spring.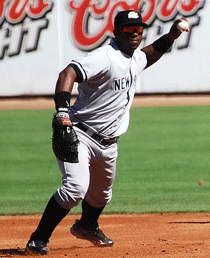 Defense:
To be honest, I didn't expect much from Miranda on defense but he turned out to be much better than expected. He was adept at keeping his body in front of the ball and knocking down the one's that he couldn't field cleanly. He even showed some decent range with a couple diving catches to his glove side before throwing the runners out at first. However, his main shortcoming was his ability to dig throws out of the dirt. There were a number of errant throws that hit the ground a few feet in front of first base and he had a lot of trouble fielding them. I wouldn't say they were easy plays by any means but it's definitely an area that could use improvement. He should be a serviceable first baseman as things stand today but he has the potential to be slightly above average if he can improve on that aspect of his game.