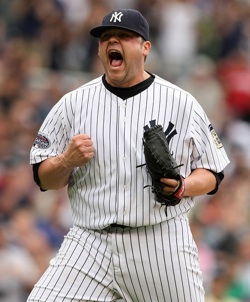 "If he wants to yell and scream after a strikeout, I guess that's what gets him going. It's May baseball. The home run was in a much bigger situation. I didn't dance and scream. If a hitter did something like that, it would be bush. It's kind of interesting how a pitcher gets away with it."
That's what Dave Dellucci whined about said to the media yesterday afternoon after the Indians lost to the Yankees. The "he" Dellucci is referring to is, of course, Joba Chamberlain. Once again, the media — and opposing players — are making mountains out of mole hills.
In the 8th inning yesterday, Joba came in with something to prove. You could see it on his face and in his body language. He was throwing the ball to get people outs, and that's what he did. When Dave Dellucci came out with two outs in the inning, everyone just knew that Joba would try to strike him out, and strike him out he did. In Joba's way, he got excited. He yelled; he pumped his first; and then he calmly walked back to the Yankee dugout.
Dellucci didn't like Joba's antics, and neither did Mike and the Mad Dog. But Joba defenders are spot on. Joe Girardi nailed the rebuttal in one regard. "That's who he is, and he's not showing anyone up," the Yanks' skipper said. "He's not looking at Dellucci, he's looking in our dugout. He's going to show some emotion. There's a lot of pitchers, when they get an out, they give a fist pump. To me, the important thing is … you're not showing someone up, and he's looking at our dugout."
Peter Abraham took that defense even farther and railed into Mike and the Mad Dog. Joba's a young and exciting player. He wears his emotion on his sleeve, and that's a-ok. Mike and the Mad Dog — and Dave Dellucci — are promoting some ridiculous ideal. Players can be excited when they succeed if, yes, it's only May and even if, yes, Dellucci's home run had a bigger impact on the game (which is an obnoxious comment to make in its own right). And if anyone doesn't think emotion comes into play, just ask Richie Sexson.
It's clear where this is going. Every time Joba does the fist pump, he'll be criticized, and when he gives up a lead and is visibly agitated, he'll get criticized. He had it coming, Chris Russo and Mike Francesca will say in a never-ending quest for attention — and ratings. That's just ridiculous, and the bluster over the first pump should — but won't — end now.
Joba pumping his first comes to us courtesy of Yahoo! Sports and Getty Images.