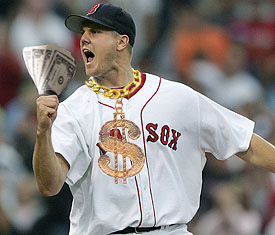 Teams and their arbitration eligible players had to exchange salary figures by today, although over thirty players (of 111 eligibles) have already agreed to deals prior to the deadline. Xavier Nady was one of those players, Ryan Howard was not. The Phillies' first baseman submitted a salary figure of $18M (!!!) despite just over four years of service time. The Phils countered with $14M, and the two sides appear headed to a February hearing. Howard has the stats – including a Rookie of the Year trophy, an MVP (not to mention a second place and fifth place finish), a World Series Title, and 153 HR & 431 RBI over the last three years – but is he really worthy of being the fifth highest paid hitter in the game today? Perhaps even more fitting, is he really deserving of $2M more in annual salary than Albert Pujols? I think the arbitrator will side with the Phils' braintrust on this one.
Elsewhere in salary arbitration land, Jonathan Papelbon agreed to $6.25M salary today, setting a new record for first year eligible relievers. The previous record was the $5.6M Bobby Jenks received just yesterday. That's a lot of moola for a pair of guys who threw just 4.8 and 4.2% of their teams' total innings last year, respectively. In case you're wondering, Mariano Rivera settled for $4.25M in his first year of arbitration.
Brian Bruney is the Yanks' only remaining arbitration-eligible player after Melky agreed to a deal worth $1.4M. Melky Cabrera. $1.4M. I've always said that Melky was a nice guy to have around as a fourth outfielder until he started making seven figures in arbitration, and now that time has come. Yikes. Bruney asked for $1.55M, the Yanks offered $1.1M. They should hammer that one out.
If you want to follow along all the arbitration madness, I suggest doing so on The Biz of Baseball's convenient tracker. DePo has a nice breakdown of the process in case you're wondering what the hell arbitration is.
Here's your open thread. The Rangers are playing their last game before the All-Star break, and if you're into American Idol, well then I suppose you already know that's on tonight too. Have fun.