Well, two games, two stinkers by the Yanks' starting pitchers. It wasn't what we all expected when the season started, but it is what it is. When I took a look at CC Sabathia's start using Pitch f/x, we found that his velocity was fine but he struggled to find a consistent release point, likely causing his command issues. The data shows something much more interesting for Chien-Ming Wang, who threw 73 pitches on the night. Just three of those pitches were sliders, seven were changeups, and the remaining 63 were some form of fastball (either sinker or four-seamer).
Let's start with the flight paths of the fastballs, his two main weapons on the night, to get them out of the way. I was too stupid to realized that not everyone had seen a Pitch f/x graph before Tuesday's post, so I labeled these a bit more clearly. First up, bird's eye view, and as always you click any graph for a larger view.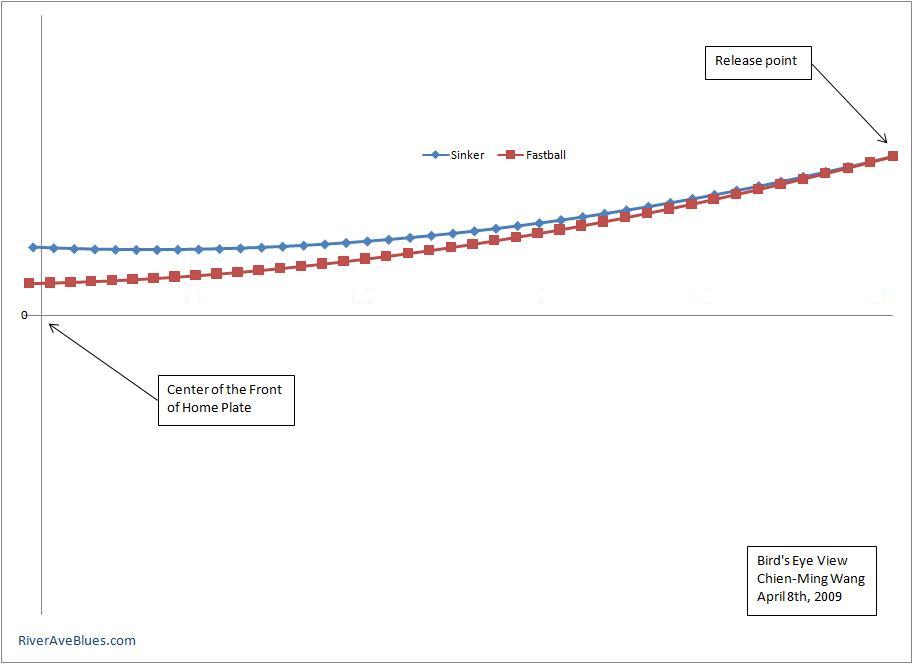 To make life easy I labeled four seam fastballs just fastballs. As you can see, the sinker has a bit more armside run than the regular old heater, which is what you'd expect. Here's the view from first base.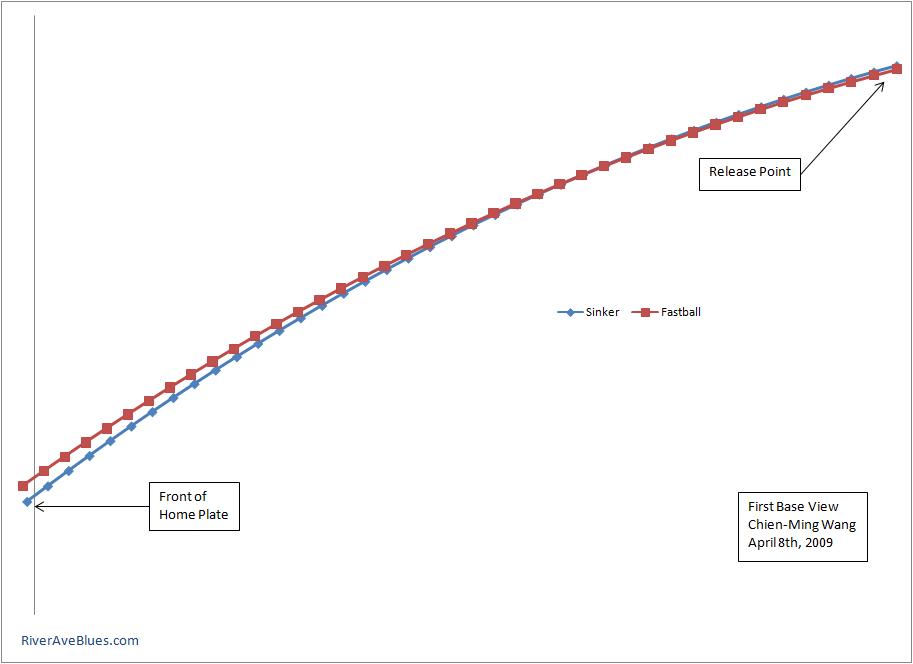 Wang's sinker was up all night, which is why the two pitches had basically the same downward plane. His two fastballs varied only in horizontal break, making the battle that much easier for the batter. Lastly, here's the view Jorge Posada had.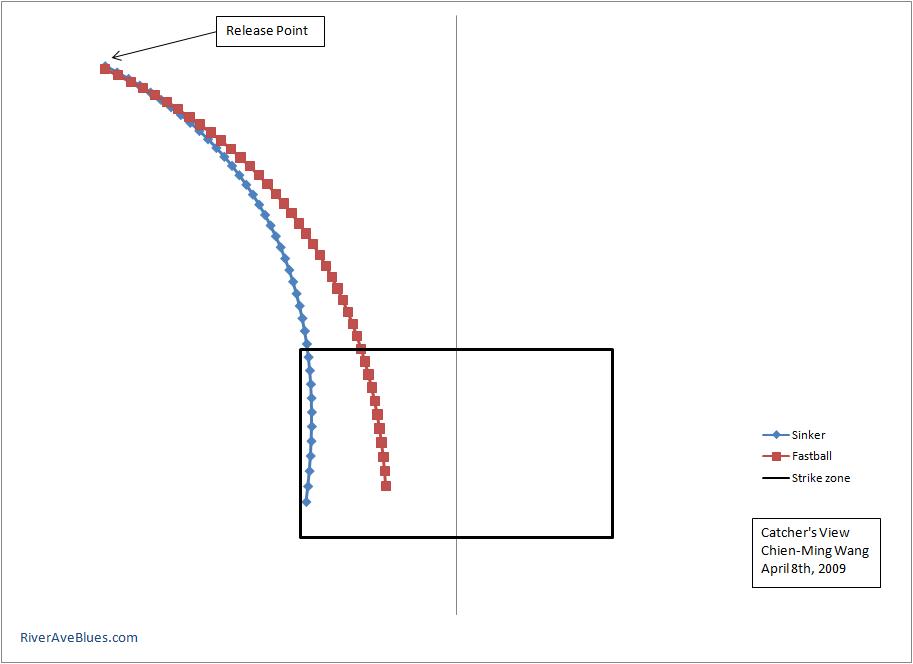 Yeah, same thing we were looking at above. The two pitches look very much alike, except the sinker runs just a bit more.
Now here's where it gets interesting. Remember how Sabathia's release point was pretty scattered, yet still in the same general area as one of his better starts from 2008? Well check this out: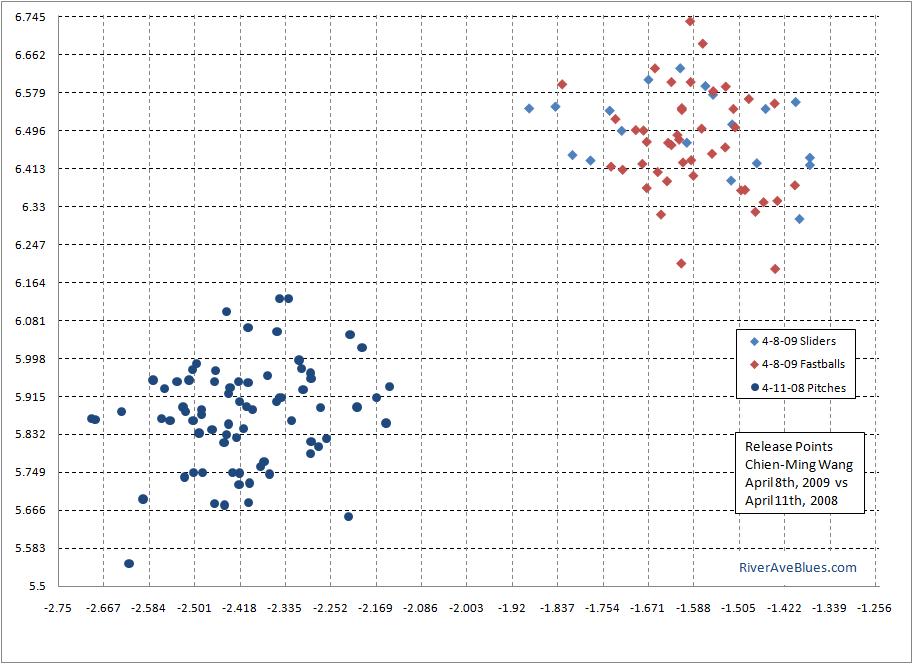 Wowza. I used Wang's complete game two hit job in Fenway last April as my basis of comparison (that's a combo of both sinkers & four-seamers to make life easy), and look at the difference. His release point is off by about a foot both vertically and horizontally (FYI, the x-axis is the distance from the center of the plate, the y-axis is the distance above the ground, both in feet, each gridline represents one inch). This explains a whole lot, because it's hard to get that sinker down with such a high release point. Now we know what the Wanger and Dave Eiland have to work on over the next four days.
And finally, the all important velocity: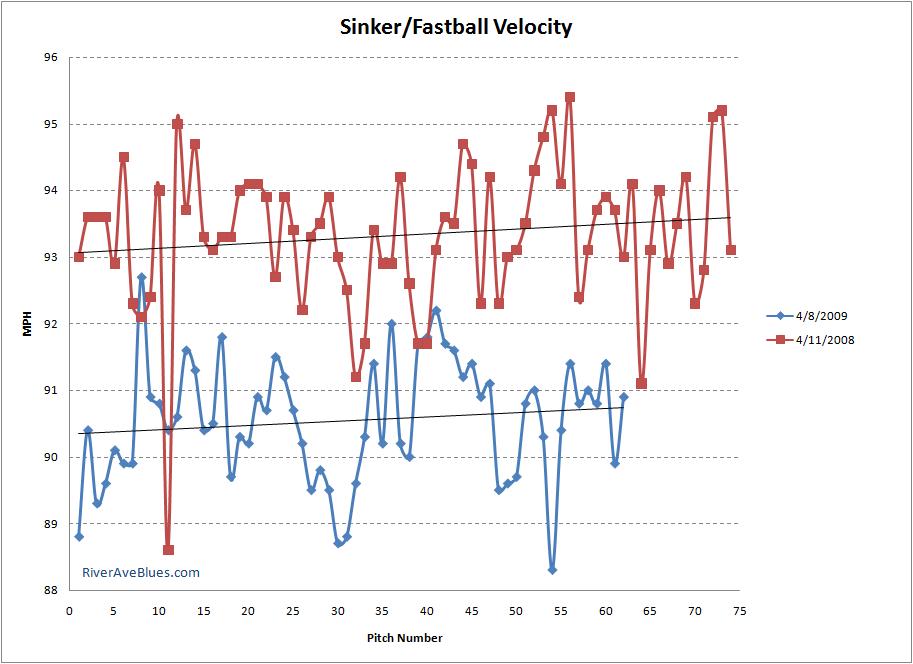 So Wang was down about three miles an hour last night, but he maintained that velocity all night. The good news is that it's extremely unlikely that there's anything physically wrong with him, because if a guy's hurting he doesn"t raise his arm slot like Wang did last night, he drops it.
Moral of the story: Wang's got some stuff to work on, just like Sabathia. Not a big deal really, and if you back away from the ledge and think about it, it's better that they get this stuff out of the way early. Should be a blast watching AJ Burnett this afternoon.