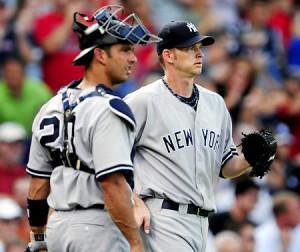 So by now you've heard all about this little problem AJ Burnett and Jorge Posada had on Saturday, and it's the early favorite for Stupid Internet Story of the Week. Howeva, if you don't know what I'm talking about, basically the two couldn't get on the same page with regards to pitch selection over the weekend and AJ got lit up like Times Square. Amazingly, small little stuff like this manages to become a big story because the team is kickin' so much ass right now that there aren't many problems to complain about. ESPN even managed to devote five whole minutes to this nonsense during the broadcast last night.
First off, just because Burnett and Posada had a problem on Saturday does not mean they have a perpetual problem. Mark Feinsand already laid out the recent success the two have shared, so I'm not going to bother regurgitating it here. Just head over and check his post out. Sure, Burnett's AVG, OBP, SLG, and OPS against are all higher with Posada behind the plate than any other catcher this year, but the sample sizes aren't meaningful. Are we really going to compare 400+ batters faced with Posada to just over 100 with Molina? Or 56 with Cervelli? Really? Why don't they just trade for Paul Bako then?
Most of the blame was hoisted on Posada's shoulders over the weekend, but he's not the guy making the pitches. Burnett has to execute, otherwise even the finest game calling in the history of the universe won't do anything. Burnett's a pretty simple pitcher, he works with a fastball and a curveball, and his stuff is plenty good enough that he can throw fastballs in fastball counts and breaking balls in breaking ball counts and still dominate. You'd think it wouldn't be hard to map out a gameplan given the need for only two signs, but apparently it is.
Here's the thing: Posada is going to catch everyday in the playoffs. Every single inning of every single game. And if he doesn't for any reason other than injury, Joe Girardi should be fired because that's like, Managing 101. Posada's arguably the best catcher in baseball (NMD) and the team is much better with him in the lineup than Jose Molina or Frankie Cervelli or Joe Girardi or Mike Stanley or pretty much anyone. And because of his, Burnett and Posada need to use the rest of the season to get on the same page.
Not to jinx it or anything, but the Yankees are all but a lock to make the playoffs at this point. Baseball Prospectus gives them a 99.72271% chance of playing in October, Cool Standings has it at 98.6%. If the team bombs and doesn't make the postseason, then they have way bigger problems than AJ Burnett and Jorge Posada not getting along. Anyway, because of this comfortable cushion, the team can afford to let Burnett and Posada work through their communication issues in AJ's eight or so remaining starts.
We're not talking about Gary Sheffield learning to play first or anything crazy like that, it's just a set of battery mates needing to improve their communication. The answer isn't separating the two for the rest of the year just to win what will probably amount to a few meaningless tack on games. If having Posada and Burnett matchup the rest of the year costs them a game at some point in September, so be it. It's something that needs to be done in order to put the team in the best position to win in October. We'll just have to deal with the noise in the meantime.
Photo Credit: Sipkin, Daily News