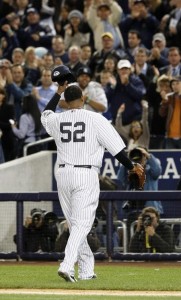 With the Yankees heading to Anaheim sporting a 2-0 series lead in the ALCS, Joe Girardi announced earlier tonight that they're going for the kill and will start CC Sabathia in Game Four on Tuesday night. It's the first time the big guy will start on three days' rest as a Yank, and naturally some fans are a bit concerned that the team may be pushing their ace too hard in a non-must win situation. That's fine, but giving the ball to Sabathia in Game Four is absolutely the right move for several reasons.
First off, starting on three days rest is nothing new to CC. You're all aware of his heroics with Milwaukee down the stretch last year, and all told he's made four starts on short rest in his career. The results? How about a .172-.230-.183 batting line against and a 1.01 ERA (1.93 FIP) in 26.2 IP? Sure, most of that was against NL lineups full of September callups, but those games were absolute must-wins for the Brew Crew, and Sabathia was certainly up to the task time and time again. He's done this before, and knows what he needs to do to prepare himself for the start.
Secondly, the reason the Yankees are comfortable doing this now is because they went out of their way during the season – particularly late in the season – to make sure they didn't overwork CC. His ALCS Game One start came on eight days' rest (because they swept the Twinkies), and his final four starts of the regular season came on at least five days' rest (and one was on six days' rest). Even counting his two postseason starts, Sabathia has thrown 8.1 fewer innings in 2009 than he did in just the regular season last year. They kept him fresh for this very reason, to ride his left arm in games that actually mean something.
Another thing to consider is that at this point, the only other option for that Game Four start is Chad Gaudin, and he last appeared in an actual game 16 days ago. For all the uncertainly surrounding Sabathia on short rest, Gaudin is just as much of a question mark right now. We saw how rusty Al Aceves was in his first inning of work Saturday night, and that was after a mere seven-day layoff. I know that Gaudin beat the Angels in Anaheim less than a month ago, but come on, it's one start. It's indicative of nothing. I think everyone in Yankee Universe would prefer Sabathia at even 80% to Gaudin at 100%.
Even if the Yankees win Game Three tomorrow afternoon and go into Tuesday's game with a commanding three games to none series lead, starting CC in Game Four is the right way to go because it guarantees that you can get two more starts out of him against a very good team in a short series. We all learned the hard way in 2004 that getting the final win of a playoff series is the hardest one, and having a pitcher like Sabathia available to start twice in final four games of a seven game series is a huge, huge advantage.
In the end, it doesn't matter what you or I think, the Yankees are going to go ahead and run Sabathia out there in Game Four hoping he can either clinch a trip to the World Series or give the team a 3-1 series lead. They've gone to great lengths to ensure he's rested and prepared for such a start, and starting Sabathia on short rest not only gives the team the best chance of winning that game, but the winning the series as well.
Photo Credit: Reuters Pictures