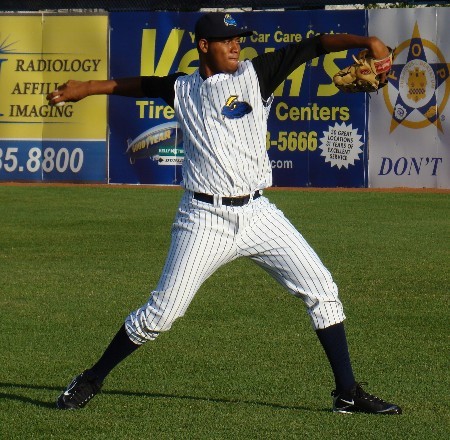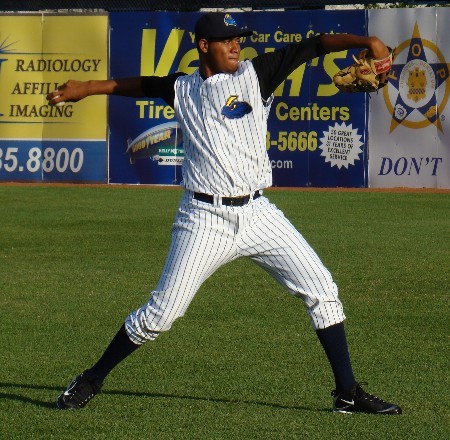 Ivan Nova | RHP
Background
Nova was born and raised in San Cristobal, Dominican Republic, which also produced notable big league pitchers Jose Rijo, Ervin Santana, and Francisco Liriano. Yankee scout Carlos Rios, who was later fired as part of the bonus skimming scandal involving Kelvin DeLeon, signed Nova as an 18-year-old in 2005.
Pro Career
After signing, Nova was assigned to the Yankees1 squad of the Dominican Summer League (they have two teams), where he put up a 38-11 K/BB ratio with a 2.29 ERA (2.76 FIP) in 39 IP over eleven games (seven starts). Nova came to the States in 2006, making ten multiple inning appearances for the rookie level Gulf Coast League Yankees as part of a tandem-starter system. He posted a 2.72 ERA (3.53 FIP) with a 36-7 K/BB ratio in 43 IP.
Following his strong showing in the GCL, the Yanks felt the 20-year-old Nova was ready for full season ball in 2007, sending him to Low-A Charleston. Working exclusively as a starter, Nova allowed 121 hits in 99.1 IP (21 starts), striking out just 54 batters against 31 walks. His ERA was a bloated 4.98, though his FIP was a much more respectable 4.10. After the season, Baseball America ranked Nova as the Yankees' 18th best prospect.
Despite Nova's pedestrian year in 2007, the Yanks bumped him up to High-A Tampa in 2008 to again work out of the rotation. In 24 starts (and two relief appearances), Nova allowed 168 hits in 148.2 IP, though he improved his strikeout rate and whiffed 109 against just 46 walks. His ERA (4.36) told one story, his FIP (3.19) another. Through two full seasons and another partial season, Nova demonstrated that he wasn't the kind of pitcher that would hurt himself, allowing just 2.6 walks and 0.59 homers for every nine innings pitched.
With no experience above A-ball and just two months until his 22nd birthday, the Yankees left Nova off their 40-man roster following the 2008 season, exposing him to the Rule 5 Draft. Liking his arm and in need of all the pitching talent they can get, the Padres selected Nova with the 20th overall selection in the Major League portion of the Rule 5 Draft, meaning he would have to be added to their 40-man roster immediately, and spend the entire season on their 25-man big league roster in order for the Padres to retain his rights. The Yankees received $50,000 as per the Rule 5 rules.
Baseball America ranked Nova as San Diego's 30th best prospect prior to the season, and he made eight appearances in Major League Spring Training with the Padres, all in relief. He worked just 8.1 innings, allowing 13 hits and 11 runs with a 3-4 K/BB ratio. San Diego placed Nova on waivers near the end of Spring Training, when it was apparent there was no spot for him on their Opening Day roster. Nova went unclaimed (the Rule 5 rules would have been transferred to his new team if he had been claimed), and was returned to the Yankees for half the original $50,000 fee.
Because he worked in relief during his brief time with the Padres, the Yanks sent Nova to Extending Spring Training to start 2009. He joined the Double-A Trenton rotation in mid-April, after he was properly stretched out. Through five starts, it looked like we were headed for a typical Nova season. He had allowed 30 hits with a 17-17 K/BB ratio in 28.1 IP, good for a 4.13 ERA (4.26 FIP). However, something clicked in mid-May, and Nova ran off a streak of seven starts in which he allowed just 35 hits with a 30-14 K/BB ratio (1.22 ERA, 3.38 FIP) in 44.1 IP.
The hot streak earned Nova a promotion to Triple-A Scranton in late June, and at first his dominance continued. He allowed just three runs in his first two starts (13.1 IP), though he ran into a bit of a wall after that. Nova remained in Scranton the rest of the season, ultimately putting up a 43-28 K/BB ratio with 72 hits allowed in 67 IP (12 starts). His 5.10 ERA was ugly, but the 3.95 FIP indicates is wasn't as bad as it seems.
Once again eligible for the Rule 5 Draft in 2009, the Yankees made sure no one else would be able to get their hands on Nova by adding him to the 40-man roster on the November 20th deadline.
Scouting Report
A big bodied righthander (6′-4″, 210 lbs) with a classic pitcher's frame, Nova works with three average pitches that have shown flashes of developing into more. He parks his fastball at 92-94 mph consistently, and he's able to drive it down into the bottom third of the strike zone to generate plenty of groundballs (career 50.6% ground rate). He backs it up with a good fading changeup, and a trademark Nardi Contreras curveball serves as his third best pitch, though it remains inconsistent. When either of his offspeed offerings is working, Nova has a legit put-away pitch. When both are working, he can be unhittable.
Nova has proven to be very durable in recent years, which stems from his fluid and easily repeatable delivery. However, that delivery is a double-edged sword. It allows him to command the ball to both sides of the plate, but at the same time he completely lacks deception, so hitters get a good look at the ball before he releases it, hence why he's allowed almost ten hits per nine innings pitched in his career. A good athlete, Nova fields his position adequately and generally does a good job holding runners.
Here's a clip of Nova throwing in the bullpen, and another of him in a game, courtesy of Mike Ashmore.
2010 Outlook
Nova will return to Triple-A Scranton to start the year, and after being added to the 40-man roster in the offseason, he'll be among the first called up whenever the big league team needs reinforcements.
My Take
Nova's always been a guy with a great arm that never seemed able to getting it all going at once, however he showed what he was capable of with Trenton this summer. However, let's not forget that in a three-plus year career, there's been just one stretch of seven starts in which Nova has started to fulfill some of his promise. His breakout in the first half of 2009 vaults him up the prospect lists because he's so close to big leagues, and he'll almost assuredly make his Major League debut in 2010 as a 23-year-old. Nova's ultimate ceiling is a mid-to-back of the rotation starter that takes the ball every five days without incident. If the manages to hide the ball a little more during his delivery, that will boost him up a notch.
Photo Credit: Mike Ashmore