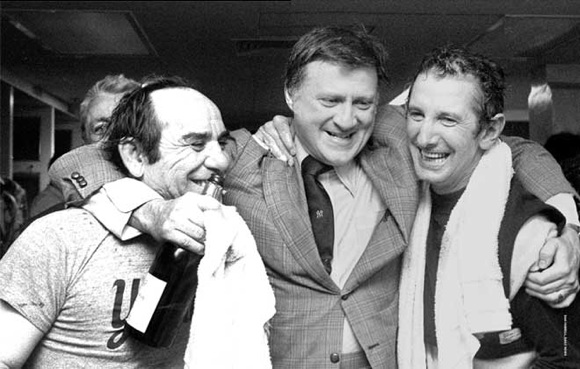 Billy Martin, right, celebrates a World Series victory with George Steinbrenner and Yogi Berra.
For Yankee fans of a certain age, Christmas Day is one tinged with sadness. On December 25, 1989, twenty years ago today, Billy Martin died in a drunk driving accident outside of Binghamton, New York. At the time, he had seemingly come to a peace with George Steinbrenner and was serving as an adviser to the Boss. He was 61 then with four World Series rings as a player and one as a manager.
Many of us don't remember Billy. We hear tales of his playing days from our parents or grandparents and were not alive for or aware of the many times he was hired and fired. Martin, though, as Moss Klein, the long-team Yankee beat writer for The Star-Ledger, writes today was one of a kind. He was combative and fiery on the field and more so off as he struggled with his inner demons and fought with umpires, players — Reggie Jackson and Billy had some relationship — and his boss. A few weeks before his death, rumors swirled that Billy would be back in the dugout come March.
In the end, Billy died as he lived — on his own terms with no seat belt. As Klein writes, "As a manager, he could usually figure out a way to win. But sadly, he could never figure out how to manage himself."
Today, those of us too young to remember Martin often don't know what to make of him. As a player, he hit just .257/.300/.369 over 11 seasons and was seemingly more famous for getting traded from New York after a nightclub incident at the old Copacabana. But in Murray Chass' obituary and George Vecsey's profile and the comments from mourners, we see a man troubled and beloved by those who knew him.
To this day, no one really knows what happened on the icy roads in Binghamton twenty years ago. William Reedy, the other man in the truck that night, died this year in July, and as his obituary notes, he first said he was the driver to protect Martin. During his trial on drunk driving charges, he claimed that Billy was behind the wheel, but the jury found Reedy guilty anyway.
To me, Billy has always been an enigma. He shows up in Yankee biographies at odd moments. He plays a big role in the tale of Yogi as told by Allen Barra for a few years before his exile to Kansas and then reemerges as the manager in Jonathan Mahler's The Bronx is Burning. He couldn't live with the Yankees, and he couldn't live without them.