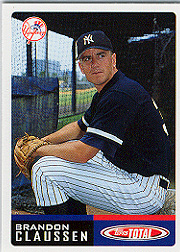 Every year as I put together my Top 30 Prospects list, I always pay a little extra attention to the players in the last few spots. While elite prospects like Jesus Montero get all the attention, the best way to gauge the depth and strength of a farm system is by looking at the No. 10, or No. 15, or No. 30 prospects. The better those players are, the better the system is overall. Potential superstars are nice, but having waves of young talent coming up bodes much better for future success.
Along those same lines, the players that get shut out of a top prospects list can also tell you about the quality of a system as well. Last year I presented six players that weren't able to crack the Yanks' top 30, and sure enough two managed to make the leap into the big boy's list this year. Two others were among the final cuts as well. That group featured some higher upside kids in the lower levels of the minors, however given the hit the farm system has taken in the last 12 months, the pickin's were pretty slim this year.
Here's five players (presented alphabetically) that could work their way into next year's Top 30 if they continue to improve this season. Ages are as of April 1st of this year.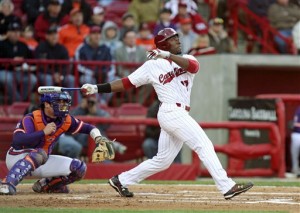 DeAngelo Mack, OF, 23
The Yanks' 13th round pick last year, Mack dominated younger competition in the NY-Penn League after signing. He hit .306-.372-.513 with 30 extra base hits in 66 games, good for second in the league. By no means is he a spring chicken, but Mack made major strides with his approach as a redshirt junior at South Carolina in 2009. He's strong enough to hit balls with authority the other way, and he does a good job of being what they call "aggressively patient" (he waits for his pitch, but he'll jump all over something he likes early in the count). Mack has good baseball skills and athleticism, though he projects best in a corner outfield spot. He could end up being a classic 'tweener; not enough defense for center, not enough pop for a corner (despite this). He'll jump to Low-A Charleston to start the season, but should get a bump at mid-season if he's performing well.
Photo Credit: Rich Glickstein, AP
Melky Mesa, OF, 23

Despite sharing a name, this Melky has almost nothing in common with the departed Melky Cabrera other than his arm strength. Mesa hit .270-.338-.491 with 17 bombs in the season's first three months last year, though he slumped so badly in the second half that he finished the year with a .225-.309-.423 batting line and 20 homers. He also struck out 168 times in 564 plate appearances, pushing his career total to 306 K in 1,020 PA. Even at his age, Mesa is raw in terms of baseball skills, though he possesses tremendous physical gifts. His insane bat speed leads to huge raw power, among the best in the system, and his top of the line speed is a weapon both on the bases and in the outfield, where he's a passable centerfielder but an elite rightfielder defensively. Of course, the biggest question mark is Mesa's ability to make consistent contact, which is kind of a big problem. If he ever improves his approach and learns how to get the bat on the ball with regularity, he'd vault right up the ladder and become a truly elite prospect. Mesa will patrol the outfield for High-A Tampa next season.
Photo Credit: Mike Ashmore
Jimmy Paredes, 2B, 21
The speedy Paredes has been one of the system's bigger sleepers since signing a few years back, but it wasn't until he received regular playing time with Short Season Staten Island in 2009 that he started to live up to some of that promise. His .302-.336-.410 batting line isn't eye popping, but his batting average, on-base percentage, and OPS improved every month of the season, as did his slugging percentage minus a slight hiccup in August. Paredes' best tool is his blazing speed, which allowed him to steal 23 bases in just 54 games, and he's also versatile enough to play the three non-first base infield spots proficiently. He profiles best at second, where he'll play every day for Low-A Charleston in 2010.
Photo Credit: Hilton Flores, Staten Island Advance
Jon Ortiz, RHRP, 24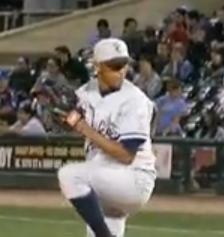 By no means is Ortiz young, but he's steadily climbing the ladder and will begin the 2010 season with Double-A Trenton. Once a guy reaches Double-A, you can start talking about him as a potential big league contributor. Just ask Chase Wright. Ortiz isn't a huge stuff guy – he works in the low-90's with a very good changeup – but he makes up for it with outstanding command and control (273-39 K/BB ratio in 201.1 career IP). The Yankees have built a steady pipeline of relievers in recent years, and Ortiz is just another product of that. Remember, you don't have to turn into a star to be considered a success. There's plenty of value in getting 80 or so league average innings out of a guy like Ortiz, who was basically an afterthought when he signed.
Photo Credit: Screen cap'd from here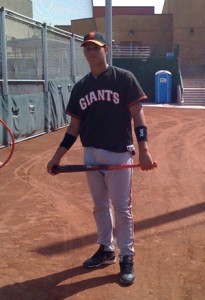 Gary Sanchez, C, 17
The comparisons to Montero are inevitable, however they aren't similar players at all. Sanchez can legitimately remain behind the plate long term, and his bat isn't nearly as good. That's not meant as a knock on Sanchez, who projects to be a better than league average hitter with very good power for a backstop. He's raw, which is not unexpected given his age, and like Montero he struggled in his first taste of instructional league. Once he gets some innings under his belt and makes his way to the States, Sanchez will jump comfortable into the team's top ten prospects. Until then, he's on the outside looking in. His 2010 season will start in Extended Spring Training before officially debuting with the Rookie Level Gulf Coast League Yankees in June.
Photo Credit: Jorge Arangure, ESPN
Unlike last year, most of these guys are older prospects who project more as role players than starters on a contender, but that's life. The Yanks' system isn't as deep as it was just a year ago, but with a few breakouts from players like the five mentioned above, they'll be just fine. Remember, the Yanks' goal isn't to have a great system, it's to win at the big league level, and they don't exactly need any fixes at the moment.
Make sure you check back in tomorrow for the full fledged Top 30.