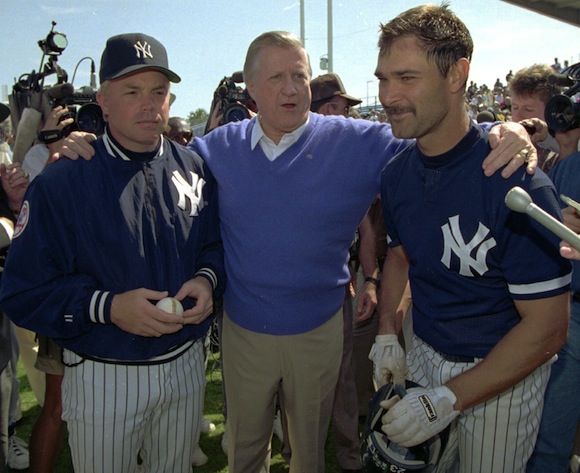 Buck Showalter, George Steinbrenner and Don Mattingly in 1993. (AP Photo/Lynne Sladky)
As the Yankees spent Spring Training in 1990 in Fort Lauderdale, Don Mattingly found himself getting ready to play out the final season of a three-year contract. He was a month away from his 29th birthday and over the last six years had hit .327/.372/.530 with 161 home runs. He had made six straight All Star appearances and had earned himself five Golden Gloves and an MVP award. While his seasonal numbers had declined from his gaudy totals he put up in 1985 and 1986, he was one of the league's top first baseman and the Yanks' biggest superstar. He would, in other words, earn his money.
That spring, a year before Mattingly was to hit free agency, the Yankees made the point moot. They signed him to a five-year extension worth $19.3 million, and until Jose Canseco topped that total a few months later, Mattingly's $3.86 million annual salary was the highest in baseball. Donnie Baseball would be the Yanks' marquee name for years to come.
But for Mattingly, disaster struck. Number 23 had injured his back in a clubhouse incident in 1987, and in 1990, his back problems would flare up again. He played just 102 games and hit .256/.308/.335 with five home runs. While he recovered some of his health, over the duration of that five-year contract, Mattingly was a shell of his former self. From 1991 until his retirement in 1995, he hit .291/.350/.416 with just 53 home runs. His playing time dipped from 153 games per season to 134, and he went from a superstar with top power to an above-average hitter with recurrent health problems and little power.
Over the weekend, Steve Lombardi at WasWatching highlighted the Mattingly saga. With much attention on the Yanks' decision not to extend Mariano Rivera and Derek Jeter right now, Lombardi focused on how Steinbrenner used to operate his club. He wouldn't let his star players approach free agency and treated them well. "Don't tell Jeter this is how the Yankees used to roll," he said in the headline.
To me, though, Mattingly's contract status and his subsequent decline serve as a warning to the Yankees in 2010. When George Steinbrenner jumped the gun and overextended Mattingly, the team paid a high price. The club knew that Mattingly's back problems sapped him of his power in 1988 and 1989. They could have waited out 1990 to see how he fared. Had he duplicated his 1990 season, there's no way the Yanks would have extended him that $19.3 million offer.
Today, Rivera and Jeter find themselves in similar situations. The two are in the latter stages of Hall of Fame careers and both are still very productive players. The Yankees will, as Hank Steinbrenner has noted, take care of these guys when the season ends. There is no reason to do it a day sooner. What happens if age catches up to Derek Jeter or Mariano Rivera this year? The Yanks can't reward these two for the past if the future doesn't hold similar levels of productivity.
As always, baseball is a business, and putting money into a risky investment before the investment requires it is rarely a good idea. The Yankees didn't wait with Don Mattingly twenty years ago, but they will wait with Jeter and Rivera today. Both players know and accept that they'll get their dollars when the time is right, and the Yankees know to be careful when the big bucks are concerned. That's just smart baseball.