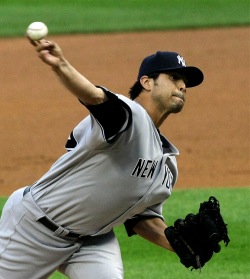 When the Yankees tendered Sergio Mitre a contract for the 2010 season, they guaranteed him a 40-man roster spot. At the time it might not have seemed like a big deal. The team had just opened up two additional roster spots by trading Phil Coke, Ian Kennedy, and Austin Jackson for Curtis Granderson, so space wasn't an issue. But a 40-man roster spot is a 40-man roster spot. The Yankees could have used that spot in a number of different ways. Was Mitre the right decision?
First, we have to understand why the Yankees decided to allocate one of 40 roster spots to Mitre. The team values pitching depth. Over the past few years they've seen a number of starters succumb to injury and, for the most part, haven't found adequate replacements. With Mitre, Chad Gaudin, Phil Hughes, Joba Chamberlain, and Al Aceves competing for one final rotation spot, and the losers presumably slated for the bullpen, the Yankees leave themselves a number of options should a starter get hurt.
Next, we have to look at what else the Yankees could have done with that roster spot, and at what price. Mitre signed for $850,000, a little less than double the league minimum. The depth options behind Mitre, Ivan Nova and Zach McAllister, would make a prorated portion of the league minimum if called to action, so the Yankees have to weigh that against Mitre and his salary. Could they have added someone else to that spot for cheaper? Probably not on the free agent market.
Then there's the option of leaving the spot free, so the team has a spot to add a non-roster invite. Marcus Thames doesn't present an issue here, because if he makes the team Jamie Hoffmann will head back to the Dodgers. But what if the Yankees end up liking one of their non-roster pitchers more than Mitre? What if they like Kei Igawa in a lefty relief role? What if Jason Hirsh lives up to his potential as the No. 42 prospect in baseball in 2007? What if Kevin Whelan finally puts it all together? There's certainly a possibility, though not a particularly strong one, that the Yankees like a non-roster player better than Mitre.
Is it worth the roster spot and guaranteed salary, then, to keep Mitre, even if there are possibly better options? Obviously the Yankees think so. They liked Mitre when they signed him in late 2008 as he recovered from Tommy John surgery, and they apparently didn't let his string of poor performances in 2009 discourage them. They're still hoping he returns to his 2007 form, especially his first half. That, to them, is worth $850,000 and the reduced flexibility of having a guaranteed contract in that roster spot.
The final point is how the Yankees can free up further roster spots. They currently have all 40 spots filled, but they're not completely inflexible. If the need arises to add a non-roster player, the Yankees can DFA Edwar Ramirez or Boone Logan. This makes Mitre's spot less critical. If he were first on the chopping block, perhaps it would be an issue, but with expendable players ahead of him the Yankees become a bit more justified in their decision to tender him a contract.
What do the Yankees expect Mitre to change from 2009? Mainly, it seems, his home run rate. His strikeout rate was about in line with his career average, and his walk rate was a bit lower. He allowed home runs at a higher rate than ever before in his career, though, 1.74 per nine. This coincides with an enormous HR/FB ratio, 21.7 percent. The home runs factored largely into his 5.30 FIP, as evidenced by his 4.00 xFIP. It appears, however, that Mitre has always allowed home runs at a greater rate than league average; his xFIP is consistently lower than his FIP, except in 2007 when just nine of 119 fly balls hit off him left the park.
Signing Mitre is a gamble for sure, but the downside doesn't appear all that bad. Even if the Yankees like another pitcher more than him, they don't have to act on that immediately. The above-named pitchers — Igawa, Hirsh, Whelan, in addition to Nova and McAllister — can all start the season in the minors while Mitre gets his shot. If it doesn't work out, the contract is cheap enough that they can DFA him if necessary. It might hinder what the Yankees can do with that roster spot short term, but if necessary they can make it free again.
Credit: AP Photo/Charles Rex Arbogast