The Yankees don't kick off their exhibition schedule until this afternoon, but meaningful baseball has been played across the country for weeks. The college baseball season started in mid-February, and high school ball in warm weather states has begun as well. The Yanks' scouting department doesn't get the luxury of Spring Training, they need to be in mid-season form right out of the gate.
As I've already explained, the Yankees didn't gain or forfeit any picks this year because of draft pick compensation, and their first choice comes in at number 32 overall. That pick will be their first in an effort to rebuild the farm system that has thinned out as the result of trades, graduation, and attrition, so they better make it count.
I figured I would kick off this year's draft coverage by highlighting two personal faves of mine, a pair of power college arms.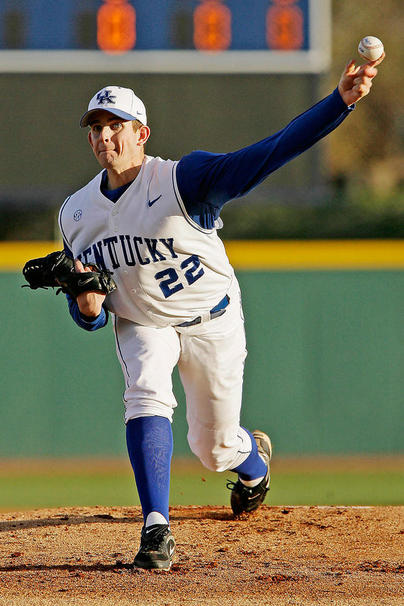 James Paxton, LHP, No School
The name probably rings a bell for more than one reason. Paxton was Toronto's sandwich round pick last year, though they weren't able sign him and he returned to Kentucky. Well, he was going to return to Kentucky, except the NCAA wouldn't let him. I'm not interested in explaining the whole story, but essentially the NCAA found out Paxton had someone negotiate with the Jays on his behalf, which is a no-no. The two sides were in court for months as Paxton tried to get his eligibility restored, and he ultimately decided to drop out of school when it became apparent the NCAA was trying to make an example out of him.
So now the 21-year-old Paxton will have to show off his stuff in an independent league this spring instead of fronting the Wildcats' rotation. He's a pure power arm from the left side, using all of his 6-foot-4, 220 lb frame to generate fastballs typically in the 93-95 range, though he's flirted with 98. Paxton's second pitch is a hard curveball that's a true strikeout pitch, and his changeup is no worse than average. His stuff plays up because of strong control and command (just 61 walks in 148.1 IP at UK).
Even though his delivery is simple and his arm action is clean, Paxton dealt with elbow tightness in high school (he was raised just outside of Vancouver, so he's a hoser) plus some minor back and knee trouble in college. Thankfully those were all one-time incidents. After going 37th overall last year, Paxton might end up going as high as in the top ten this year. If he's around when the Yanks' first pick comes up, they'd be wise to grab him.
Photo Credit: Canadian Press
Brandon Workman, RHP, Texas
One of the best high school arms in the country back in 2007, the Phillies wouldn't meet Workman's demands of first round money when they took him in the third round. So he ended up going to school, making the Longhorns' standout pitching staff that much better. Workman made a name for himself by no-hitting my Nittany Lions last March, and he's posted a 131-48 K/BB ratio in 128.1 IP during his first two years on campus. He has a 13-4 K/BB ratio in 11 IP during his two starts this season.
Another big guy like Paxton, Workman stands 6-foot-5 and packs 220 lbs. onto his frame, and his repertoire is all power. His fastball legitimately sits in the mid-90's, and he's run it as high as 97. An over-the-top curveball is Workman's second pitch, and he's messed around with everything from a slider to a splitter to a changeup as his third pitch. Although his delivery was extremely violent coming out of high school, Workman's worked hard and has done a good job of smoothing it out.
Right now he's projected to go somewhere in the back half of the first round, but if Workman's bonus demands are similar to what they were three years ago, then he might slip a little further. It's a surefire first round arm, possibility even a top ten arm, but these things never go according to plan. In a system lacking high upside pitchers, Workman would be a breath of fresh air.
* * *
Scouting director Damon Oppenheimer has shown that he prefers polished pitchers, which would give Paxton the edge over Workman. Either way, the Yanks' system is short on power starting pitchers at the moment, so nabbing one of these two guys would go a long way toward correcting that.