When the Yankees signed CC Sabathia and A.J. Burnett a year ago, they believed they were getting, at best, a pair of aces or, at worst, a No. 1 and a No. 2. In year one they got the latter. Sabathia pitched as well as anyone could have expected, tossing 230 innings at a 3.37 ERA, fourth lowest in the AL. Burnett might not have been a second ace, but he pitched capably behind Sabathia, posting the fourth best strikeout rate in the AL. Both could make improvements and perform even better in 2010.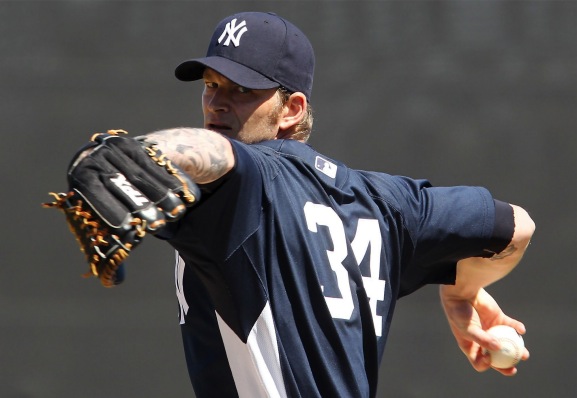 Photo credit: AP Photo/The Canadian Press, Darren Calabrese
There are concerns that career highs in innings pitched could adversely affect Burnett and Sabathia. Neither set career highs during the regular season. In fact, both had set that mark in 2008, when Sabathia pitched 253 innings and Burnett pitched 221.1. In 2009 the Yankees had leeway later in the season to give them a rest, and it led to Burnett pitching 14 fewer innings, while Sabathia, not pitching every fourth day in a tight pennant race, managed 23 fewer innings. The playoffs, of course, pushed them both above their career highs. Sabathia threw 36.1 innings in the playoffs for a total of 266.1, 9.2 innings over his career high. Burnett threw 27.1 playoff innings for a total of 234.1, 13 more than his career high.
Put this way, it doesn't appear either pitcher worked much harder than in 2009. In fact, they might have put less stress on their arms. Sabathia's 2008 season started on March 31 and ended on October 2, 186 days. That works out to 6.9 innings every five days. In 2009 he started on April 6 and ended on November 1, 210 days. That works out to just about 6 1/3 innings every five days. Burnett's 2008 season started on April 2 and ended on September 24, 176 days, or just under 6 1/3 innings every five days. In 2009 he started on April 9 and ended on November 2, 208 days, or just under 5 2/3 innings every five days. Both of their workloads, spread over time, were lower in 2009 than in 2008.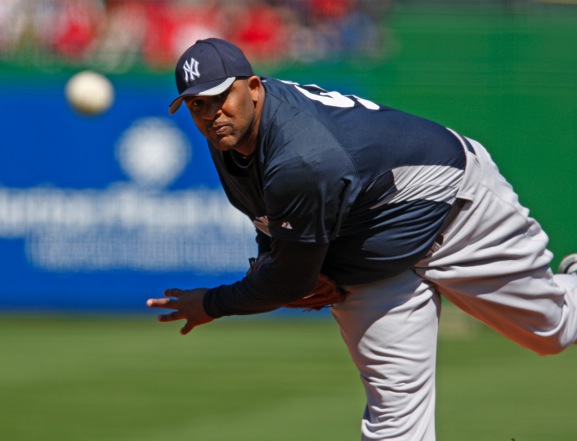 Photo credit: Kathy Willens/AP
The sheer number of innings each pitched still causes concern, of course, and the Yankees have taken steps to mitigate that this spring. They've exercised caution with all three of their postseason workhorses, and will likely use the sparse April schedule to spread out their early starts. The idea, of course, is to have them pitching like normal as the season moves on, rather than like a pair of pitchers fatigued by the added workload of a postseason run. If this works out as planned, both Sabathia and Burnett could make improvements that could help them realize the Yankees' goal of having a pair of aces atop the rotation.
Burnett knows that he walked way too many batters in 2009, and he has made it his goal to improve that rate in 2010. That plays into his other goal of pitching deeper into games. What could further help him in that second goal is inducing ground balls at his career rate. In 2009 Burnett induced a career low 42.8 percent ground balls. His career rate is 49.5 percent. More ground balls typically means a higher BABIP, since ground balls go for hits more often than fly balls. Burnett could mitigate this increase by improving his walk-rate. That works out better than a wash, since ground balls can also lead to double plays, which can erase some of those walked batters.
Another area where Burnett could see a return to his career marks is his performance against right-handed hitters. He struck out just 7.09 righties per nine innings, well below his marks from previous seasons. He was as high as 8.91 per nine in 2008. His walk rate against righties also shot up to 4.34 per nine, more than a full walk per nine more than 2008, and his .284 batting average against represents the worst of his career. Perhaps adding a changeup to his arsenal will help in this regard. Even if he doesn't, a simple return to his career norms would represent a big improvement over 2009.
Like Burnett, Sabathia also saw his groundballs dip. While he had hovered around 45 percent over the previous three seasons, he dropped to about 43 percent in 2009. That's not a huge change, but it hurts when combined with his increased fly ball rate, 37.3 percent. That's not much above his pre-2008 norm, though, and it's doubtful he'd get that number as low as the 31.7 mark he posted in 2008. Still, a few more groundballs can never hurt. Sabathia's walks were also up a bit, 2.62 per nine, but not significantly so. It led to his four-year high in FIP, but even then he was at 3.39.
In terms of the small stuff, Sabathia saw a few changes in 2009. His strikeout rate dipped and his walk rate spiked with men on base. His strikeout rate with men on base, 6.70 per nine, looks a bit worse because of his outstanding 8.12 mark in 2008, though it still sits a bit below the ~7.00 rate he posted in 2006 and 2007. His walk rate, 3.30 per nine with men on base, is over his career norms and way over his totals over the previous three years. In his Cy Young season, 2007, he walked just 1.08 per nine with men on base. He also saw a dip in his K/9 against lefties, to 9.94. He had been around 12 per nine from 2006 through 2008.
Yet even as they both slipped in some areas, both Sabathia and Burnett performed to expectations in 2009. If they improve on any of those aspects in 2010, they could easily exceed expectations. Chances are the projection systems won't see it that way, but we'll check them anyway.
So, in other words, when we average out the forecasts we get a near replica of CC's 2009 season.
Sabathia and Burnett were a big part of Brian Cashman's plan to bring the Yankees back to the World Series, and obviously that worked out pretty well. They both performed well during their debut seasons in the Bronx, and could see improvement in their second. There is certainly some concern from their having exceeding previous innings highs, but not only did they spread those innings over more time, but they also only modestly increased over their 2008 marks. With those two heading the rotation, the Yankees finally have that dominant feel. Not only can they mash, but they can win the 2-1 games, too.