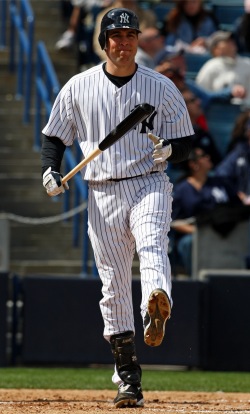 In his excellent first base preview, Mike wrote about Mark Teixeira's early season struggles. His April 2009 was particularly poor, perhaps due to the wrist injury that sidelined him for a few games early on. A recovery even to his career April line of .249/.349/.433 would be helpful in 2010. Yet, as is evident from the triple slash, Teixeira's career numbers in April far fall below his overall performance. His explanation involves working on two swings, one from each side of the plate, during spring training, so it takes him a bit of the season to get into a groove. Makes sense, right?
Maybe it does make sense for Teixeira himself, but as Raphy at the B-R blog notes, his fellow switch hitters do not share this predicament. Raphy ran the numbers on every switch hitter from 2000 through 2009 and compared their April numbers to the rest of the season. The difference, it turns out, is negligible. Switch hitters hit for a .005 better batting average, a .001 worse OBP, and a .007 better SLG. Some or all of those differences can probably be attributed to generally better production in later months. In fact, in three of the last five years the league posted its worst slugging month in April.
This made me wonder how some of the other top switch hitters in the game fared. While as an aggregate switch hitters performed just as well in April as they did the rest of the season, this covers over 285,000 plate appearances. Clearly there will be some players in there who just weren't as good, and were consistently not as good. Maybe there's some kind of trend when we look at only the top switch hitters of the past decade.
No, that doesn't change the story at all. In fact, a few of the players have hit better in their teams' first 25 games than in the rest of the season. It appears, then, that these switch hitters don't take an extra month to get into the groove. Maybe it's something specific to Teixeira, or maybe it's something else entirely that keeps down his season numbers.
If in April Tex had hit to the .310/.392/.596 rate he did for the rest of the season, might that have given him a better shot at the MVP? That would have given him 33 hits, 13 walks, 17 singles, 8 doubles, 1 triple, and 7 home runs, increasing his season totals by 14 hits, 7 singles, 4 doubles, 1 triple, and 2 home runs. While that's probably not enough to win MVP in a league where Joe Mauer raked from the catcher position, it might have been enough to help the Yankees add a few more early wins. According to linear weights, Teixeira created 14 runs through May 7. Had he hit to his season totals, he would have created around 25 runs. That might have won them another game or two.
We take the trade-off, of course, in a heartbeat. Teixeira does struggle in April, and given his past there's no reason to expect 2010 will be different. But the way he hits the rest of the season makes up for it. Perhaps the return of Alex Rodriguez, historically a strong April performer, will help offset Tex's struggles. If he does buck the trend, even for one season, we could certainly see an MVP performance from Teixeira.
Photo credit: Kathy Willens/AP