Yesterday I listed Brian Cashman's three most lopsided trades. Those, of course, all fell in his favor. Yet he's not immune from the bad trade. His blunders aren't as great as his successes — it's tough to make up the wins he gained by acquiring Alex Rodriguez, Bobby Abreu, and Nick Swisher — but he's still lost on a number of deals. Here are the trades that cost the Yankees the most in terms of WAR.
(Note: Since many of the deals happened before 2002, I'll use the historical WAR database to determine the values.)
Mike Lowell
When thinking about Cashman's worst trades, the first that came to mind was Mike Lowell. In 1999 he shipped Lowell to Florida for a package that featured Ed Yarnall, long coveted by the Yankees. Chances are Lowell wouldn't have gotten the 339 plate appearances he did for the Marlins in 1999, because Scott Brosius would have been coming off a career year. Still, we can't try to figure out when a player's clock would have started. We're still going with first six years, though his 339 plate appearances indicate that he'd have a seventh year before free agency.
From 1999 through 2005 Lowell was worth 16.4 WAR. Ed Yarnall was worth 0.3 in 1999 and -0.3 in 2000, leaving his overall WAR at zero. Mark J. Johnson was worth -0.6, and Todd Noel never made the majors. This certainly ranks as Cashman's biggest blunder.
Loss: 17 WAR
Photo credit: Alan Diaz/AP
Damaso Marte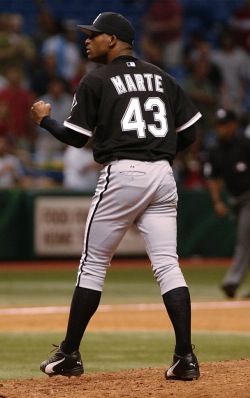 Not even a half season after signing him as a free agent, the Yankees traded lefty reliever Damaso Marte to the Pirates for Enrique Wilson. Apparently he hit well against Pedro Martinez, which is a perfectly acceptable reason to make a trade. Sarcasm aside, I don't remember much of this trade, and so it likely went uncriticized in the press. Marte, at the time, had pitched just 8.2 major league innings. Upon his call-up to the Pirates he got hit around a bit in 36.1 innings and was worth 0 WAR. That would quickly change.
Over the next six years Marte was worth 7.9 WAR. Wilson actually cost the Yankees wins, as he was worth -2.2 WAR. It seems odd that such a minor trade would carry double-digit win implications, but this was the case with Wilson and Marte.
Loss: 10.1 WAR
Photo credit: Steve Nesius/AP
Ted Lilly
Thankfully, Ted Lilly was the only player of note the Yankees traded for Jeff Weaver. I remember the concern at the time that trading John-Ford Griffin could come back to bite them. He had hit very well at Staten Island during his debut in 2001, and was having a fairly decent, Austin Jackson-like surge upon his promotion to AA in 2002. He was also the No. 76 prospect in the game headed into that season. Yet it was Lilly whom the Yankees could have used in the following years.
As we well know, Ted Lilly qualified for free agency after the 2006 season. From the point the Yankees traded him in 2002 he was worth 9.7 WAR. Weaver, during his season and a half with the Yankees, was worth 1.1 WAR. That breaks down to 1.4 WAR in the second half of 2002 and -0.3 WAR in 2003. They still had him under team control for a few years, but instead packaged him in a deal for Kevin Brown. Brown was worth 2.5 wins in 2005, but -0.9 in 2004. Even if we count that, which we won't, it doesn't come close to balancing out Lilly's 9.7 WAR.
Loss: 8.6 WAR
Photo credit: Ben Margot/AP
Nick Johnson, Randy Choate, Juan Rivera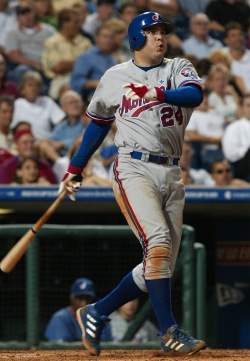 After the losses of David Wells, Roger Clemens, and Andy Pettitte, the Yankees clearly had to reload their rotation. One measure they took was to acquire Javy Vazquez from the Expos. He didn't come cheap, of course. At the time he was just 28 years old and was coming off four straight seasons pitching more than 200 innings. It cost the Yankees Nick Johnson, who was blocked by Jason Giambi, Juan Rivera, and Randy Choate. Considering the Yankees kept Vazquez for just one year, it certainly cost them.
During his sole pinstriped season Vazquez was worth 2.3 WAR. He added another 4.6 WAR over the next two seasons, the terms of his contract with the Yankees. They traded him for Randy Johnson, who was worth 5.8 WAR as a Yankee. That helps soften the blow, but doesn't completely erase it (especially since we're not counting it). Johnson currently has nine years' of service time, so he would have been eligible for free agency after the 2006 season. From 2004 through 2006 he was worth 8.9 WAR. Juan Rivera would have been under team control through 2008, during which time he produced 1.8 WAR for the Expos and Angels. I have no idea how long Choate would have been under control, but he was 0.4 in 2004, -0.4 in 2005, and 0.0 in 2006 and 2007, so he's a wash in any case.
Loss: 8.4 WAR
Photo credit: H. Rumph, Jr./AP
Ramon Ramirez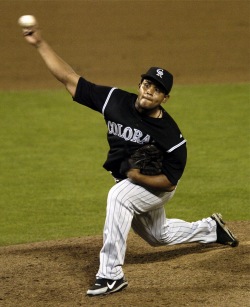 In 2005 the Yankees desperately needed rotation help. It seemed everyone was getting hurt. They turned to an unknown minor league lifer named Aaron Small to fill a spot, and right around the trade deadline they acquired Shawn Chacon from the Rockies in exchange for two relievers, Eduardo Sierra and Ramon Ramirez. Having been solidly in my blogging days, I researched these guys but didn't find much. The need, at the time, for starting pitching was too great to think about two minor league relievers.
Fortunately, Chacon helped the Yankees make the playoffs that year. Unfortunately, that was about the extent of his value to the team. Meanwhile, Ramirez pitched well for the Rockies, Royals, and Red Sox following the trade. He has been worth 4.0 WAR in his four major league seasons. Chacon helped enormously with his 2.7 WAR in 2005, but negated much of that with a -1.2 number in 2006, making his total 1.5. That's only a 3.5 WAR loss, so no big deal, right? The problem is that Ramirez is still under team control for three more years, and could continue to widen that gap.
Loss: 3.5 WAR and counting
Photo credit: Nick Wass/AP