Simple concepts dictate baseball lineup construction. The top two hitters in the order get in base so that the heavier hitters in the middle of the lineup can drive them in. This is why we typically see the best power bats in the 3-4-5 spots, while the lighter hitting players bat on either side. Teams can run into problems, however, in filling the first two spots.
Again, the primary goal of the first two hitters is to get on base for the power hitters. That gives the heavier bats more opportunities to knock in runs. The problem in filling the first two spots relates back to those power guys. Oftentimes they're also the best on-base guys on the team. In fact, on-base skills don't come easy to players who lack power. Among active players, only five have a career OBP over .350 and a career ISO under .120: Luis Castillo, Chone Figgins, Jason Kendall, Mark Loretta, and Ichiro. Raising the ISO to .150 adds only eight names (including Derek Jeter). This is not an easy to find skill, on-base without power.
As a substitute for on-base skill, we often see teams place speedy hitters in the first and second slots. The rationale goes, so I assume, that they can advance more bases, both by stealing and by taking the extra bag on a base hit. The problem, of course, is that they don't get on base a lot in the first place, so they can't swipe or take an extra bag very often. Even then, with the heart of the order due up, the most important thing remains having runners on base. I'd far rather have a slow runner on base 40 percent of the time than a fast runner on base 34 percent.
This concept applies to one of the few decisions the Yankees must make in spring training. While Brian Cashman has stated his desire to have Nick Johnson hit second, it doesn't appear to be a given at this point. It should be, but it's not. The alternatives include Curtis Granderson and, to a lesser extent, Robinson Cano. Both might be solid No. 2 hitters, but with Johnson on the roster they're not the best options. WIth Jeter and Johnson setting the table, Mark Teixeira and Alex Rodriguez will come to bat with more men on base.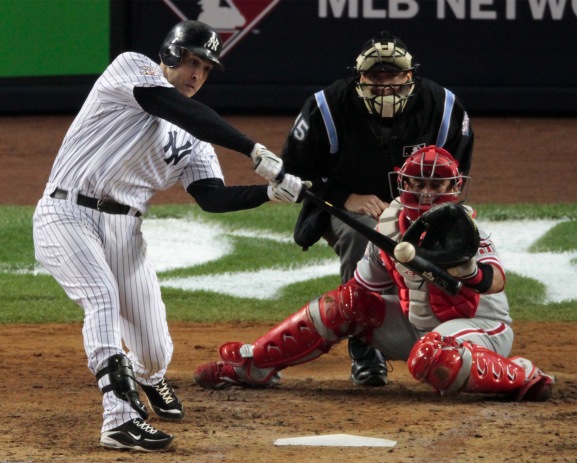 Photo credit: Eric Gay/AP
To illustrate this point, let's take an ideal scenario. Jeter and Johnson both hit in front of Teixeira for all of Teixeira's plate appearances, and they OBP somewhere around their 2009 totals, .400 and .420. Running a quick percentage check, this means that Teixeira would come to bat with both runners on 16.8 percent of the time, and at least one runner on about 65 percent of the time. Given Teixeira's 707 plate appearances from 2009, that means he'd come to bat with at least one runner on 460 times, and two runners on 119 times.
(This, of course, discounts the double play, but it also discounts the No. 9 hitter getting on. Let's call it a wash for now, though if someone wants to run the numbers be my guest.)
Last year, with Jeter's .400 OBP and Damon's .365, Teixeira had a 14.6 percent chance of coming to the plate with both runners on, or 62 percent with at least one runner on. That gives him a theoretical 438 PA with a runner on base, and 103 with two runners on . His actual number of plate appearances with a runner on base was 371, a bit below the theoretical mark. This is due to double plays — Damon hit into nine last year — instances where Jeter made the last out of the inning, and times when Damon hit a home run. We also can't expect the numbers to line up exactly.
Assuming an even ratio of theoretical plate appearances with a runner on to the actual number, that would give Teixeira 389 PA this season with at least one runner on, an increase of 18 instances. In other words, that's 18 more opportunities for a double or home run to plate an extra run. Then there's the cumulative effect. If Jeter and Johnson getting on base increases Teixeira's chances of success, that can further increase A-Rod's chances of success. We can continue passing the buck down the lineup.
If Granderson recovers to his 2008 form, he's essentially a clone of Damon. While that's good, and while he'll be able to take extra bases that Johnson will not, I think that the added plate appearances give the Yankees a bigger advantage. It means more opportunities for Tex and A-Rod. While Granderson might be able to score from second, or even first, in a few more instances than Johnson, he won't be on base as much and therefore won't get as many opportunities.
Joe Girardi has many options when filling out his lineup card, especially in the No. 2 spot. The three players who could hit there each bring a different skill to the table. Cano can advance runners with base hits and hit them in with power. Johnson can get on base to set the table and also hits for decent average (hopefully his power recovers a bit). Granderson can clear the bases with power and circle them with speed. Given the number of times he figures to be on base, I think Johnson is the choice here. The thought of Teixeira and A-Rod coming to bat with more runners on base should make any Yankees fan salivate.