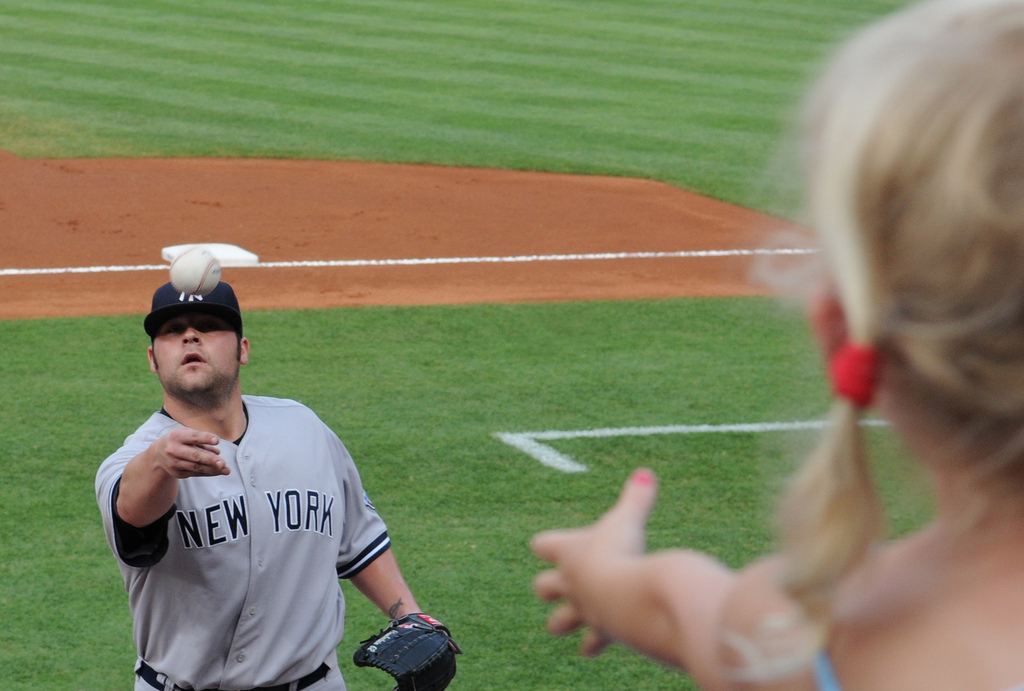 Once the Yankees officially announced that Phil Hughes had won what never appeared to be much of a competition for the fifth starter's job, there was a tremendous amount of backlash regarding Joba Chamberlain's role. More than I expected, really. While Joe Girardi has indicated that an assignment to Triple-A remains an option (not just for Joba, but for Al Aceves too), it's pretty much a foregone conclusion that Chamberlain will spend the entire season working out of the team's bullpen in some capacity.
The Yanks already have two long men in the pen, so in all likelihood Joba will setup Mariano Rivera in short relief somehow. A multi-inning relief role isn't out of the question, but I find it unlikely. Girardi also maintains that they won't just hand him his old 8th inning job, but we'll see. Joba somehow worked his way back into the 8th inning role during the playoffs last year even though he wasn't pitching all that well. But I digress.
The reason everyone's upset about Joba spending the year in the bullpen has to do with his development plan. After spending the last two-plus years fighting the completely arbitrary Joba Rules and finally having a developed starter, the Yanks are shelving Joba The Starter. Looking around the league, I see no fewer than 24 teams that would unquestionably be using Chamberlain as a big league starter if he were in their organization, and there's probably a few more than would be as well.
No matter how much we don't like the move of using Joba as a reliever in 2010, it's going to happen. I'm here to provide a little dose of reality, because having him available out of the bullpen this year is far from a negative. Is it ideal? No. But does it have value? Absolutely.
1. He's still in the big leagues
If you watched any or all of Chamberlain's 31 starts last season, you saw a common theme. He was too tentative and almost refused to attack the strike zone. That's something a trip to the minors won't solve, because you can flirt with the corners in Triple-A and still get outs because the hitters are inferior. The number of innings Joba's capable of throwing in 2011 is secondary to his learning how to get hitters out, and that's something he has to do against the best competition he'll ever face. I discussed this very topic further at TYU.
2. He gets to work with Mariano Rivera
I know Mike Harkey holds the title of Bullpen Coach – he's the guy that picks up the phone when Dave Eiland calls and the one who waves his hat whenever someone is ready – but Mo is the guy in charge out there. In addition to everything he's done on the mound, he's also done some great things just by spending time with his fellow relievers. Mo took Edwar Ramirez and Jose Veras under his wing during the 2008 season, when the pair combined to post a 3.74 ERA (3.99 FIP) and a 10.04 K/9 in 113 innings, and he did the same with Phil Hughes last year. Spending more than six months enrolled at The University of Rivera can be nothing but good for Chamberlain.
3. The Yankees have some serious bullpen depth
Even before the fifth starter's race was decided, Girardi had the trio of David Robertson, Damaso Marte, and Chan Ho Park available to bridge the gap from the starters to Rivera in the 9th,and we all felt comfortable with that. The Yankees had so much bullpen depth that Mark Melancon, he of the 10-1 K/BB ratio in six outings this spring, was reassigned to minor league camp with 16 days left in Spring Training. Now add Joba to that mix, and you've got four bonafide setup men available on any given night. Not that he's even done so before, but Girardi won't have to rely and overwork one specific guy, and if the 40-year-old Rivera ever needs a few days off, he has plenty of options to work the 9th in Mo's stead.
4. His arm gets a break
The 2009 season was first time Joba has ever pitched a full, healthy season as a pro. His 2007 season was cut short on the front end by a hamstring injury that prevented him from pitching until May and at the back end by his shift to the bullpen. Shoulder tendinitis robbed Joba of nearly a month during the 2008 season, and as a result he increased his workload by 47.2 innings last year. An increase that large is generally considered to be hazardous to the health of pitcher's Chamberlain's age, so the move to the bullpen gives him a little of a breather.
Again, having Joba move back to the bullpen this year is less than ideal, especially when he's now free from pretty much any kind of innings limitation (I doubt they would have let him throw 220 innings, or something crazy like that). Does the move make the Yankees a better team in 2010? Yeah, it almost definitely does, and when the core of your team features four key players that will be at least 36-years-old by the time the playoffs roll around, it's not the worst idea to try to win as much as possible right now.
Photo Credit: Flickr user crabshack