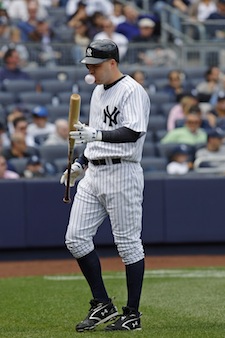 What does a team do when its designated hitter isn't fulfilling the second half of his job description? That's the question many who watch the Yankees have been asking themselves lately as Nick Johnson, the team's DH, has struggled to hit.
After an 0-for-4 performance yesterday, Johnson is now hitting .125 with a still-robust .382 on-base percentage and a very low .229 slugging mark. Frustration seemed to be creeping into Johnson's approach too as the usually patient lefty saw just 16 pitches in four plate appearances, a bit off his 4.6 pitches per PA mark. At least he leads the league with 18 walks, but the team was hoping for more offensive production from its two hitter.
As Nick has scuffled with the stick, reporters have asked Joe Girardi his take on the DH's slow start, and the Yanks' skipper defended Johnson. "I don't think anyone is complaining about how much he's on base," Girardi said. "Sometimes you look at his batting average and you think that he's really struggling and maybe not helping the team, but you look at how much he's been on base, and he's helping us."
It's certainly true that Nick Johnson is helping the team. Getting on base 38.2 percent of the time is a remarkable figure even for players who hit .300. That Johnson is doing it while racking up just one hit every eight at-bats is a testament to his value to the team. It comes across in his wOBA as well. At .327 prior to yesterday's game, Johnson's wOBA speaks of a player struggling less than it may seem.
Other factors too suggest an impending course correction. Johnson has struck out 36.4 percent of time this season, and his career mark is 20.9 percent. Perhaps he's finding it a bit difficult at first to adjust to the American League after spending parts of six seasons in the Senior Circuit. As that number dips, he'll be putting more balls in play which brings me to Johnson's BABIP. Again prior to yesterday, Johnson's batting average on balls in play was a woeful .185. While Johnson isn't putting the ball in play during 53 percent of his plate appearances, the ball just isn't falling.
There is, however, one stat that does concern me in addition to the strike outs. Johnson's line drive percentage is a robust 25, but his ground ball and fly ball rates are backwards. He's hitting grounders 25 percent of the time and fly balls 50 percent of the time. I know he and Kevin Long worked on elevating the ball during Spring Training to take advantage of the short porch in right field at Yankee Stadium, and it's possible that in the early goings, this change is taking its toll. However, small sample size warnings apply.
Much as Austin Jackson's .500 BABIP won't last, Johnson's low marks will be a thing of the past soon enough. He's a .310 BABIP player for his career, and as he both cuts down on the strike outs and continues to put the ball in play, eventually, the hits will pile up. Marcus Thames has done nothing but hit each time the Yanks have opted to play him, but Johnson will and should remain the DH. The balls will fall, and the production will soon increase. It's just the nature of the game as April wears on.