At the beginning of the game it was clear that Burnett didn't have his best stuff. I can remember having written that very line on many occasions last year, so it's something we've grown used to. Bad A.J. some call it, though truly Bad A.J. came out for only one inning. After a 21-pitch, one-run first inning and a 21-pitch, three-run third inning Burnett needed just 33 pitches to get through the next three innings, during which he held the Angels scoreless. With his pitch count at just 90 he was able to start the seventh, but couldn't finish it.
Biggest Hit: Swisher ties it after Burnett surrenders the lead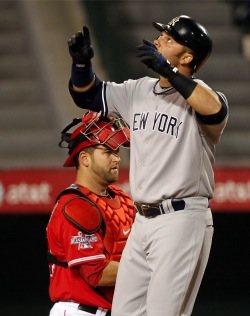 The Yankees took a 3-1 lead in the third when Robinson Cano singled home Mark Teixeira. That resulted in the nasty collision you see above. A.J. Burnett didn't seem like he had a lot, but the Yankees offense had done some damage against Ervin Santana. The inning end there, which we'll get to in a second, but in the bottom of that inning Burnett gave it all back and more. By the end of the inning the Angels had taken the lead.
Curtis Granderson struck out to open the fourth, but two pitches later Nick Swisher tied the game. It wasn't a very good pitch, and Swish took advantage, hitting it just to the left of the tall wall in right-center. The homer tied the game and it would stay that way for the next four innings.
Biggest Pitch: Joba serves up a meatball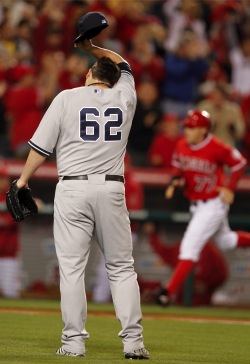 With their 2-3-4 hitters due up in the ninth the Yankees needed to keep the score tied in the bottom of the eighth. Joe Girardi turned to his setup man, Joba Chamberlain, but the move backfired. On a 2-1 count he delivered a very hittable fastball to Hideki Matsu, who lined it to right for a single. Kendry Morales followed, and on a 1-1 pitch Joba hung a slider, middle-in, and Morales got all of it. That gave the Angels a two run lead with just three outs to go.
Joba missed on a lot of pitches away to the following hitters. After a Juan Rivera single he managed to retire the next three hitters, though they all hit the ball reasonably well. It's going to happen sometimes. Some games he'll throw gas and dominate. Other games he just won't have it. It's part and parcel to pitching out of the bullpen, Non-Rivera Division. At least he didn't blow a lead. Letting the go-ahead runs to score in a tie game is one thing. To have A.J. battle through his final few frames only for Joba to blow it would have been quite another.
A lot of those outside pitches were close, too, and with another ump maybe he gets one or two of them.
Biggest Blunder: Johnson can't bring home two
Two innings after tying the game it looked like the Yankees were going to take the lead. The sixth started with a walk to Curtis Granderson and a HBP of Nick Swisher. Brett Gardner couldn't get down a bunt, though, and the Angels got a free out. Derek Jeter nearly drove home the go-ahead run with a liner up the middle, but Ervin Santana got a piece of the ball, slowing it enough for Howie Kendrick to field and make the force at second.
Instead of runners on first and second with one out and a lead, the Yankees had runners on first and third with two outs in a tie game. Nick Johnson, who singled in the fourth, had a chance but did not deliver. He did work a good at-bat, a full-count on eight pitches, but rolled over a low and outside changeup and grounded out to second. That certainly would have changed the tone of the game. The Yanks didn't get much going after that.
Annoyance
Joba. Not that it was particularly frustrating. As I said before, relievers blow games. It was more frustration at the Yanks offense, really, for blowing that chance in the sixth. Also for blowing a second and third with two outs opportunity in the third.
The bottom of the third. Again, it was Burnett's only bad inning, and I was pleased with his ability to settle down and maneuver the Angels' lineup without his A game. Any inning where a pitcher gives back a newly minted lead is going to be frustrating, though.
Joys
Gardner's first extra base hit of the year was particularly pretty. It's exactly what a hitter like him is supposed to do. Making the moment further joyous was Jeter's follow-up double.
Swisher's homer, not just because it tied the game, but because he's been hitting the ball so hard lately and has found little luck. This one was a long time coming.
WPA Graph
I like this type of graph. It deviates from the middle, but it often returns. If it were mirrored I would have liked it more.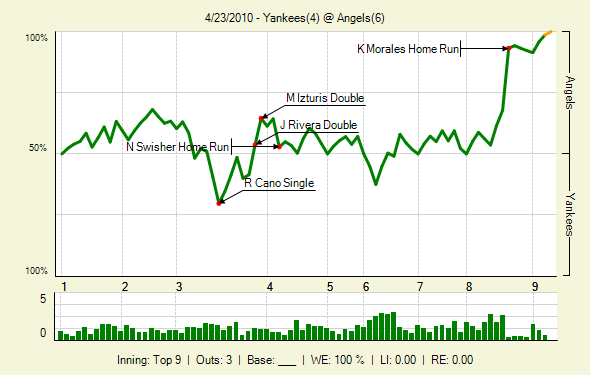 FanGraphs has the player-by-player breakdown.
Up Next
It's another FOX affair tomorrow afternoon, a 4:10 p.m. start. Andy Pettitte goes for the Yanks, while Joel Pineiro, who shut down the Yankees last week, goes for the Angels.