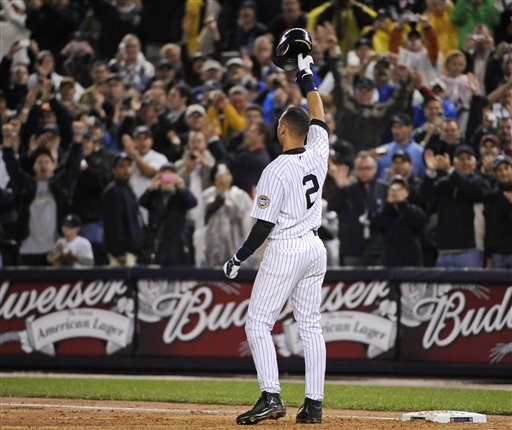 As Yankee fans, we've been privy to watching history unfold right before our eyes on a regular basis. Just last season we watched as Mariano Rivera became the second player ever to record 500 career saves while Derek Jeter climbed past Lou Gehrig to record the most hits in Yankee history. It's just par for the course around these parts.
The 2010 season will be no different, though this year's historical milestones may not be as sexy as some of the one's we've witnessed in recent years. That doesn't lessen their significance though, because frankly we're in store for some really cool stuff. Let's run it down…
Alex Rodriguez – 600 homers
This is the big one. Only six players in the history of the game have eclipsed the 600 homerun plateau, and the Yankees' third basemen is just 17 away. As if that isn't impressive enough, A-Rod will turn just 35-years-old in July, and none of the other players managed to hit their 600th jack before their 36th birthday. Of course, Alex is already the youngest player in history to hit 300, 400, and 500 career homers, so it's only natural that he'll be the youngest to hit 600 as well. He should have this one in the bag by June, July the latest.
But that's not all. Alex is three stolen bases away from the 300 steal mark, which by itself isn't all that impressive. However, combine the 300 steals with the 600 homers, well then you're on to something. Only two players in baseball history belong to the 600-300 club, and you may have heard of them: Barry Bonds (762 HR, 514 SB) and Willie Mays (660 HR, 338 SB). Pay attention folks, this guy's a walking history book.
Jorge Posada – 1,500 hits, 350 doubles, 250 homers
Posada's coming up on a few big career milestones, especially when it comes to catchers. He's twelve hits away from 1,500, eight doubles away from 350, and seven homers away from 250. He's also ten games away from appearing in 1,500 as a catcher. Individually, those four milestones won't wow anyone, but when put together, you're talking select company. Just four catchers in history have picked up 1,500 career hits, 350 career doubles, and 250 career homers while playing at least 1,500 games behind the plate, and all four are either in the Hall of Fame or will be shortly. Posada is not only on pace to join them this season, but he also has a higher career on-base percentage (by 37 points (!!!)) than any of them.
Barring injury, the Yanks' catcher should reach all of these milestones no later than what, June? That sounds about right.
Derek Jeter – 4,000 times on base
Times on base doesn't quite roll of your tongue as easily as hits or homeruns or anything like that, but they're just as important, if not more. The stat combines hits, walks, and hit by pitches, and the Yankees' captain goes into the season having reached base 3,775 times in his career. Jeter reached base 273 times even in his down year of 2008, so reaching base the 275 times needed to reach the milestone this year isn't as far-fetched as you may think.
Only forty players in the history of baseball have managed to reach base a total of 4,000 times in their career, and 32 of them are already in Cooperstown. The other eight a) will be in the Hall of Fame one day, or b) should be in but are held back by the shackles of PED revelations, gambling exploits, etc. It's basically the forty greatest hitters who've ever lived, simply put. I suspect we won't hear anything about this milestone if/when Jeter reaches it sometime in September, but you best believe it's pretty frickin' amazing.
CC Sabathia – 150 career wins
We all know that wins are a horrible way to evaluate pitchers, but bulk win totals are a sign of longevity when looked at over the course of a career. Sabathia is 14 wins away from the halfway point to 300, a total he's reached in four of the last five seasons. Just for comparison's sake, the Yanks' ace will be 29 years and 258 days old on Opening Day. Roger Clemens had 136 career wins at the same age, and former Yank Randy Johnson (another big lefty) had just 55. 55! We hear plenty of analysts talk about how no one will ever reach the magical 300 win plateau again, but Sabathia has as good of a chance to do it as anyone in the game today. He should have win number 14 in the bag by the end of August.
Robinson Cano – 1,000 hits
It feels like he was just called up yesterday, but Robbie Cano is lazily closing on 1,000 career hits already. He'll step to the plate Sunday night in Fenway Park just 125 hits away, and he hasn't recorded fewer than that many hits in a season since 2001, when he was 18-years-old and played just 59 games in rookie ball. Now, 1,000 hits are more than most big leaguers will retire with, but frankly it's nothing to stop the game and tip your helmet to the crowd about However, for a guy that constantly gets pooped on for being an underachiever and not living up to his potential and all that nonsense, I'd be remiss if I didn't point out that Robbie's 875 career hits have come in 3,036 plate appearances. In Jeter's first 3,036 plate appearances, he had 824 hits. Wrap your head around that.
There's plenty more smaller individual milestones that will be reached this season – Cano is 13 homers away from 100, Mark Teixeira is eight away from 250, Chan Ho Park is 77.2 IP away from 2,000, etc. – but of course some will get more attention that others (did anyone bother to point out that A.J. Burnett finished the 2009 season with exactly 100 career wins?). For a franchise so deep in tradition, we can sometimes lose sight of just how impressive some of these accomplishments are. The fellas wearing pinstripes never seem to disappoint when it comes to delivering greatness, and we shouldn't take it for granted.
Photo Credit: Bill Kostroun, AP