The Yankees' 2009 season started to turn around once they remade the bullpen, and part of that remake was permanent arrival of David Robertson. The then-24-year-old righty stabilized the middle innings thanks to a nifty fastball-curveball combination with a penchant for inducing swings and misses and retiring batters without the aid of the defense. He got some big outs in the postseason, and was poised to assume even greater responsibility in 2010.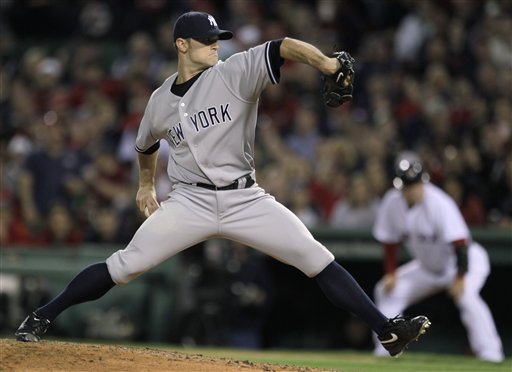 In the early going, Robertson seems to have morphed into Joe Girardi's fireman – the guy who enters the game in the middle of an inning to escape a jam. It probably has something to do with his astronomical strikeout rate, which is perfectly fine. It's a smart way to deploy a valuable reliever. However, more often than not, Robertson finds himself out of the game after escaping said jam, often despite throwing very few pitches.
In three of his six outings this year, Robertson has thrown no more than six pitches. The most egregious example came during Friday's loss to the Angels, when he was brought in to face Torii Hunter with a runner on first and one out. He escaped the inning by striking out Hunter after Bobby Abreu was caught stealing, needing just six pitches to get the job done. Robertson was fresh and in most cases would have been sent back out to start the next inning. But no, it was the almighty 8th inning, so Joe Girardi summoned Joba Chamberlain, who eventually cost the Yanks the game with a meatball pitch to Kendry Morales.
There really was no reason why Robertson couldn't remain in the game. There was no difference in platoon advantage, and he was well-rested after not working in eight days. Instead, a highly valuable asset was removed from the contest after just a marginal gain for what amounts to nothing more than a job title.
Although I bitch and moan about Girardi's bullpen maneuvering on a game-by-game basis, he obviously does a very good job with handling his relief corps over a 162 game season. However, he doesn't seem to have full confidence in Robertson, using him in a way that strikes me as "let's quit while we're ahead." He did what we asked of him, now let's make a change before he has a chance to get into trouble, something like that. Maybe it's just me.
Robertson is a high quality reliever, yet his usage appears to be limited. He's capable of getting five or six outs during one appearance, but is often used for an inning or less. Sure, his ERA stands at an ugly 7.71 because of that grand slam Abreu hit during the home opener, but even that shot only decreased the Yankees' chances of winning by just 2.6% because of the situation. The two run homer Joba allowed to Morales was in a much higher leverage spot, and reduced the Yankees chances of winning by a whopping 25.4%.
Robertson's strikeouts are very real, and they're what make him so valuable. I don't think he'll strike out 13 guys for every nine innings pitched forever, but there's no doubt he's a double digit K/9 guy for the foreseeable future with that curveball. The walks are a bit high but they're trending downward, and he's just as effective against lefties as he is against righties. On any other team, Robertson would be pitching later in the game in high leverage spots, but because of the Yankees' bullpen depth and pecking order, he's stuck working middle relief duty. That doesn't mean Girardi and the Yanks couldn't give him a little more responsibility and ask him to get some bigger outs after cleaning up someone else's mess.
Or course it's still early, so right now my observation of Robertson's usage comes from a tiny sample. The Yankees have a tremendously valuable asset in Robertson, and they would be wise to use him more judiciously.