No one likes to see a game like that. The Yanks seemed in control the whole time. Sergio Mitre did his job, and then David Robertson did his. To have it come apart in the hands of your two best relievers will certainly break hearts. We know that Joba can't K 'em all, and we know that Mo has one of these hiccups once or twice a year. I hope that, by this point, everyone knows it's not time to write a column about how Mo's time has come. Sadly, you know it's there.
Biggest Hit: Winn splits the outfielders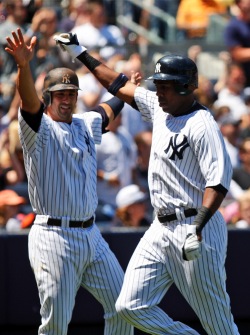 The Twins got on the board in the second when Justin Morneau hit a solo homer, but that wasn't the biggest deal. Morneau will do that from time to time, and the Yanks were sure to score a run at some point. It didn't look like that would come in the second. The first two batters made outs, though Jorge did come through with a single up the middle. Marcus Thames drew a rare walk, but even then things didn't look good, for Randy Winn was at the bat.
During Curtis Granderson's absence I've grown accustomed to seeing Winn swing over pitches. Even with fastballs it seems like his bat passes through the zone a good few inches above where the ball crosses. This time, though, he went down and got a low fastball and drove it into the gap. The Twins fielders seemed ill positioned for such a drive — it takes a special kind of hit to score Marcus Thames from first, even with two out. That put the Yanks up 2-1.
Winn picked up another big hit, though we'll get to that later. I want to like him — he's been a solid player throughout his career and would make a quality fourth outfielder — but it just hasn't clicked for him this year. It might not at all.
Biggest Pitch: Duh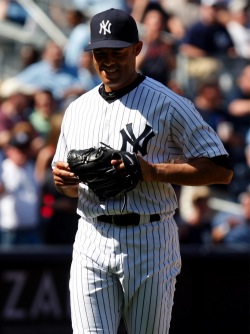 After inexplicably walking Jim Thome with the bases loaded, Mo got another chance to finish the eighth, this time against the lefty Jason Kubel. He opened with a cutter low and in, which Kubel looked at for ball one. The next one was in a similar spot, just a bit higher, and Kubel crushed it into the right field stands. We were all crushed, though it's not an unfamiliar scene. It actually reminded me of Mo's early appearance against the Rays last season (the one in May, not the one during the summer).
The first sin, of course, was walking Thome, who just wasn't biting on those cutters low and in. He took one way off the plate for ball one, but the next two were much closer. After getting one over middle-low, Mo went back to working inside, generating two foul balls before his errant seventh pitch. That one was up and away, which makes me think he completely missed. He got another chance, though, and just didn't come through. I'm sure he will next time they call his name.
Still, it was on Joba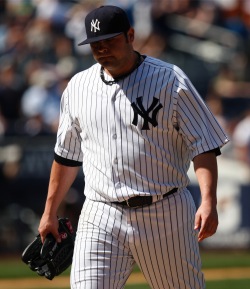 Mo might have thrown the pitches that turned the game, but Joba put him in that position. He actually started off the inning well enough. Denard Span singled to lead off, which is never ideal with a runner of his speed. But those types of things happen, and good pitchers work around them. Joba did by inducing a ground ball, but not one that would allow the Yanks to double up Orlando Hudson. He then pitched around Joe Mauer, an understandable strategy, before striking out Justin Morneau. All seemed well.
It was not all well, of course. Joba threw four straight breaking balls to Michael Cuddyer, and found himself in a 2-2 count. He did go to the fastball, 96 mph and high in the zone, but not quite high enough. Cuddyer fouled it away. Joba, ever the predictable one, went back to his slider, and Cuddyer crushed it towards Teixeira, who couldn't hold on. I thought going to Mo was a bit premature there, especially with the slumping Jim Thome at the plate, but it was by no means a bad move. Calling on Mo never is. I just would have rather seen Joba clean up his own mess.
When the bottom of the order hits…
Joe Girardi sure knows how to waste his bench. When Greg Golson, defensive sub for Marcus Thames, came up in the eighth, Girardi still had Nick Swisher off the bench to pinch hit. Because the lefty Brian Duensing was on the mound, Girardi could use Swish, who can swing pain-free only from the right side. Ron Gardenhire predictably went to his righty, so Girardi had to burn yet another pinch hitter, Juan Miranda. And Miranda predictably struck out. That meant Randy Winn and Ramiro Pena were set to open the ninth.
Yet, by some stroke of luck, both singled off Jon Rauch, giving the Yankees three opportunities with the tying run at the plate. But Rauch got his bearings and struck out the next three batters he faced, the top of the order. It's quite disheartening to see the scrubs give you a chance, only to see your best blow it. I don't know what to say after that, other than that's baseball.
WPA Graph and box score
Yes, you can make the joke about falling off a cliff.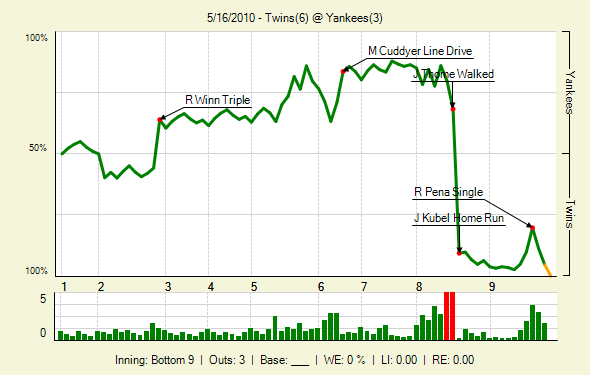 More WPA info at FanGraphs and the box score at MLB.com.
Up Next
The Red Sox come into town for a pair. Phil Hughes and Daisuke Matsuzaka kick off the series tomorrow night at 7. The RABbis will be in attendance.