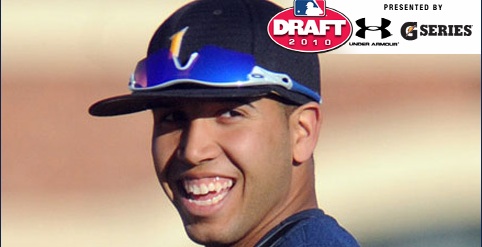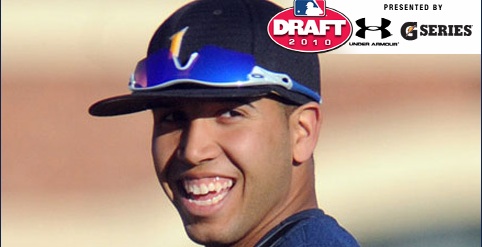 With their first pick in the 2010 MLB Draft, the Yankees selected shortstop Cito Culver from Irondequoit High School in Rochester, New York.
Scouting Report
If there's one thing we know about scouting director Damon Oppenehimer, it's that he loves up-the-middle high school athletes, and that certainly describes Culver. Standing 6-foot-2 and checking in at 175 lbs., Culver has premium athletic ability that will allow him to stay at short long-term and also opens up the possibility of a move to centerfield. His foot speed is good, and his defensive abilities are all very good except for his arm, which is a true cannon.
At the plate, the switch-hitting Culver generates good bat speed with an easy swing, though his power is mostly into the gaps and he's a little bit better from the left side. He has lots of room for growth and has a chance to develop into a top of the line defender at a premium position with an average or better bat down the road. There are some reports of a troubled home life regarding his parents but not Cito himself. He's committed to Maryland but is considered signable if taken high enough, which he certainly was.
Here's some video via Baseball Beginnings.
My Take
I'm not a big fan of the pick; it's definitely a reach. For what it's worth, Oppenheimer called it an "easy decision." Whenever a guy's best tool is his throwing arm … well it's always a cause for concern because you'd like the other skills to be refined. It's not an indefensible pick though; there's nothing wrong with selecting a premium up-the-middle athlete that will stay there for the next decade-plus.
I've seen some people quick to dub this another C.J. Henry pick, but the only similarities between the two are that they're African American shortstops taken out of high school. Henry was more of a hacker who projected to hit for power but not average, and wasn't guaranteed to stay at short. Culver's basically the opposite.
There were definitely better players on the board, and so it's not the best pick they could have made. No need to declare this one a bust yet. The last thing prospects provide is instant gratification. Frankie Piliere noted that Culver got huge grades late in the year, so he peaked at the right time.