Although the Yankees scored runs in only one inning yesterday, they did put a number of runners into scoring position. But, as we saw most of last week and into the weekend, they're having trouble bringing those men around to score. From Wednesday through Saturday they were just 2 for 21 with runners in scoring position, and then on Sunday were just 2 for 9 (Swisher's single and then Tex's home run). One of those seven misses yesterday came when Jorge Posada doubled with two outs in the eighth.
Normally this would just be trivia, another tally in the column of futility. Yet this particular double caught my attention. When Posada struck the ball it looked like it might fall into the outfield, but it was no sure thing. It was low enough that David Wright could have nabbed it if properly positioned. If anything it seemed like Jason Bay could have gotten to it and limited Posada to one base. Yet none of that happened. The Mets, for some reason, shifted to the right with Posada batting lefty.
For most of the game Posada hit righty against the lefty Johan Santana. As you can see, when he batted with the bases empty against Santana the Mets played in their normal positions. This screen shot comes from Posada's lead-off fly out in the sixth.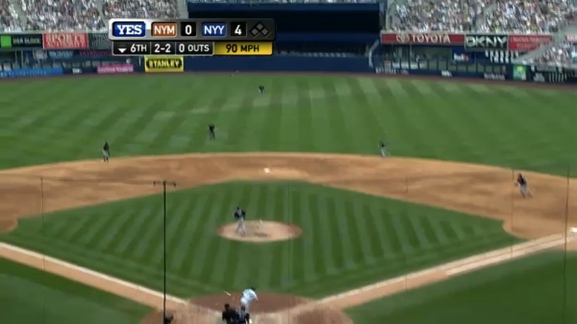 Everything seems in its right place. That should come as no surprise, as Jorge sprays his hits evenly as a righty. The first chart below is his 2009 spray chart as a right-handed hitter. The next is his 2010 chart, which does show a bit of a pull tendency. That, however, is probably due to a small sample size. I suspect that when we hit October Jorge's righty spray chart will look similar to his 2009 one.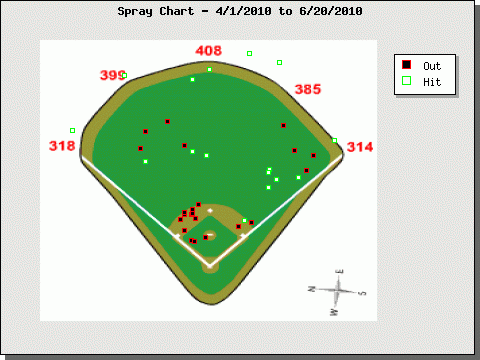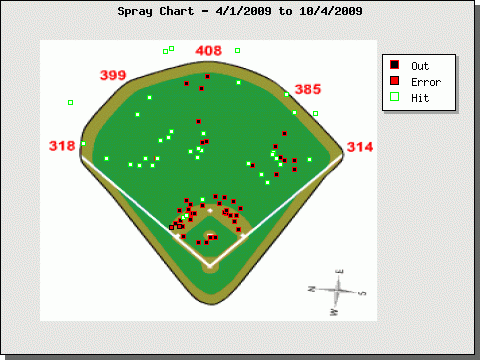 Jorge's next at-bat came in the eighth, after Santana had left the game. Pitching in his place was the right-handed Fernando Nieve. On a 2-2 count Posada laced that pitch to left. As you can see in the screen shot below, David Wright was playing well off the third base line. You can also see Jason Bay rushing to his right, trying to track the ball down before Posada took second.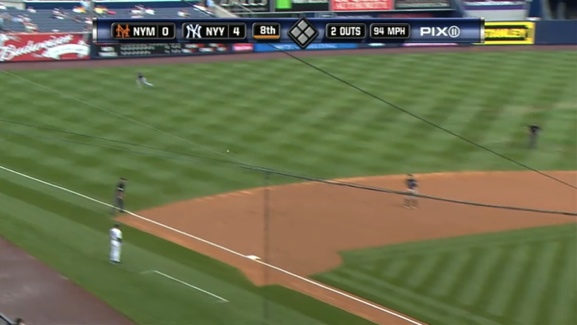 It's tough to judge distances on this, but it appears that if Wright were in his normal position he might have made the play. Surely, if Bay had played Posada straight on he could have made the play. I'm not sure exactly where Bay was positioned, but the spot at which he appears in this screen cap looks like the right spot. I'm assuming he's already taken a few steps to his right in pursuit of the ball.
Why would the Mets play a shift on Posada? I suppose they had Posada pegged as pull-happy when batting lefty. Looking at his 2010 spray chart below, there's a definite concentration of grounders to second base. Yet there are also plenty of balls fielded down the left field line. Remember, these spray charts represent where a ball was fielded, not where it landed. There are enough dots, both green and red, to suggest that Posada can take the ball the other way and, therefore, teams shouldn't play a shift.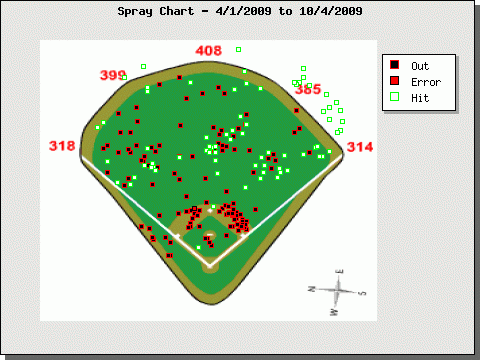 While we have a larger sampling of Posada from the left side than from the right in 2010, we can still look back at his 2009 spray chart to get a better idea of what he does while batting lefty.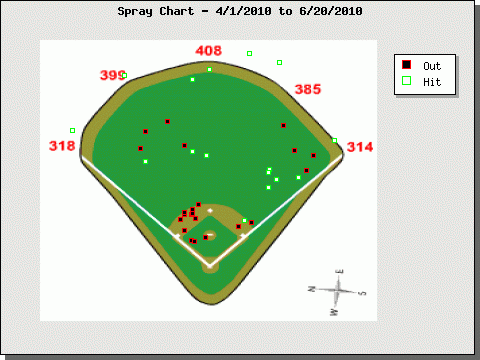 Yes, there is a concentration of red dots off the third base line. They also happen to be right where the shortstop would be playing normally. Again, I don't see a reason to shift Wright over that way. There are enough dots directly behind where the third baseman to suggest that Posada can and will take the ball the other way as a lefty.
Teams play the shift against Mark Teixeira, and it actually makes sense. Here's his spray chart from 2010: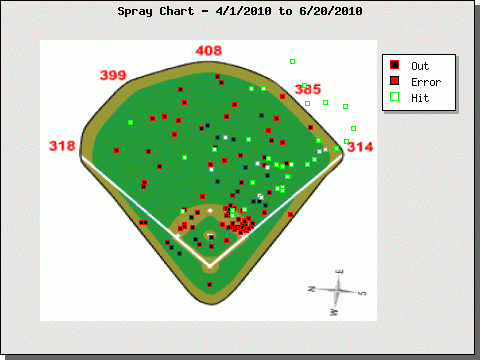 Yes, there are a few dots to the left side. But they pale in comparison to the dots on the right side. Actually, maybe that's part of the problem. As you can see on his 2009 spray chart, he might have a concentration of hits to right field, but he also has a nice spray of hits to center and left as well.
That concentration just doesn't exist for Jorge like it does Teixeira. Why, then, would the Mets play a shift against him? I'm not saying that Wright would have made the play had he been in proper position. He would have had a chance, which is far more than he had when he was playing well off the third base line.