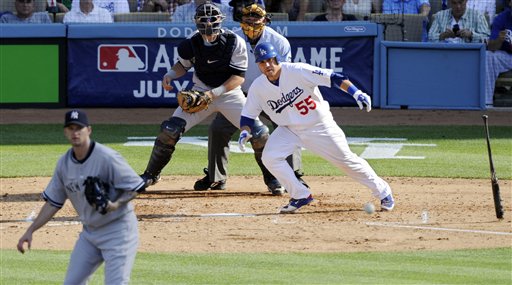 Over the weekend, A.J. Burnett, the Yankees' $82.5 million man, joined an semi-exclusive club of Bronx hurlers. In the Expansion Era, he is now the 62nd pitcher to throw 300 innings or more in the pinstripes. Unfortunately for the Yankees, the recent ones have been historically bad, and the team's investment is looking shaky at best.
When Burnett failed to pitch out the fourth on Saturday, he sealed the book on a historically bad month. For June, he was 0-5 with an 11.35 ERA in just 23 innings. He allowed 35 hits and 17 walks while surrendering 9 home runs and striking out 19. Opposing hitters tattooed him to the tune of a line .357/.455/.724 line. No pitcher in Yankee history has had a month with five starts and an ERA that high, and the bad pitching didn't just start with the new month. Going back May 9, Burnett is 2-7 with a 7.71 ERA, a 1.83 WHIP and 12 home runs allowed. Opponents are hitting .315/.405/.574. That's better — or worse– than a lineup of nine Albert Pujols.
With these ten starts, Burnett has established himself in the annals of Expansion Era pitchers. Let's take a look at some tables, courtesy of Baseball Reference's Play Index. We start with those with the highest ERAs after 300 innings.



We continue with the context. Here's how the same chart looks with ERA+. This allows us to see how these pitchers fared relative to their peers at the time. It's a bit more of an honest look at these numbers.
[TABLE=65]
What we see here is a problem. Burnett has found himself in the company of the some of the worst pitchers to don the pinstripes over the past 50 years, and no one wanted to see that outcome so early on in Burnett's contract.
When A.J. came to the Bronx, the Yanks knew their signing was a risky one. The team had to outbid the Braves during the winter of 2008, and Brian Cashman ended up forking over $82.5 million for five years. Year One was fine. He went 13-9 with a 4.04 ERA, but he walked too many guys and saw his K/9 IP dip from 9.4 to 8.5. However, he came through when the team needed him to.
He threw a three-hit, one-run, six-inning performance against the Twins in the ALDS. He struggled in the ALCS but roared back in the World Series. Over 7 innings against Pedro Martinez and one night after Cliff Lee outdueled CC Sabathia, Burnett gave up two runs on four hits and struck out nine to even up the World Series. That Game 2 victory is why Burnett has received a pass while Javier Vazquez was booed mercilessly and his April — bad but not as bad as Burnett's June — was scrutinized with a fine-tooth comb.
Later this week, AJ's narrative will run a new course. The Yanks' pitcher has said that he leans on Dave Eiland more so than some of the team's other pitchers, and Eiland has been absent from the team for nearly a month. He should be returning tomorrow, and Burnett is due to pitch on Friday. If anyone can fix Burnett, it will be Eiland, but considering how Burnett has 1600 big league innings under his belt and 1300 of those were without Eiland, I remain skeptical.
Instead, I see signs of decline. His K rate has gone from 9.6 and 9.4 in 2006 and 2007 to 6.9 this year. He's allowing nearly three more hits per 9 innings than he did while with the Blue Jays, and Pitch f/x says that the fastball has lost a full mile per hour from last year and nearly three miles per hour since 2007. The Pitch f/x data isn't the most consistent across the years, but it's not uncommon for a 33-year-old to see his stuff decline.
The Yanks won't skip any Burnett starts. Rather, they need to straighten him out. They know he can pull off a 4-1 month with an ERA under 2.00 as he did in April, and they seem to be waiting out this horrendous cold streak. But lurking in the not-so-dark recesses of my mind is the fear that the AJ we know is the AJ we have. He'll have some good stretches and then he'll be awful. He'll be paid handsomely by the Yanks through his age 36 season, and I'd be lying if I said I were looking forward to it.