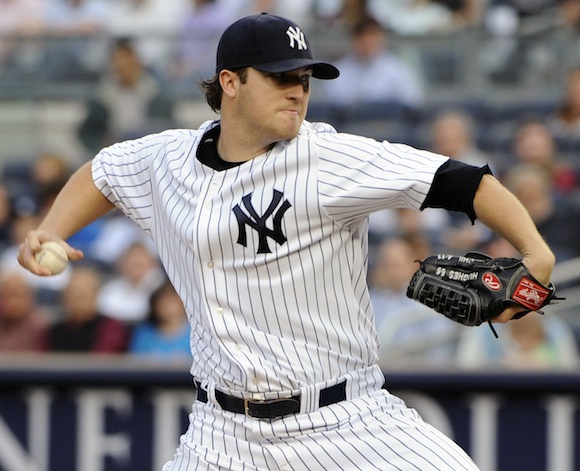 Over the winter, when the Yankees announced that Phil Hughes would be a starting pitcher this season, rumblings of the Hughes Rules emerged from those covering the club. We knew the Yanks were going to keep Hughes on a limit of around 170-180 innings, and we knew they weren't going to be as public with the Hughes Rules as they were with the infamous Joba Rules.
Today, the mystery surrounding the Hughes Rules cleared up a bit, as Joe Girardi said the team will be taking advantage of a pair of off days to skip Hughes' next start. Instead of pitching on Friday in Los Angeles, Hughes will next get the ball on Tuesday, June 29 when the Yankees return home to face the Mariners. He'll make three starts before the All Star Break instead of four, and the Yankees will use their four-day break to ensure that Hughes has nearly two weeks off between starts.
If I'm reading the team's mind correctly, Hughes will make the following starts before the break: June 29 vs. Seattle, July 4 vs. Toronto and July 9 vs. Seattle again. The team can restack its rotation after the break and won't need a fifth starter until either the 21st or even the 25th of July because of a day off on the Monday after the All Star break. I'd guess the Yanks will use Hughes on the 21st because they don't want to risk too much time off. He is, after all, their winningest starter.
Moeller DFA'd to make room for Curtis
Following up on Mike's earlier post about Colin Curtis' arrival with the big league club, the Yankees have designated Chad Moeller for assignment. Moeller was called up to serve as the team's back-up catcher while Jorge Posada was hurt and had not played in a game since June 10th. While the decision to bring up Curtis is an interesting one itself, the corresponding move to jettison Moeller is not. Good bye, Chad. We hardly knew ye.
Anyway, feel free to use this as an open thread. We'll be back with the game thread at 9:30.