As the trade deadline approaches we're going to see the Yankees connected to many, many players just because of who they are. Every other team wants to get the Yanks involved simply because it drives up the prices for everyone else. We know they're prioritizing bullpen and bench help, but that hasn't stopped Brian Cashman from window shopping for other stuff. Sometimes there's a deal you just can't pass up.
Jon Heyman said the Yanks were still in the hunt for Adam Dunn yesterday, and one ESPN Radio report even called them the front-runners to land him. Of course we've already seen this movie twice this year; the Yanks were also rumored to be the the front-runners for Cliff Lee and Dan Haren earlier this month, and we know how that turned out. I'm taking these reports with a hefty grain of salt from now on.
Anyway, I've already said what I had to say about bringing Dunn to the Yankees, though now it sounds like the cost is going to prohibitive. They apparently asked the Rays for Matt Garza, which zooms right past crazytown and into insultinglydelusionalville. There's another big time lefthanded power threat out there though, one that might even fit with the Yanks better than Dunn. His name: Luke Scott.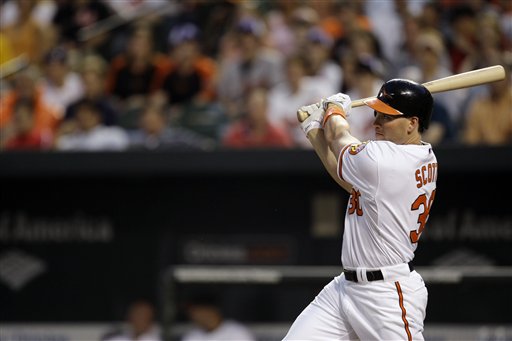 The former Astro and current Oriole is one of the best hitters in the game that no one talks about. He's hitting .287/.354/.567 on the season, a .393 wOBA that would be bested by just one Yankee, Robbie Cano. Although this, his age-32 season, is likely a career year, Scott has posted a .364 wOBA over the last three seasons, better than guys like Paul Konerko, Nick Swisher, Hideki Matsui, Victor Martinez … the list goes on and on.  He also doesn't have much of a platoon split (.371 wOBA vs. RHP, .341 vs. LHP in his career), so he's a viable everyday designated hitter. Clearly, the guy can flat out hit at the big league level and in the AL East. He's done it for three years now.
Defensively, Scott isn't as bad as you might think. His three year UZR in left is rock solid at +3.8, but he's not going to supplant Brett Gardner anytime soon. It is nice to have that option available though, in case of injury or if the Yanks decide to sell high on Gardner and trade him this offseason or something. Scott can also handle first base in the pinch should Mark Teixeira ever need a day off.
There's about $1.525M left on Scott's contract this year, and he's still under team control as an arbitration eligible player in both 2011 and 2012, so he's not a rental player. Should he get too expensive through arbitration, which is very possible considering this season's performance, the Yanks could always non-tender him and try to re-sign him at a discount, or just flip him in a trade. There are always takers for guys who can hit.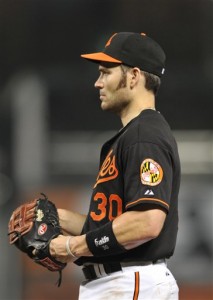 No, Scott is not likely to maintain a .390+ wOBA level of performance over the next two seasons, but he still has plenty of value if he slides back into a .360-ish wOBA level. A player that posts a .360 wOBA with league average defense in left for 200 plate appearances and another 400 at designated hitter is a 2.1 WAR player based on Sky Kalkman's calculator, which is worth about $8.4M in production based on the current market. His trade value comes in at $6.4M assuming he is a no-compensation free agent or is not offered arbitration, which is equivalent to a Grade-B pitching prospect. Would you deal David Phelps or Ivan Nova within the division for Scott? I know I would.
Of course there's a big obstacle standing in the way of any Yanks-O's trade: Peter Angelos. The Orioles' owner despised George Steinbrenner and his team, and the Mike Mussina signing only exacerbated the problem. The two teams have made just one trade during Cashman's tenure, the Jaret Wright-Chris Britton blockbuster back in November 2006. Perhaps a deal could be worked out with acting GM Andy MacPhail having exclusive control of the baseball ops, maybe even a multi-player trade involving Ty Wigginton as well.
I don't expect the Yanks to make a major splash before Saturday's deadline, but I'm hoping to be surprised. Scott doesn't have the name recognition of Dunn, but he's performing at a similar level this year and has a more favorable contract situation. As far as we know, the asking price isn't as ridiculous either. If the Yanks do decide to make a move for a full-time designated hitter in the next two days, they won't be able to do much better than this guy right here.