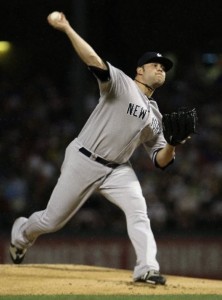 Last night's game was absolutely heartbreaking when you forget that realistically, few thought the team would pull out a win with the quality of bottom of the order and opposing pitcher, Felix Hernandez, being, well, Felix Hernandez. By now, those who have stood by Joba despite his inconsistency are likely starting to question their commitment. If anything, the game may have crystalized some of the issues we'd seen with Joba Chamberlain this year.
After the game — in which Joba gave up a grand slam to steal Javy's outdeuling of King Felix — Girardi said he'd continue to stick with Joba. "As we go forward, I would like to have an 8th-inning guy…I'd like to stay with one guy. I'm going to send him back out there," he told reporters. He also said that Joba's been "largely good" when they've had leads and he's still re-adjusting to the 8th inning role.
In reality, some of what Joe said is true — he has been largely good (no, really) all things considered, but when he's been bad, he's been Ramiro Pena-in-an-0-2-count-against-Strasburg bad. But unfortunately for Joe and the rest of the team, the excuses aren't really assuaging anyone's fears. He's still blowing up in too many games and he's the primary reason the bullpen is one of the team's biggest question marks. For an "8th inning guy," consistency must be greater.
The starter-turned-reliever-turned starter-turned reliever has had some very impressive peripherals on the year and yet they haven't turned into positive results. Chamberlain, prior to last night's game, had a K/9 of 9.91, a BB/9 of 3.22, a microscopic HR rate (which will certainly go up), a festive 2.68 tERA and an FIP of 2.35. Yet somehow he also featured an ERA of 4.95 and a BABip of .378, far higher than anything he's thrown up in his career. So what could possibly explain the drastic divide in what we know statistically should happen, and what has happened?
Undoubtedly, as the BABip and other peripherals indicate, Joba has had quite a bit of pure bad luck. The reason the results have manifested to such proportions, I suspect, is largely what's happened after the poor luck. In all, there are ten appearances (not including the most recent game with Seattle) in which he's given up runs. Maybe he just can't handle the pressure after never quite regaining that plus-plus-plus stuff he had in 2007?
A quick look at those appearances:
Joba enters April 4th game against Sox. Starts with a weak groundout to third then gives up seeing-eye single, walk and a deep flyball and then a game-killing single to RF. Leverage Index was .79 (1.0 is considered high leverage).
April 11th against Rays, Chamberlain enters and gives up a sharp single then a triple. He settles down then issues a walk before getting a flyball out. Leverage index was again .79
Later in April, against the Angels, Joba enters and gives up a LD single then a home run and then recovers to retire three in a row on flyballs. Leverage index was .95
In mid-May, against the Twins, Joba had a wild time. He gave up a cheap single to start, then came back with a groundout, a walk, a strikeout, a single, another walk and finally, a home run. Leverage index was 2.47
The next game was against the Sox. Chamberlain saw runners reach on grounball single and an error before getting clobbered with doubles and singles. Leverage is 1.90
To close out May, in the infamous Cleveland game, Joba watched a seeing-eye single get through. Then was singled and doubled to death. Miserable. Leverage was 1.99. The previous low point of the season.
Sandwiched between some nice outings against Baltimore and Houston was a rough spot against the Jays. He threw 6 pitches; Jose Molina hits a double, Fred Lewis hits a GB single, scoring Molina (!) from 2nd. Leverage was 2.79
Squaring off against the Phillies, Chamberlain gave up doubles, singles, walks, steals — it was bad from beginning to end. Leverage was .25
Against the Bigelow Torre Tea's in L.A., Chamberlain started off with a walk, got a double play, then saw a single, a stolen base and a double to allow the run to score. Only Torre's remarkable incompetance saved him from being the goat again. Leverage was .14
Last week against Toronto was the previous mishap with Chamberlain. He gave up a scary out in LF (Gardner made a great catch), then saw a walk, a flyout and two singles. He was actually worse than his line looks. Leverage was 2.76
Well there's no clear correlation that Joba unravels because of bad BABip luck (I'd have to go back to see the video of those hits, which is just far too much research than I'm willing to put forth), he does struggle when the game is on the line and it does seem that once he gives up a big hit with a man on second, he loses it. With RiSP, Chamberlain is being hit around to the tune of .333/.383/.429. There doesn't appear to be a problem with runners just on first (.132/.195/.263) but when they reach second he just unravels, yielding a line of .357/.438/.429.
He's also walked (including last night's game) 8 men in 11 appearances in which runs scored, indicating some level of frustration. Eight of the ten appearances listed above have a leverage score of .79 or higher. Looking at the rest of the game logs, he's been pretty much all-or-nothing this year — lights out or insomnia-inducing. While his peripherals say he should be one of the best relievers in the AL, it's undone by the poor luck and the appearances in which Murphy's Law presides. Part of that appears to be from a loss of focus. He's just not spotting his pitches when luck puts him in a jam. And they're getting tagged.
In terms of pitch sequencing, this is about the one area of consistency you'll find with Chamberlain. He's throwing fastballs pretty much exclusively if there is a 1-0, 2-0, 3-0 count but by the same token is also fascinated by the 2-2 and 3-2 slider. His pitch selection still leaves much to be desired in terms of predictability and when they're not spotted well, yikes. With both pitches rated as fairly pedestrian in Pitchvalues this year, adjustments must be made. And he hasn't made them thus far.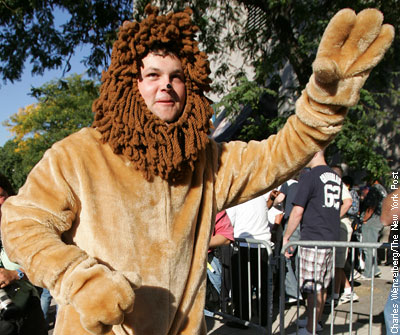 As I mentioned, Chamberlain also had some stretches where he was very good and excelled when the game was on the line. In 19 games with a 1.00 or higher leverage situation, teams scored off him in 6 of them. You want much better results for a reliever facing high-pressure situations, but he hasn't completely Trevor Hoffman'd the bed when the game is on the line. As Girardi said, by that measure, he's been largely good. But not good enough. Someone that volatile is not who you want to see come into the 8th inning of a tied game 7.
Joba is sort of a special situation in that he's started before and who knows, may even return to the role next year (though I doubt it). But generally speaking, relievers are not consistent, particularly young ones. It's why they're relievers; you can't just pull them every time they struggle.
At the same rate, having set roles and continuing to set them up for failure could be damaging to the player and is certainly damaging to the team. Girardi admitted that Chamberlain's stuff was off but yet he had no contingency plan — no one warming up in the bullpen. Putting confidence in the pitcher is one thing, but being haphazard when you know he doesn't have a feel for his pitches that night, is another.
For the fans, it's hard to separate expectation from patience. What Mike said last night is correct — he is getting by largely on his reputation from three years ago (or 2 years ago, depending on how you value his 2008 before injury) and outside of Girardi, I think you'd be hard-pressed to find someone who still advocates keeping Joba in his present role, which no doubt infuriates many. Chamberlain has had crazy-high expectations and he's fallen short.
But still, he's (still) a young pitcher with very good stuff and we'd be wise to remember how rare it is for a pitcher under 24 to reach expectations so early. Lashing out and saying we should trade him for a few pine cones and a glass of clamato juice is short-sighted. Whether they be mental, physical, mechanical or some combination, it's in the Yankees' best interest to get Chamberlain fixed. Right now it's a detriment to the team to let him fix it in the 8th inning in high-pressure situations, and it seems wrong for him too. At the very least, Girardi needs to be willing to take him out if he doesn't look strong. A change must be in order, even if no one in the bullpen has really stepped up and made themselves deserving of the 8th inning honor.
With all these notable implosions we should bear in mind that Chamberlain's not a lost cause either. Tons of 24-year-olds with glimmers of brilliance and moments of frustration and trauma go on to have storied careers. We need to remember the lessons of patience or we're bound to be disappointed in every shiny new toy we receive.
Check out my other long-winded, poorly conceived posts over at Mystique & Aura.