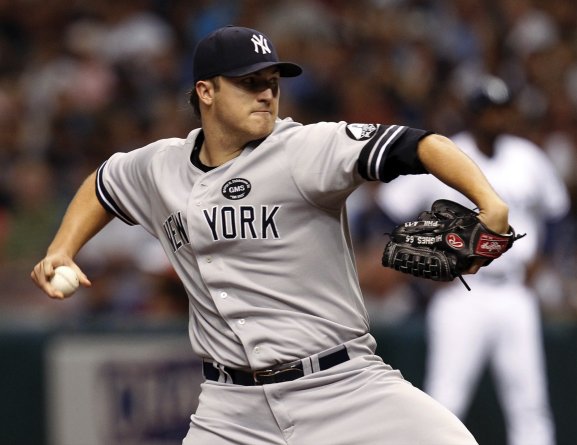 Part of becoming a major league starter is developing a full repertoire. That seemed to be the one thing holding back Phil Hughes in the past. When the Yankees drafted him in 2004 he seemed to have a formidable arsenal, featuring a fastball, slider, and changeup. Here's what Baseball America said when they rated him the team's No. 3 prospect, behind Eric Duncan and Robinson Cano, before the 2005 season:
His fastball also has late life up in the strike zone. Hughes changes a hitter's sightline with a slider that at times has good bite and depth. He's also shown good arm action on his changeup, and both his secondary offerings project as at least average pitches.
We certainly see the late life on that fastball, but we don't see either of the other offerings. The changeup seemed to come and go in the minors and up to the majors. Its reemergence this year was said to be one of the reasons why the Yankees named Hughes the fifth starter, but we haven't seen much of it to date. He's thrown just 43 all season, accounting for a mere two percent of his pitches. The slider he has abandoned altogether, replacing it with a curveball. That started in 2005. Here's what Baseball America said about the curve after that season.
His curve progressed significantly and is now an above-average pitch. … At times he throws his curve in the low 70s just to get it over, and he needs to throw it in the 78-80 mph range for it to be a plus pitch.
Apparently he used it with success in 2006. Baseball America wrote a glowing review of Hughes before the 2007 season, before which they ranked him the No. 4 overall prospect, and the No. 1 pitching prospect, in baseball.
Hughes' greatest accomplishment as a pro has been to forsake his slider in favor of a knockout curveball, which is more of a strikeout pitch and produces less stress on his arm. It's a true power breaking ball that sits in the low 80s with 1-to-7 break. Club officials call it the best in the system because Hughes can throw it for quality strikes or bury it out of the zone, and because he uses the same arm slot and release point he uses for his fastball.
It sounds like the curveball should be something we see more often from Hughes, but instead we've seen him rely on his fastballs, both the four-seamer and the cutter, for most of the season. He's thrown those pitches a combined 76.4 percent of the time, while using the curveball with just 15.6 percent of his pitches. He's thrown it a bit more lately, 17.9 percent since the beginning of June and 19.8 percent since the beginning of July. Yet we've seen batters swing and miss at it less often. In April and May they swung and missed 8.4 percent of the time. Since June 1 that is down to 5.9 percent. Since July 1 it is 5.5 percent.
Opposing hitters have fared well when Hughes throws the curve. According to FanGraphs' Pitch Type Values, his curve rates as his worst pitch, 3.9 runs below average overall and 1.16 runs below average per 100 pitches. Since both of his fastball rate more than a run above average per 100 pitches, it's no wonder that he's been sticking with those. I suspect, however, that if he continues throwing these pitches while neglecting his curveball that we'll see those fastball numbers decline. It's hard for any pitcher, never mind one pitching in the AL East, to survive on just two fastballs. The curve is a necessary weapon.
This is just an observation, not a call to change this or that. I'm not a pitching coach so I don't have all the relevant information. I also know that it's difficult to develop a pitch on the fly, especially when your team needs you to go out there and put them in a position to win a game. In the long run curveball development is necessary. In the short run, he needs to do whatever is necessary to win the ballgame at hand. It's a tough balance to strike, and while we've seen Hughes start to work in his curveball more we've also seen him realize worse results on it.
Bonus graphs
Using Joe Lefkowitz's PitchFX tool, I created a few graphs with Hughes's curveball. I'm not sure what we can glean from these, but they're pretty damn neat in any case.