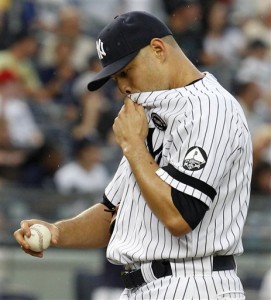 Due to a quirk of the postseason schedule, the Yankees played 15 games en route to a World Series title and used just three starting pitchers. They quickly dispatched the Twins, took advantage of a rain-out against the Angels, and pushed their rotation to the limit against the Phillies before capturing the crown in six games. Because of an elongated series schedule and too many days off, the Yankees got lucky, and Brian Cashman knew they would need more pitching depth to both reach the playoffs and win in 2010.
What Cashman didn't want to do involved Joba Chamberlain and Phil Hughes. He and the Yanks' coaches seemingly had no desire to award two of the five starting spots to kids not yet 25, and after Joba faded down the stretch last year, the Yankees seemed more inclined to hand a starting position to Hughes while putting Chamberlain in the pen. They needed a fifth body to fill out the rotation, someone more reliable than Chad Gaudin or Sergio Mitre.
On the evening of December 21, Cashman struck. We heard rumors of a trade involving a big-name pitcher, and in the morning, that picture was revealed as none other than Javier Vazquez. In a trade involving Melky Cabrera, Mike Dunn, Arodys Vizcaino and Boone Logan, the Yanks had found their starter. With a healthy skepticism of Vazquez's previous tenure in the Bronx, we thought Cashman was taking a big gamble but ultimately saw the deal as a positive. The Yanks had a durable innings eater with a low-90s fastball coming off of a big season in Atlanta. If the stars aligned properly, Vazquez could be the aging pitcher willing to come back on a one-year deal. He would be the new Andy Pettitte. It hasn't quite worked out as planned.
Vazquez's first five starts were awful. He managed to win one of them but allowed 32 hits in 23 innings. He had an ERA of 9.78, had given up eight home runs and had walked 15. The Yankees then gave Vazquez some extra time off, and he rebounded in turn. From May 12 through July 10, he was arguably the Yanks best pitcher. Due to a lack of run support, he went just 6-4 but sported an ERA of 2.75. He allowed just seven home runs in 72 innings and limited opponents to a .183/.254/.315 triple slash line. All was right with the pitching world.
But then, after the All Star Break, the wheels fell off. In the second half, Vazquez is 2-2 with a 6.69 ERA/7.15 FIP. He allowed 11 home runs in 35 innings and walked 15 off of 23 strike outs. More alarming than the results were his stuff. His velocity — well below his 2009 levels — dipped to the low-to-mid 80s and hasn't rebounded. He reported a dead-arm period a few weeks ago and has been average 85 with his fastball. Javy is only 34, and yet we're witness to a Mike Mussina circa 2007 decline in stuff.
After his last outing in which he gave up three home runs and eight hits in three innings against a poor Mariners team, the Yankees ousted Vazquez from the rotation. For now, Ivan Nova will start, and Javy will be available in the bullpen for an indeterminate amount of time as his tries to rebuild arm strength. At some point, because Dustin Moseley can't carry the Yanks and because Phil Hughes, now suddenly vital to the Yanks' October chances, has an innings limit, Vazquez will be called upon to start in September. It seems however that the Yanks will stick him on the mound only begrudgingly. Right now, Javy probably wouldn't make the postseason roster.
So then, with a month left in the season, was Cashman's Vazquez gamble a success or a failure? Javy hasn't been the pitcher the Yanks thought they were acquiring in terms of stuff and durability, and they're now back where they were last September with some retreads filling out rotation spots. Yet, the Yanks didn't give up much. Melky Cabrera, earning over $3 million, is struggling in Atlanta. While Vazquez has a -0.1 WAR, Melky is sporting a -0.5 mark. Michael Dunn is a non-factor, and, in fact, Boone Logan is a better version of Dunn. Arodys Vizcaino threw 80 innings and then injured his elbow. He has a high ceiling but is far away from reaching it. He might make the Yanks miss him; he might make the Yanks forget him.
We could call the trade a wash because the Bombers can afford Vazquez's salary, but part of what made the deal so alluring was Javy's Type A status. He's still hanging onto that by a thread, but it's hard to imagine the Yanks would offer him arbitration. He could very well accept if the Yanks are to offer it, and considering his rapid decline this year, I don't see another team picking up Javy while sacrificing the draft picks. So then, this deal appears to hinge on Boone Logan and Arodys Vizcaino. Who would have expected that?
With a month and the playoffs remaining, I hesitate to say Javy's been a true bust; after all, those 12 starts between May and July were a life-saver for the Yanks. But he's been a true disappointment, and as he's become one of the last men on the pitching staff, I can only wonder if Cashman would have made the same move had his crystal ball shown him this future.