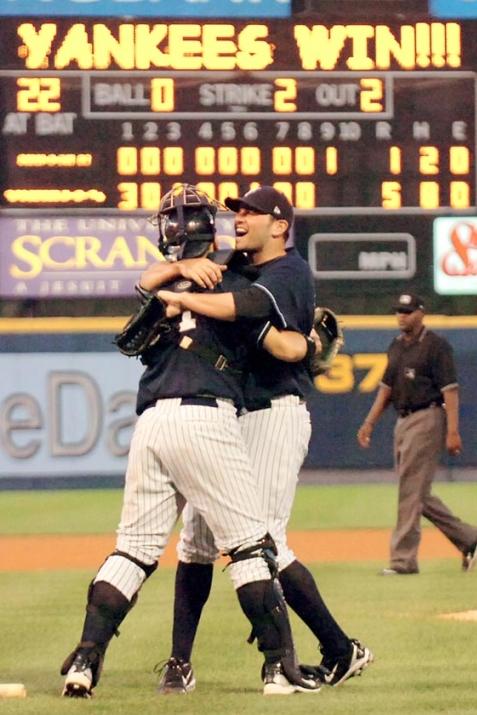 There's no question that 2010 was a banner year for the Yankees' farm system. Not only did their top prospects perform very well and continue along their development path, but numerous players broke out and several others returned from injury and exceeded every reasonable expectation. The system had been trending downward over the last few seasons due to graduation, trades, and normal attrition, but this year has re-established the system as one deep in both high end talent and role players, exactly what the Yankees need.
The Yanks' six domestic affiliates went a combined 368-318 (.536) in 2010, at least the 28th consecutive season the affiliates have combined for an above-.500 record. Triple-A Scranton (right), Double-A Trenton, and High-A Tampa all won their division and qualified for postseason play. A large part of that success can be attributed to all of the top shelf pitching prospects the Yanks have at the upper levels. It really is an impressive group.
This post is not intended to be any kind of prospect ranking. It's quite the opposite. It's a recognition of those who had great statistical years regardless of their future potential. Sometimes, we just have to step and say damn, that guy was awesome without obsessing over the underlying data and whether or not it's sustainable.
Here are my 2007, 2008, and 2009 awards posts. If you're unfamiliar with how I do these things, I disqualify the Player of the Year from the other major awards just to mix things up. Variety is the spice of life, as they say.
Minor League Player of the Year: Brandon Laird, 3B, AA/AAA
Following a 2009 season in which he started off slowly before turning things around in the second half, Laird dominated the Double-A Eastern League right from the get go in 2010. He clubbed four homers with a .334 wOBA in April, then improved to six homers and a .408 wOBA in June, nine and .382 in July, and then four and .346 in August before being promoted to Triple-A Scranton. Overall, Laird hit .281/.336/.482 with a system leading 25 homers and 102 RBI, but his performance with Trenton is what really solidified this award for him. He hit .291/.355/.523 (.371 wOBA) for the Thunder, enough to win him the league MVP and Rookie of the Year awards. Of course, the RAB Minor League Player of the Year Award trumps all.
Honorable Mention: Jesus Montero, C, AAA; Graham Stoneburner, RHSP, A-/A+
Minor League Pitcher of the Year: Graham Stoneburner, RHSP, A-/A+
This was a tough, tough call. There are four or five legitimate candidates for this award, and in a normal year any one of those guys would have won in a landslide. That's the kind of year the system had, basically everyone hit on the best case scenario. Stoneburner gets the nod for a few reasons. One, opponents hit just .209 off him, the fifth best mark in all of minor league baseball and easily the best in the system. Two, his 8.7 K/9 led all full-time starters in organization while his 4.03 K/BB ratio was third best. Three, he generated groundballs an absurd 57.1% of the time, again the best mark among full-time starters in the system. Stoneburner went 42 days between earned runs at one point, and only once all season did he allow more than three earned runs in a start (all of the other candidates did it at least three times). Eighteen of his 26 starts featured two earned runs or fewer. He didn't miss a beat following a promotion to the High-A Florida State League, and all of that adds up to my Minor League Pitcher of the Year award. Make no mistake about it, several others were very deserving as well, but only one could take the award home.
Honorable Mention: Hector Noesi, RHSP, A+/AA/AAA; David Phelps, RHSP, AA/AAA; Adam Warren, RHSP, A+/AA
Minor League Hitter of the Year: Jesus Montero, C, AAA
Last season's Minor League Player of the Year had an up-and-down season (well, really down than up), but his overall performance was fantastic for a 20-year-old at the Triple-A level. He hit .289/.353/.517 (.366 wOBA) and set new career highs with 34 doubles, three triples, 21 homers, and 46 walks. Montero became the first catcher in Scranton history to club 20 homers, and just the ninth player overall to accomplish that feat. Considering how poorly his season started (more on that later), the fact that his season numbers are as strong as they are is a testament to how dominant of a hitter he can be.
Honorable Mention: Juan Miranda, 1B, AAA; Melky Mesa, CF, A+
Minor League Manager of the Year: Tony Franklin, AA
For the first time ever, someone not named Dave Miley took home my manager of the year award. Franklin lost his Opening Day starter (Chris Garcia) to Tommy John surgery after one start, and his number three starter (Jeremy Bleich) was largely ineffective before going down with a shoulder injury shortly thereafter. The entire rotation turned over during the course of the year, and at one point Franklin had to run relievers Cory Arbiso and Wilkin DeLaRosa out there as starters every five days. His offense, despite having the league MVP in the middle of the lineup, was unspectacular after the season's first two months, and he didn't have a set closer until July. And yet despite all that, the Thunder had the best record in the Eastern League at 83-59.
Honorable Mention: Dave Miley, AAA; Torre Tyson, A+
The Edwar Ramirez Award (Breakout Player of the Year): Melky Mesa, CF, A+
The second coming of the Melkman has been in the system for half-a-decade, and while he always had the physical gifts to be an exciting player, he had yet to deliver on that promise. This season, he delivered. Mesa's .260/.338/.475 batting line represents career bests across the board, and his 19 homers were just one shy of his previous career high set last season in 57 more plate appearances. He was named the Florida State League Player of the Year for his efforts, and his breakout was just one of many exciting developments in the farm system this year.
Honorable Mention: Rob Lyerly, 3B, A-; Eduardo Sosa, CF, SS
Best Pro Debut: Gary Sanchez, C, Rk/SS
Montero isn't the only Latin American bonus baby catcher in the farm system, Sanchez took $3M from the Yanks last year and looked to be worth every penny this season. As a 17-year-old he hit .329/.392/.543 with eight homers in just 47 games overall, splitting time between rookie ball and the more advanced New York-Penn League. Although he was promoted out of the GCL with more than two weeks left in the season, Sanchez still finished second in the circuit in homers (six) and RBI (36), and if he had enough plate appearances to qualify, he would have topped the league in SLG (.587) and OPS (1.004). It's not often we see a teenage hitter dominate in his first professional season like this.
Honorable Mention: Anderson Feliz, 2B, Rk/A+; Zach Varce, RHSP, SS
Comeback Player of the Year: Dellin Betances, RHSP, A+/AA
Betances is no stranger to the infirmary, and as you know he missed most of 2009 and the start of 2010 after have a procedure on his elbow. Inconsistency and some early struggles are expected after a major surgery like that, but Betances showed no ill effects and put up his most dominant season to date. He struck out 39 and walked just six while allowing a pair of earned runs in his first 34 innings back (six starts), and finished the season with a 2.11 ERA and a 108-22 K/BB ratio in 85.1 innings. No player in the farm system threw as many innings as Betances this year and topped his 11.4 K/9. This goes back to what we said before; Betances' season was the best case scenario coming off elbow surgery.
Honorable Mention: Bradley Suttle, 3B, A+; J.B. Cox, RHRP, A+/AA
Bounceback Player of the Year (started slow before rebounding): Jesus Montero
To say that the start of Montero's season was a disappointment would be an understatement. Arguably the best hitter in the minors coming into the season, he hit just .229/.306/.357 with three measly homeruns during the season's first two months before he finally adjusted to the Triple-A level. Montero hit .321/.380/.601 with 18 longballs the rest of the way, including a monster .351/.396/.684 performance following the All Star break. Coincidentally, the turn around came right around the time the Cliff Lee trade with Seattle fell through. Maybe he just got a little mad. It was the kind of season this award was made to highlight.
Honorable Mention: Bradley Suttle, 3B, A+; Manny Banuelos, LHSP, Rk/A+/AA
Most Disappointing Player of the Year: Neil Medchill, LF, A+/A-
One year after leading the NY-Penn League and setting a new Staten Island franchise record with 14 homers, Medchill managed to go deep just a dozen times despite coming to the plate nearly twice as often. No one believed (or should have, anyway) that his 2009 performance was indicative of his true talent level, but the crash back to Earth was even rougher than expected. Medchill hit just .199/.280/.331 on the year, leading the system with 154 strikeouts, or one every three plate appearances almost on the nose.
Dishonorable Mention: Kyle Higashioka, C, A-; Wilkin DeLaRosa, LHRP, AA
Individual Level Awards (click for a larger view)

All-Minor League Teams
Lifetime Achievement Award
This year's recipient is a former top prospect hurt by the aggressive promotions that plagued the farm system in the middle of last decade. Signed out of Venezuela way back in 2002, the organization thought so highly of him that his professional debut came as a 17-year-old with the High-A Tampa Yankees as an injury fill-in. After starring with the Rookie GCL Yanks later that year (.336/.392/.511), he was named the seventh best prospect in the system by Baseball America and as promoted to Low-A Charleston the following year but struggled to find consistency. He hit just .252/.314/.348 on the season.
Sent back to Charleston the following year after Baseball America again considered him the seventh best prospect in the system, this player hit a more respectable .255/.357/.386 as a 19-year-old before being bumped up to Tampa for a disastrous late season cameo (.223 wOBA). Assigned to Tampa to start the 2007, he hit .266/.327/.366 in a forgettable season, yet it earned him a promotion to Double-A Trenton the following season. An injury ended his 2008 season barely more than a month in, naturally after a hot start that saw him hit .302/.387/.396.
Fully healed and back with Trenton last year, our hero had his worst season as a professional, a .213/.278/.332 campaign that all but wiped his face off the prospect landscape. As a 23-year-old in 2010, he surprisingly enjoyed the best season of his career, free from the pressures of being one of the Yanks' few legit prospects that plagued his early career. A position change and a return engagement with the Thunder saw him hit .283/.350/.421 with a career high ten homers that forced his name into the everyday lineup.
It's not enough to get him back on he prospect map, but it's enough to earn him this award. Spending the better part of a decade struggling to find any kind of success can really weigh on a person, so this year's recipient is being recognized not necessarily for his on-the-field accomplishments, but for his perseverance and willingness to stick out the bad times in hope of better days ahead. This year's Lifetime Achievement Award goes to …. drum roll please … Marcos Vechionacci.