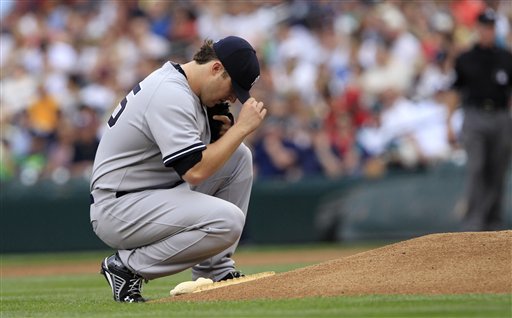 Phil Hughes' first full season as a big league starter has certainly had it's share of ups-and-down. He came out of the gate and was arguably the best pitcher in the league through his first six starts thanks to a 1.38 ERA, 2.51 FIP, and .214 wOBA against. The next 11 starts didn't go so well (5.51 ERA, 4.63 FIP, .355 wOBA against), but the six after that did (3.63 ERA, 4.18 FIP, .285 wOBA against). The overall body of work (4.26 ERA, 4.21 FIP, .311 wOBA against) is pretty good for a kid that started the season as a 23-year-old in the AL East, but tonight the Yankees need better than pretty good. They need Hughes to be at his absolute best.
The last two games have been quite possibly the most stressful, exciting, depressing, and emotional games we've seen not just this year, but over the last two or three years as well. Add in the fact that the Yanks had lost six of seven games coming into this series against the Rays, and well, everyone's patience was starting to wear a little thin. The disappointment felt during Monday's lost was wiped away by the pure joy of last night's thrilling (and for a while, painful) victory. A win tonight not only keeps the Yanks out of second place in the division, but it also allows them to feel pretty good about themselves going into tomorrow's off day and the weekend series in Baltimore. Considering how awful things have been going, that's a pretty significant moral victory.
Hughes, of course, had his last start skipped in an effort to control his ever-increasing workload, though he did make a one inning relief appearance in Texas as sort of a tune-up. His 156.1 IP this year are 44.2 more than he threw last season, 56.2 more than 2008, 40.1 more than 2007, and 10.1 more than he threw in 2006, his previous career high. Not only are we talking about uncharted territory in terms of overall workload, but it's been four seasons since Hughes was even close to this many innings, so it's clear to see why the Yanks are being careful.
Unfortunately, one of the side effects of being skipped is unpredictability, which is something young starters come with anyway. For all intents and purposes, the Yanks have had Hughes skip a start twice already this season, and both times he struggled immediately afterward. His June 24th start was easy to pass on because it conveniently fell on an off-day, and he then went 11 days between starts due to the All Star Break. Perhaps not coincidentally, Hughes struggled following each skip (six earned runs allowed each time), but it's not like he was setting the world on fire at that point of the season anyway. Correlation does not equal causation, but we can't completely ignore the possibility that the skips and the struggles are related.
Regardless of innings, starts being skipped, all that stuff, Phil Hughes has to be in top form this evening. The bullpen continues to be worn down after back-to-back extra inning affairs and a five game stretch in which the starters threw just 28.1 of 48.1 total innings. Kerry Wood is bound to unavailable after working in four of the last five days, and the same should be true for Boone Logan, the only lefty in Joe Girardi's bullpen. David Robertson warmed up four freaking times before finally getting in yesterday's game, and even Mariano Rivera's recent workload has gotten up there. The last thing Hughes can rely on tonight is having a fresh bullpen to bail him out.
There's a lot of pressure on the kid tonight to deliver not just bulk innings, but quality innings. Efficiency most certainly has not been his strong suit over his last 15-20 starts or so, but tonight would be a fantastic time for him to buck that trend. Hughes ascent to a top-of-the-rotation starter is something that will take years to happen, but that's the kind of effort they need on this day. They need length and more than just a chance to win the game. It's arguably the biggest start of Hughes' young career, so let's all hope he's up to the task.