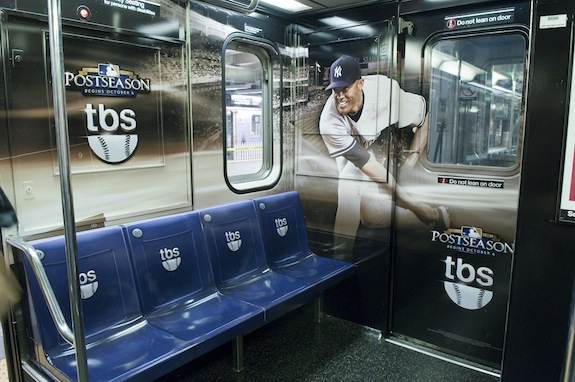 Three billion dollars is no small amount to pay for the rights to baseball games. For any media entity, an investment of that magnitude requires a commitment to the cause, and when two competing media companies throw that much money into one pot as FOX and TBS did in 2006 for MLB rights, the product aired must be of a superb quality.
Last year, as the Yankees marched to their 27th World Series title, TBS' coverages wasn't all that. Chip Caray was pilloried in the press, and TBS brass eventually removed him from the broadcast booth. For a game long accustomed to the subpar stylings of Tim McCarver and Joe Buck, the TBS fiasco was just business as usual, and it seemed that baseball would be relegated to an afterthought on the national stage.
But TBS this year is taking its commitment to the game seriously. As I detailed yesterday on Second Ave. Sagas, TBS and MLB have engaged in a groundbreaking advertisement campaign in the New York City subways to promote TBS' postseason coverage. One of the 42nd St. shuttle trains will be fully branded with baseball superstars, and in-car video screens will show highlights from playoff games and promotions for upcoming contests. While the dollar totals for the deal haven't been announced, the shuttle branding combined with the display ads represent an aggressive push by TBS to get casual fans interested in their baseball coverage.
"Postseason in New York is always a big moment for sports fans, and this is an opportunity to excite the local fan base and launch a campaign that highlights iconic players in local markets," Christina Miller, a Turner Sports senior vice president for strategy, marketing and promotion, said.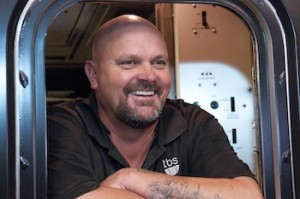 Over at AOL's Fanhouse, Andrew Johnson picks up on this theme as he explores how TBS is improving its October coverage. In its fourth season of playoff coverage and with Ernie Johnson's replacing Chip Caray, TBS is striving to bring a better understanding and presentation of the game to the fans. "It's really important that we know our roles," Ron Darling said to AOL. "We're really custodians of these great athletes and great teams that are gonna be chronicled forever and be on DVD forever, so we do feel a responsibility, with Turner doing these games, that we're part of it. We're part of history every year."
Darling and John Smoltz will join Johnson in the booth. The color analysts in the studio will include David Wells, Cal Ripken and Dennis Eckersley. Their analysis might not stray into sabermetrics and advanced statistical viewpoints, but these are players who are both entertainers and baseball supporters. Eric Byrnes and Kevin Millar they are not.
This push by TBS to do better stands in stark contrast to FOX's coverage which often seems begrudging at best and downright resentful at worst. FOX too has spent the billions, but they don't listen to the loud groundswell of disgust for the quality of their broadcasts. They continue to turn to Buck and McCarver as the voices of baseball. They plug football nearly as often as they discuss baseball during the broadcasts, and they haven't engaged in much advertising to promote their cause.
Baseball writing on the Internet has at times grown on the wings of Fire Joe Morgan, a site dedicated to, well, seeing the dismissal of ESPN's lead baseball color commentary realized. We can't bash on the bad coverage without giving a nod to the good, and while TBS still makes its mistakes, it's doing more to promote the game than other outlets who pay the big bucks. As the Yanks will soon be appearing on TBS, we should sit back and appreciate.