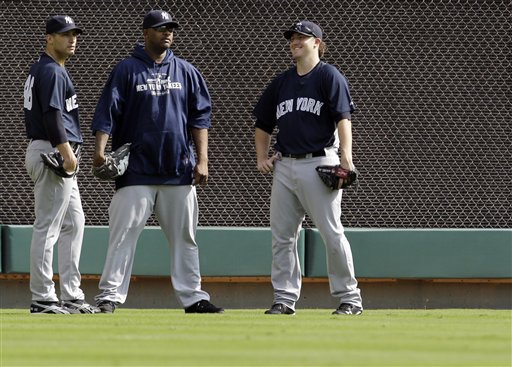 On the brink of elimination, the Yankees and Joe Girardi had to pull out all the stops to secure a win in Wednesday's Game Five. Thankfully the offense woke up a bit, so they didn't have to resort anything too extreme, but Mariano Rivera was available for up to seven outs if needed. He's done that just once in the last 53 months. It's a win or go home situation, and that tells you just how desperate the Yanks were.
Unfortunately, things don't get any easier from here. The Yanks are still facing elimination in Game Six later tonight, and once again they'll have to pull out all the stops to save their season. That includes using Mo for multiple innings on back-to-back days, using other relievers in roles they might not be used too, and sometimes even bringing a starter out of the bullpen.
Game Five starter CC Sabathia told reporters during Thursday's workout that he'll be available to pitch in relief in Game Six. "I can probably throw 45 pitches, 50," said the Yanks ace, definitely not an insignificant number of pitches. Perpetually confident, Sabathia declared that he would then throw another side session when (not if) the Yanks win in preparation for the World Series. We've known that CC is a team first guy for two years now, but this pretty much seals it.
Of course, going with your ace out of the bullpen is hardly a guarantee of success. The Phillies dropped Game Four of the NLCS two days ago when Roy Oswalt retired just one batter before allowing the Giants to score the winning run in the bottom of the ninth. Charles Nagy took the loss in Game Seven of the 1997 World Series, though that's a special case since the game was in extra innings. One the other hand, the Yanks have first-hand knowledge of how devastating it can be to bring a starter out of the bullpen. Mike Mussina cleaned up Roger Clemens' mess and then some in Game Seven of the 2003 ALCS, and I don't think we need to re-live Randy Johnson's heroics in both 1995 and 2001.
It's the kind of move that's ripe for second guessing. If the starter doesn't get the job done in relief, everyone questions why he was brought in in the first place. If the regular relievers blow the game, everyone wants to know why the starter wasn't in there. Managers get paid the big bucks to make that call, and Girardi will presumably have to decide between his setup crew (David Robertson, Boone Logan, and Joba Chamberlain) or his ace on two days rest after throwing 112 high-stress pitches in Game Five. I'm not Girardi, but for me the choice is clear: give me Sabathia eight days a week and twice on Sundays.
Given what he said, Sabathia probably available for two innings or so. Fifty pitches is a lot and should be more than enough for three innings, but I bet they'll be just a little on the cautious side given their long-term commitment to him. That said, whatever needs to be done will be done, especially with Hughes on what we assume will be a short leash. Unlike Joba and D-Rob, CC has proven capable of retiring the Texas batters on a consistent basis (SSS), and he's big and strong enough that the short rest isn't much of a concern. It is his normal throw day, after all. If there's a chance for Sabathia to take the ball from Hughes and hand it right off to Mo with the season on the line, I think that's the route Girardi has to go. If CC isn't needed in Game Six, then he'll be available in Gave Seven. If you're going to lose, lose with our best on the mound.
I hope Hughes renders this moot with a dominant and lengthy outing later tonight, something akin to what he did against the Twins in the ALDS. But anything short of that, Sabathia should be the first one out of the bullpen in any situation short of a Yankee blowout. There's zero margin for error in Yankeeland right now, and the ball needs to be in the hands of the team's best pitchers, period.