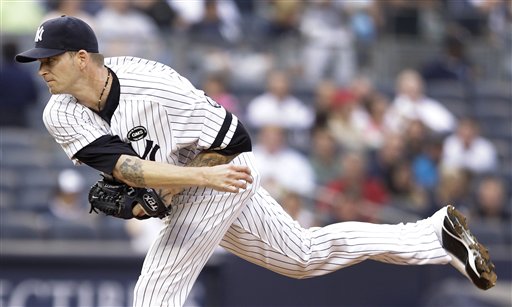 As you surely know by now, the ALDS schedule lines up in a way that allows the Yankees to use just three starters, the same formula that helped bring home World Championship #27 last year. CC Sabathia gets the Ball in Game One and then again in Game Four on short rest, with Andy Pettitte and Phil Hughes taking Games Two, Three, and Five (on regular rest) in some undetermined order. That leaves A.J. Burnett in a precarious position, and the best solution might be to leave him off the ALDS roster all together.
A fourth starter isn't necessary obviously, and the Yanks will carry presumably at least one long man from a group that includes Dustin Moseley, Ivan Nova, Chad Gaudin, and Sergio Mitre (Javy Vazquez isn't even an option, sadly). If Burnett were to be included on the playoff roster, you've basically got a guy that won't be needed to start or even be used in relief since the setup crew of Kerry Wood, Joba Chamberlain, David Robertson, and Boone Logan figure to do as much of the heavy lifting between the starter and Mariano Rivera as humanly possible. Yeah, there's always the possibility of extra innings or blowouts, but that's what the guys in the first sentence are for.
It comes down to what is more useful for the Yanks against the Twins, Burnett or a more strategic reliever like Royce Ring, a second lefty for Minnesota's lefty heavy lineup. Granted, we're not debating between filet mignon and lobster here, it's more like we're on line in the McDonald's drive-thru trying to pick stuff off the dollar menu. Chances are it'll all make you just as sick in the end, kinda like A.J. and Ring.
Seriously though, Ring hasn't been very impressive over the last several weeks, retiring just five of the nine lefties he was brought in to face. It was a brief but underwhelming audition, yet with Damaso Marte's injury* he's the best option for a second bullpen lefty. Both Jim Thome (.477 wOBA vs. .334) and Jason Kubel (.341 wOBA vs. .297) have considerable platoon splits, so perhaps it's worth it to have that second matchup lefty for low-leverage work even if it's a five-piece nuggets like Ring. Sometimes the low arm slot alone is enough to throw a batter off.
It's entirely possible that we're overthinking things here. Considering his sheer velocity, the best option might be to just carry Burnett and let him air it out one relief inning at a time. There's no holding back, he wouldn't have to worry about getting through the order two or three times. It could be one of the most electric things we'll ever see on a baseball field, or it could blow up in everyone's face.
I've never been a fan of carrying a lefty reliever just because he was a lefty reliever, I'd rather take the X best pitchers regardless of handedness, but in a short series there's a definite tactical advantage. The tenth and eleventh arms on the staff aren't likely to see much action in a short series because of all the off days anyway, not unless something goes horribly wrong or wonderfully right, but in the off chance that one is needed, another southpaw against a lineup like that could be mighty handy.
Aside: Seriously, how awesome would it be to have both Logan and Marte in the pen in this or any other series? For shame.