We know the who. But beyond Game 1, we don't know the when. As in, when do Hughes, Pettitte, and Burnett pitch? It might seem like a straightforward situation, but it doesn't have to be. The Yankees can exploit the schedule to give them the best possible rotation in the ALCS.
Starting Sabathia on three days' rest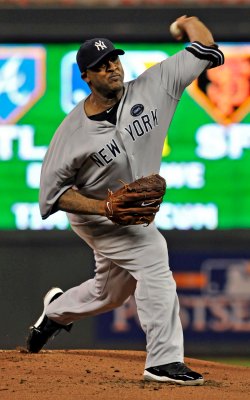 The first question the Yankees have to answer is whether they will start CC Sabathia on three days' rest in Game 4. It worked last year, and since the Yankees face a pitching situation similar to last year's, they will certainly consider it. If everything goes well, going with CC in Games 1, 4, and potentially 7 makes sense.
No one wants to wear down Sabathia. He is, after all, under contract for the next five seasons and figures prominently into the team's plans during that time. But he also figures prominently into the team's 2010 postseason plans. He's clearly the team's best starter, and the Yankees should use that to their advantage.
As was the case last year, Sabathia is well rested heading into the ALCS. After he pitches on Friday he'll have made two starts in 17 days. This isn't a situation akin to 2008, where he pitched on three days' rest down the stretch and was worn out by the playoffs. We might worry about the long layoffs between his starts, but it has the potential to help the Yankees more than it does to hurt them.
Using Sabathia in Games 4 and 7 gives the Yankees a further advantage. Cliff Lee pitches in Game 3. If he dominates as he did last night, the Yankees can respond immediately with their stopper. Then, when Lee returns for a potential Game 7, he'll have Sabathia opposing him. The hope, of course, is that things don't even get that far.
Using Sabathia in Game 4 presents an additional advantage, as well.
Starting Burnett in Game 5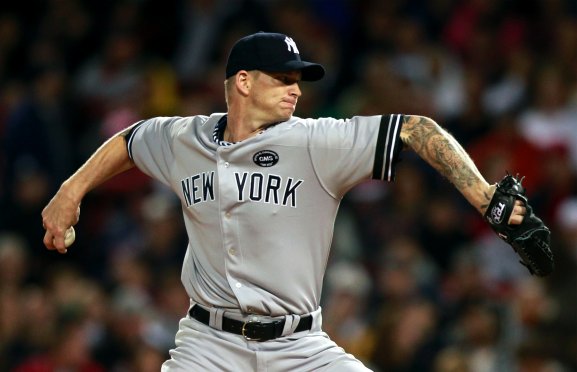 No one wants to see A.J. Burnett start in the ALCS. But the way the schedule works out this year, there isn't much of a choice. Last year the schedule worked out so that only Sabathia would have to pitch on three days' rest. This year, without the off-day between Games 4 and 5, every starter would have to go on short rest in order to cut out A.J. He's necessary at this point.
The Yankees, though, can make him as unnecessary as possible. By going with Sabathia in Game 4, Burnett gets pushed to an if-necessary game. No one's going to predict an ALCS sweep, but in this case I think it's a real possibility. We'll get to that in more depth as we continue previewing the series. If the Yanks can pull that off, it eliminates the need to use Burnett at all.
Who in Game 2?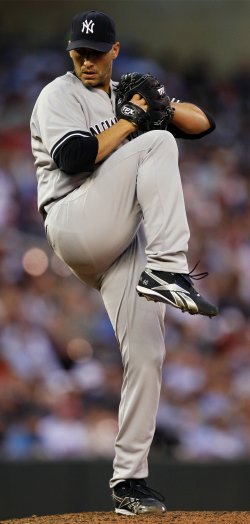 The last rotation issue involves the Game 2 starter. The smart money is on Andy Pettitte, since he filled that role in the ALDS despite throwing with the same arm as Sabathia. If the Yanks didn't feel the need to start Hughes on the road in that series, I'm not sure they'd change course in the ALCS.
For his part, Hughes has pitched well in Arlington. We all remember the near-no-hitter back in 2007. He returned there in 2009 and threw his best game of the year, an eight-inning, zero run performance. This year he pitched a single inning there. That makes for some entertaining noise, but it doesn't have much substance. The sample, for both its size and remoteness, is completely unpredictive.
What we do know is that the Rangers hit righty starters a bit better than lefty starters, especially in terms of power, and that they hit far better at home than on the road. Their righty hitters have also hit righties just about as well as they have hit lefties*, which further negates the 15.1 innings Hughes threw in Texas in the last four years. Andy Pettitte
*Rangers RHB vs. RHP: .268/.330/.404. Rangers RHB vs. LHP: .272/.332/.399.
The preferred ALCS rotation
If the Yankees want to take advantage of their situation, this is how they'll lineup the ALCS rotation. I'll also take a stab at the Rangers' rotation just for fun.
Game 1: CC Sabathia vs. C.J. Wilson
Game 2: Andy Pettitte vs. Colby Lewis
Game 3: Phil Hughes vs. Cliff Lee
Game 4: CC Sabathia vs. Tommy Hunter
Game 5: A.J. Burnett vs. C.J. Wilson
Game 6: Andy Pettitte vs. Colby Lewis
Game 7: CC Sabathia vs. Cliff Lee
But since the Yankees might not start Sabathia on three days' rest, it will likely line up like this.
Game 1: CC Sabathia vs. C.J. Wilson
Game 2: Phil Hughes vs. Colby Lewis
Game 3: Andy Pettitte vs. Cliff Lee
Game 4: A.J. Burnett vs. Tommy Hunter
Game 5: CC Sabathia vs. C.J. Wilson
Game 6: Phil Hughes vs. Colby Lewis
Game 7: Andy Pettitte vs. Cliff Lee