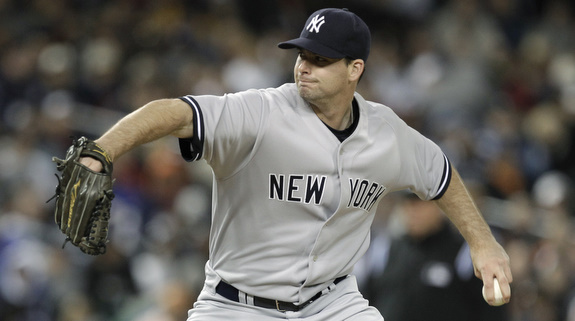 As we sit and wait for the Yankees to make some kind of transaction this month (just to liven things up for cryin' out loud, forget about strengthening the team at this point), there's some in-house stuff to be taken care of behind the scenes. Teams and players are currently in the process of filing for arbitration, and will exchange salary figures six days from now. Brian Cashman recently told Chad Jennings that the team always looks to have a contract in place before a hearing (just like everyone else), but they're not afraid to go to one if they feel the player is asking for unfair compensation. Chien-Ming Wang learned this the hard way back in 2008.
The Yankees have just three arbitration-eligible players this winter, and we've already covered Phil Hughes' case as well as Joba Chamberlain's. That leaves Boone Logan, who has already been usurped as the club's primary lefty reliever by Pedro Feliciano this offseason. This is actually Logan's second time through the arbitration process since he's a Super Two. That just means he's eligible for arbitration four times instead of three because he's going to fall a few weeks short of qualifying for free agency in a couple of years. It's just a way of making that extra three-fourths of a year of team control slightly more fair to the player. Logan pulled down $590,000 in 2011, not all that much more than the league minimum. He'll get a decent raise this offseason after a fine second half that saw him strike out 25 batters and hold opponents to a .247 wOBA in an admitted small sample of 21.2 IP.
Remember, arbitration cases are built on old school stats that are simple for the three-person panels to understand, so that's what we're going to stick with here. It was real tough to find comparables for Logan, since lefty relievers come and go like buses at rush hour. I did the best I could, and here's who I came up with…

So yeah, they aren't perfect comparables, but that's life. If we apply the 137.6% average raise (which is weighted by innings pitched) to Logan's 2010 compensation, we get a projected 2011 salary of $811,840, which is still dirt cheap. Because he was so good late in the season, I'm willing to bet he gets a slightly larger raise than that, and frankly I wouldn't be surprised if he ended up making a million bucks or so this coming summer.
Logan's arbitration case will be little more than a nuisance to the front office given the relatively small amount of money at stake (less than one percent of the payroll even if he beats them in a hearing), but it's a sizable raise for him. It does a good job showing you how much the arbitration process keeps salaries down though, because he's going to earn about a quarter of what Feliciano will for similar work and what could easily be similar performance.
All told, the Yankees are looking at about $7M in 2011 payroll obligation through their three arbitration cases this winter, about $5.5M more than what Hughes, Joba, and Logan earned in 2010. I thought it would be a lot less than that coming into the offseason, but that's because I didn't have a firm grasp on the salary scale. Given how much money the team is paying some its older stars, getting cheap production from players like this is imperative to balance out the payroll and keep spending in check.