It's a gorgeous Monday afternoon in New York, beautiful blue sky with a light breeze … they should dome the Tri-State Area with weather like this. Anyway, if you're stuck spending your lunch break inside, here's a pair of links to help pass the time…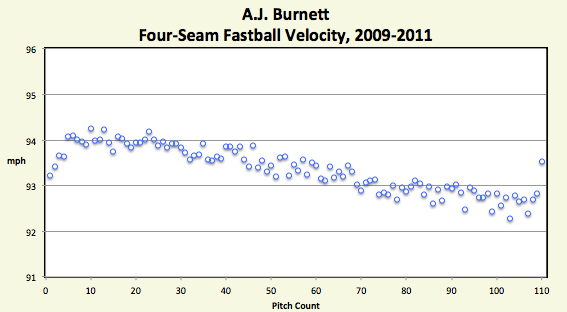 A.J. Burnett, Reliever?
Joe wrote a post about why the Yankees should stick A.J. Burnett in the bullpen earlier this month, and Lucas Apostoleris added to the argument today at FanGraphs. The graph above shows that Burnett's fastball velocity drops a good two miles an hour during the course of a typical start, peaking right around 94 mph through his first 30 pitches. Unsurprisingly, his strikeout rate dips later in the game and he gets hit harder. Joe Girardi said yesterday that they're going to get back to a five-man rotation after the upcoming Red Sox series, and right now A.J. is clearly the odd man out. Given the info presented in Joe's and Lucas' posts, it would be interesting to see what the right-hander could do in one-inning relief bursts.
Previewing The Yankees' Arbitration Cases
The Yankees had three relatively simple arbitration cases last year, settling on one-year contracts with Phil Hughes, Joba Chamberlain, and Boone Logan before hearings even had to be scheduled. It won't be that easy this year though, the Yankees have six players up for arbitration as Tim Dierkes' shows in his Arbitration Eligibles series at MLBTR.
None of the six players – the three guys above plus David Robertson, Brett Gardner, and Russell Martin – are non-tender candidates, and all together they could end up costing the Yankees around $18M or so. Most of that is Martin (figure $6M or so), who's going through arbitration for the fourth time as a Super Two. Gardner will probably get something close to the $2.4M that Michael Bourn got his first time through arbitration last year, and the relievers will be lucky to top $2M each. I really have no idea what Hughes is looking at, but Tim suggests $3.4M or so. Hooray for cheap talent.