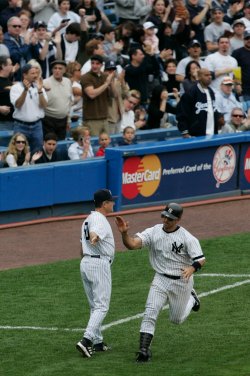 Brandon writes: What if you discussed the Yankees policy on not extending players until their current contracts run out. It obviously has its benefits, where the team can ensure a player is un-injured/capable of playing at a high level before re-upping. However, it also has a dark side in that the Yankees are going to experience a Jeter-like scenario with almost every big name guy on their team. Look at the A-Rod saga back when that happened, the most recent Jeter situation, etc. The idea behind the post would be to kind of analyze the pros and cons of each big name guy and determine if the Yankees could have avoided some headaches by re-upping guys a year/6months before their contract expired.
The origins of the policy Brandon mentions seem to stem from the 2007 season. Both Mariano Rivera and Jorge Posada had one year left on their deals, and Alex Rodriguez had a clause in his contract that allowed him to opt out after the season. Amid questions regarding extensions during spring training, Brian Cashman said that he wouldn't negotiate until the deals had expired. For Jorge and Rivera, this made sense. They were both older players, and the Yankees didn't want to risk giving them another contract prematurely.
In the case of Posada that backfired, as he had a career year in 2007 and earned a four-year, $52 million contract. Rivera, too, received a sizable raise: his previous contract was essentially for three years and $31.5 million, while his new contract was three years and $45 million. In this instance, the Yankees would have done better to lock them up before the season, since they might have been cheaper then. (And Posada certainly would have been.) But that doesn't negate the risks inherent in extending contracts for older players.
The decision to not extend those players came during spring training, and that has to serve as our timeline for analyzing the decision. No one could have predicted that Jorge, at age-35, would have produced a career year. In fact, it was much more likely that his numbers would decline. After all, he did have a mediocre 2005, and most catchers are in decline as they enter their mid-30s. The idea was to lessen the inherent risk by waiting until Posada's contract expired. That is a sound idea. The Yankees got bitten by an outlier and ended up on the other end of the risk curve. But they couldn't have known or even reasonably forseen that in February 2007. That is why the decision is justified.
The situation goes similarly for Mo. In fact, at the beginning of the season he made the Yankees look good for their decision to not extend him. His April was so bad that even though he produced Mo-like results from May through September, his ERA was still around a run and a half above normal levels. Still, his typical Mo finish led to another big contract. Thankfully, he has lived up to it — as much as any closer can live up to a $15 million annual salary.
With Jeter, the situation the Yankees faced this winter was far preferable to the one they would have faced after the 2009 season. He produced incredible numbers that year, leading AL shortstops in WAR by no small margin (Jason Bartlett trailed by 2.2 WAR). If the Yankees negotiated a contract with him last winter, he would have gotten far more than the three years and $51 million he got this winter. It was almost the anti-Posada situation. The Yankees didn't want to risk a premature extension with an older player, and instead of him going and producing an outlying season, he declined. It wasn't exactly expected, but it was certainly within the realm of possibility.
Sometimes, the decision to wait out a player's contract will come back to bite the Yankees. More often, though, it will end up benefiting them. They avoid the unnecessary risk of giving a player money while they still have him under contract. If something goes wrong, they're off the hook. If things go right, or even better than right, they can use their greatest strength, their capital, to make things right. In fact, given the Yankees' financial situation it's tough to argue against this policy. For other teams it might make sense to lock up players early, when they might get a slight discount. But for the Yankees, with their financial prowess, they can afford to wait things out.