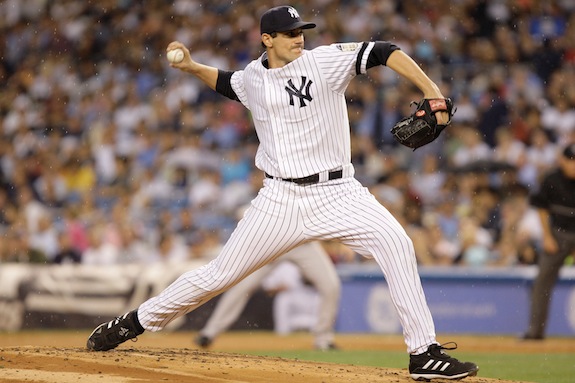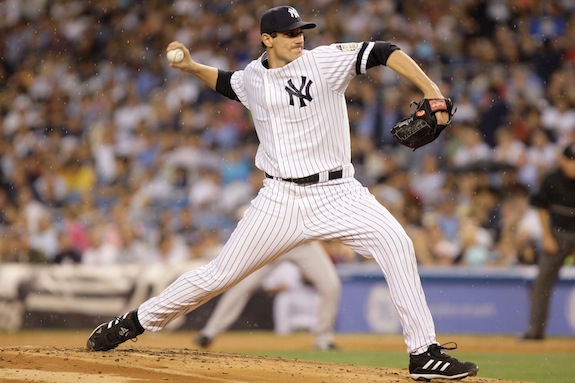 After Cliff Lee shocked the baseball world and signed with the Phillies, I wasn't quite sure what the Yankees would do, but I thought they might kick the tires on the second-best free agent pitcher on the market. After all, with Andy Pettitte's 2011 role uncertain and A.J. Burnett's ability to get outs under fire, the Yankees need someone to throw quality innings, and this free agent could do that.
Over the past two seasons, this free agent had pitched reasonably well. Splitting time between a bottom feeder and a division leader in 2009 and spending all of 2010 with the AL Central champs, he went 31-23 with a 4.39 ERA and a FIP around 4.01 in 420 innings. He posted a combined K/9 IP of 5.7 but saw his strike outs dip from 6.6 per 9 innings in 2009 to 4.8 in 2010. It didn't matter though because he allowed just one home run every nine innings and gave up the second fewest bases on balls in the AL. With a heavy sinker, he also exhibited ground-ball tendencies, a trait that allows a pitcher to succeed with low strike-out rates.
There was but one problem: His name was Carl Pavano, and he had a history with the Yankees. His history, as we well know, wasn't just any history; it was an injury-filled disastrous history that saw many questioning his desire to play baseball and others accusing him of flat-out ripping off the Yankees. Pavano signed a four-year, $39.95 million deal with the Yankees and made just 26 starts over the course of the deal. It was an epic disaster.
Of course, at the time of Pavano's signing in December of 2004, the deal wasn't a bad one, and it's often easy to forget that. After the Yanks' epic 2004 ALCS collapse, the team needed pitching, and Pavano hit the market after back-to-back 200-inning seasons. The Yanks' 2003 World Series loss was fresh in the Front Office's mind, and Pavano was one of the arms that had stymied the Yanks' bats. So the wooing began.
It was quite the courtship. Pavano made the tour of the league, stopping in Boston, Detroit, New York, Baltimore and Seattle. Everybody wanted the right-hander, and he had his choice of destinations. Eventually, he landed with New York and called it a "dream come true."
That dream though became a nightmare. By mid-2006, Pavano had, as ESPN.com reported, sustained "shoulder, back, buttocks and elbow injuries" and had neglected to inform the team that he had broken his ribs in a car accident in Florida while out on a rehab assignment. By early 2007, he had made doubters out of his teammates. "It didn't look good from a player's and teammate's standpoint," Mike Mussina said during Spring Training. "Was everything just coincidence? Over and over again? I don't know…It got to a point where we just didn't want to even hear about it or talk about it anymore."
After drawing the Opening Day start in 2007 due to injuries to everyone else on the Yankees, Pavano went down in mid-April with an elbow strain. He eventually needed Tommy John surgery and would not return to the field until late 2008. By then, the Yankees were ready to say good bye and slam the door shut on that era.
Yet, two years later, the team has found itself without pitching, and as Mike detailed earlier, they turned to Pavano this winter. GM Brian Cashman had, according to Ken Rosenthal, "several conversations" with Pavano's agent, and Pavano "seriously" considered a return to the Bronx. As Rosenthal reported, Pavano "even [told] friends at one point that he intended to rejoin the team."
The ultimate hang-up was one of dollars. The Yanks had offered a one-year deal, and when the Twins guaranteed a second season, Pavano jumped at their offer. He took fewer annual dollars in exchange the security of a second year, and the reunion-to-be turned into one that never was.
It's no longer worth justifying anything surrounding Carl Pavano. He either suffered through bad luck or a poor mind. He could have come back to the Yanks to salvage his reputation, but he would have been received far, far worse treatment than Javier Vazquez did last year. In fact, the fan reaction to Vazquez would would have seemed like a giant group hug in comparison.
Unfortunately for the Yanks' rotation and for Pavano, the biggest sticking point is that he is, in fact, Carl Pavano. Perhaps the Twins' second year saved Brian Cashman from himself for the second season in a row. But if Carl Pavano were some other pitcher with similar numbers, chances are that he would have been fitted for pinstripes by now.