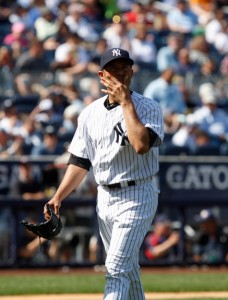 One of the most frustrating things to watch in baseball is when a reliever comes into a game and isn't able to put the fire out. Instead of stranding the runners like he was asked to do, they end up coming around to score, and even worse is when he piles some more runs of his own on top of that. It inevitably happens throughout the season, but it doesn't mean we have to like it. Those inherited runners are one of baseball's little statistical quirks, because when those runs score don't get charged to the pitcher that was actually on the mound at the time.
Let's say it's the seventh inning, and CC Sabathia loads the bases with two outs on an infield single, a bloop into the triangle in shallow right-center, and a hit by pitch that grazed the batter's jersey. Joe Girardi takes his ace out at 118 pitches and gives the ball to Chad Gaudin because he's trying to force feed him a spot on the playoff roster. Gaudin walks two straight batters then gives up a solid single to center, allowing all three of those inherited runners to score before getting the final out. All three runs are charged to Sabathia while Gaudin exits with a shiny 0.00 ERA. It's not fair or an accurate representation of what happened, but those are the rules.
As a whole, the Yankee pitching staff allowed 61 of 212 inherited runners to score in 2010, or 28.8%. The major league average was 30.8%, so the Yanks were solidly better than the rest of the league in that department. I'm guessing that has to do the team's primary relievers having down right excellent strikeout rates, close to or above one strikeout per nine innings pitched. The best team at stranding inherited runners in 2010 was the Twins (23.8% allowed to score), the worst was the Diamondbacks (41.3%, yikes). Here is the inherited runner breakdown for Yankee relievers with at least 25 innings pitched in 2010…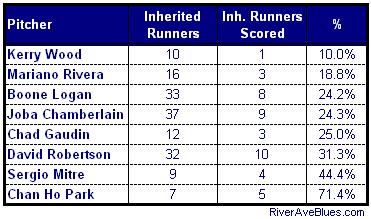 It's not an enormous amount of baserunners on an individual level, but every little bit counts. Fun fact: All three of those inherited runners Mo allowed to score came in one game, the May 16th game when he walked Jim Thome with the bases loaded before allowing the grand slam to Jason Kubel (pictured above). To give you an idea of how unstable this data really is, David Robertson's percentage of inherited runners scored would have been an above league average 28.1% instead of a below average 31.3% had he allowed nine runners to score instead of ten.
Aside from Mitre and CHoP, the team's core relief crew did a fine job of stranding runners, basically league average or better. None of the primary guys really had an especially poor season in this department. But what about the starting pitchers that handed the ball off to said relief crew?
Among the many great stats kept at Baseball Reference is data on bequeathed runners and bequeathed runners scored. That is runners left on base by a starting pitcher and handed over to a reliever, the other side of the inherited runner coin. Here's a breakdown of the team's five regular starters from 2010, with their bequeathed runner data…
Again, it's a relatively small amount of runners on an individual level, but it still puts a dent in the ol' ERA. Both Pettitte and Hughes appear to have benefited greatly from work by the guys relieving them, Sabathia not so much. I wanted to get an idea of how much having an above or below average rate of bequeathed runners score impacted these guys' ERA's, so let's figure out how many runners would have been expected to score had each received the team average of 28.8% inherited runners scored…

Okay, so it's not much of a difference, nothing worth getting upset over. I had no idea what I was getting into when I started writing this post, so for all I knew it could have been a 0.50 ERA swing in some cases. I wish there was a way to get bequeathed runner data for relievers, but alas, B-Ref only keeps it for starters. I suspect that Joba might have been a little unlucky in those spots, I seem to remember quite a few times when he was lifted with men on base only to watch the inning implode. Heck, those three inherited runners Mo allowed to score in that game all belonged to Joba. Could be confirmation bias, so who knows.
As it stands, the only significant addition to the 2011 bullpen is Pedro Feliciano. He's been an inherited runner stranding machine over the last four years, allowing just 51 of 235 runners to score (21.7%) over the last four years. Over the last two seasons, it's 18.3%. That definitely has something to do with his status as a lefty specialist though, so don't get too excited. As long as the Yankee relievers keep missing bats and getting outs on strike three, I would expect them to be better than league average at stranding extraneous baserunners.