As the Yankees continue their pursuit of quality bench help, they've watched as talks with the Astros about Jeff Keppinger fell apart and movement on the Jerry Hairston Jr. front crawled to a standstill. There are plenty of other bench options on the free agent market, but they all have their warts. If they didn't, teams would be after them as starters. One player that was a bonafide big league regular as recently as 2009 has seen his stock drop considerably thanks to a down 2010 campaign, and the Yankees could be in a position to capitalize. That player: Felipe Lopez.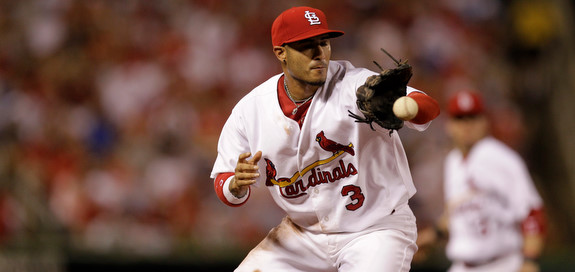 Lopez looked to be the bargain signing of the offseason last winter, when the Cardinals got him for just one year and $1M guaranteed in late February. Things didn't go as planned and Lopez hit just .231/.310/.340 (.295 wOBA, .273 BABIP) in 425 plate appearances before St. Louis released him. The Red Sox grabbed him late in the season, played him in exactly four games, and then offered him arbitration as a Type-B free agent after the season (so they'll get a supplemental first round pick when he signs elsewhere, but his new team won't have to surrender one). Lopez and Cardinals manager Tony LaRussa apparently had a dislike for each other, which in part led to the release. This certainly isn't the first time we've heard about a player and TLR not seeing eye-to-eye, but I digress.
Obviously, any team that signs Lopez is going to do so hoping that his poor 2010 season was the result of playing in an uncomfortable environment rather than a decline in skills. From 2006 through 2009, a period in which he accumulated just short of 2,600 plate appearances (so small sample size warnings do not apply), Lopez hit .278/.349/.387 (.327 wOBA, .324 BABIP). If you look at just 2008 and 2009 (over 1,200 plate appearances and Lopez's age 28 and 29 seasons), he hit .298/.366/.409 (.340 wOBA, .345 BABIP). Unlike Keppinger and Hairston, who are right-handed hitters, Lopez is a switch-hitter and he doesn't have much of a platoon split: career .325 wOBA against righties, .318 against lefties. While he doesn't offer much power (just a .129 ISO for his career), it's obvious he can hit for at least a respectable average and draw enough walks (above average 10.24 BB% over the last two years) to yield quality on-base percentages.
When it comes to baseball skills that don't involve a bat, Lopez is adequate at best. He has extensive experience at all three non-first base infield spots, though he's awful at short according to UZR per 150 defensive games (-10.7 career) while being no better than average at second (-1.0) and third (+0.7). Lopez even has some experience in the corner outfield spots, but we're talking about 109 career innings total. It's not enough to think he could fill in there regularly. Once upon a time he was a baserunning threat, swiping 68 bases in 89 tries (76.4%) in the 2006 and 2007 seasons, but he's tailed off since then (just 22 steals in 38 tries since, an unacceptable 57.9% success rate). Baseball Prospectus' baserunning stats have Lopez at just about average in non-stolen base baserunning situations (going first-to-third, scoring from second on a single, etc.) over the last two seasons, but that would be an upgrade for the Yankees based on recent years.
Lopez's career arc compared very favorably to Juan Uribe's until this past season, and the latter's name popped up as a potential bench target for the Yankees a few times this offseason. Uribe landed a three-year contract worth $21M from the Dodgers, but Lopez will get nothing close to that. He settled for that one-year, $1M deal in 2010 coming off a pretty damn good year in 2009, so what could he possibly expect this time around after the year he had? I mean, at best he'd get that same 1/1 deal again, which is nothing at all. The problem will likely be playing time more than anything. Lopez needs to rebuild his value so that he can land a nice contract next offseason, and he won't be able to do that sitting on the Yankees bench. Maybe they can work something out, maybe they can't, but either way Lopez is one available piece that could make sense for the Yanks in a reserve role, where he could take the place of Eduamiro Penunez.