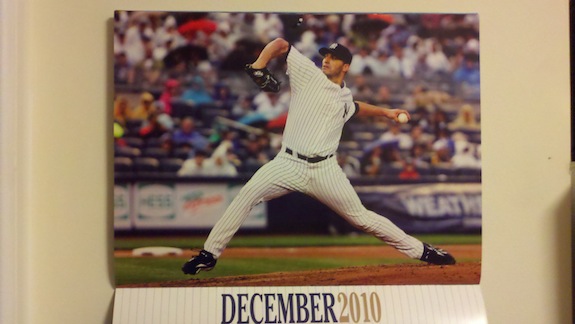 As the Hot Stove League stumbles on, the Yankees are still waiting for the best remaining free agent pitcher to determine his future. Andy Pettitte has waited for over two months to announce his intentions for the 2011 season, but the Yankees believe an official announcement will come this week, Wallace Matthews reports. Unfortunately, says Bob Klapisch, "everything" points toward Andy's retiring this winter.
With Pettitte's decision nigh, Brian Cashman and Co. will have to shift their focus to other targets. Despite earlier reports that the Yanks were moving forward under the assumption that Pettitte would not be back, one club official told ESPN New York that the team is still waiting to hear from the 38-year-old lefty before setting their sights on someone else. "Starter, reliever, a bat, it depends on what's out there," the nameless source said. '"But we gotta know what Andy is gonna do first."
Without Pettitte in the fold, the Yanks are looking at Sergio Mitre and Ivan Nova as internal candidates for the fourth and fifth starter spots, but pitchers and catchers do not report for over 40 days. There are moves to be made yet. Even still, considering Pettitte's recent injury history and age, it's not unreasonable to think he would be good for only around 20-25 starts in 2011, and the club is well aware of Pettitte's limitations right now.