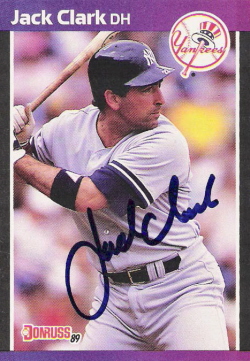 Once upon a time, before the Internet, before Twitter, before beat writers with blogs and fans with blogs, before MLB Trade Rumors and even Mike and The Mad Dog, Jack Clark was a member of the Yankees. Now, I personally don't remember much about Clark's one-year tenure in the Bronx because I was five and baseball was a thing I watched during the summer and not a 365-day obsession. But Clark holds a special place in my heart because his Starting Lineup figurine was one of the first of my collection.
In a way, Jack Clark is the poster child for strange Yankee moves in the late 1980s. Clark made his debut in 1975 as a 19-year-old rookie for the Giants, and he was supposed to be the Next Big Thing. He spent 13 years in the NL and hit .276/.372/.487 with 229 home runs and seemed to hit free agency at both the right and the wrong time.
For Clark, the winter of 1987/1988 was the right time because of his production. While ankle ligament injuries limited his playing time toward the end of 1987, he finished the season third in the NL MVP race and hit .286 with a league-leading .459 on-base percentage and .597 slugging. He belted 35 home runs and drove in 106 runs in just 131 games. It was though the wrong time because of collision. Owners were colluded to keep prices down, and only the Yankees, with a popular incumbent first baseman, offered Clark a multi-year deal.
The NL Champion Cardinals tried to keep Clark, but the Yankees, who careened from player to player in the late 1980s, moved quickly. He a two-year, $3-million with up to $1 million in performance bonuses and vowed to stay healthy. Notably, the deal came together quickly and with few rumors. No mystery teams were involved, and the Yanks had their hitter.
With Clark on board, the Yankees had certainly spent their riches. The team, with its average salary of $718,670, had the highest payroll in the game, but the fans were skeptical. In reactions to the signing, one wondered if Clark could pitch and another said the Yanks signed the wrong Jack. They needed Morris' arm and got Clark's bat.
From the start, it was an odd fit. Yankee Stadium was ill-suited to a right-handed power hitter, and even though the Yanks claimed Clark's arrival had nothing to do with it, the team moved in the left field fences in 1988. Those dimensions, whether thanks to Jack Clark or not, are still with us today at the new Yankee Stadium. Still, he struggled in the Bronx. Clark hit .242/.381/.433 with 27 home runs in 150 games and struck out 141 while drawing 113 walks.
Yet, more importantly, Clark was unhappy. He didn't like being the DH, and when the Yanks ill-advisedly traded Jay Buhner for Ken Phelps, Clark didn't like getting shuffled around in the outfield. He wanted his set role, and he wanted to return to the National League. So he quietly requested a trade, and the Boss seemed happy to oblige.
After obtaining first place as late as July 27, the Yanks slipped to fifth before the season was over, and before October was out, Clark found himself en route to the Padres. The Yanks received Lance McCullers, Jimmy Jones and Stanley Jefferson from San Diego, and the three of them amounted to not much else.
After leaving New York, Clark played two years in San Diego and two in Boston before calling it quits. He posted a .396 OBP over his final four seasons and could still get on base even as his power and health diminished. He ran into financial troubles after his career ended and has bounced around organized baseball since then. His Starting Lineup figure still rests in a shoe box in a closet at my parents' place, and his time in New York, embedded in the outfield dimensions or not, still stands as a testament to a time when the Yankees had no plan.