Joba Chamberlain and the Amazing Disappearing Velocity has long been one of my least favorite Yankee mysteries from the past half a decade. We know the story well. Joba left a start in Texas in 2008, missed a month of the season and returned without his velocity. He struggled through 2009 in the rotation as rumors of a shoulder injury more serious than the Yanks were letting on persisted and pitched exclusively out of the pen in 2010 with his velocity nearing pre-injury levels. Despite rumors, we never really knew the extent and severity of the injury, the cause of the long-term impact it would have on Joba.
On Tuesday, Yanks' GM Brian Cashman seemingly spilled the beans. He mentioned Joba Chamberlain's shoulder injury during his breakfast with Mike Francesa and spoke at length about it during an afternoon appearance on the Michael Kay Show. We now have insight into Joba's struggles in 2009 and a firm reason why the Yanks want him in the bullpen.
"I don't think his stuff is the same since he hurt himself in Texas. He used to be a guy who threw the same as a starter and as a reliever. He threw the high-octane 94-99 and you saw it in the first inning as a starter as well as what out of the bullpen," he said to Kay. "But since the Texas episode, the stuff as a starter has been watered down. I think we've seen enough of a sample even though you can argue it's a small one. But in terms of the velocity and stuff like that, you have to respond to [the statement] 'Well, if this is what he is as a starter now, that's not what he was.'"
Cashman continued: "He was 89-92 vs. a guy that was 93-98. It's a radically different animal now and so the stuff plays up better in the pen. I know people say it always does, but his stuff was consistent as both a starter and a reliever. It's just not the same anymore that way."
The Yanks' GM then alit upon Joba's seemingly subpar 2010 and spoke about the way the Yanks evaluated him as a reliever. Calling Joba a "huge bounce-back candidate," Cashman expressed his faith in the pitcher Baseball America once considered the third-best prospect in all of baseball. "I think I think he's a tremendous reliever," the GM said. "He had a high batting average in balls in play, and so I think that ultimately he was more unlucky than people realize. He had some tremendous overall numbers in terms of relief stuff."
Still, as an ardent believer that Joba should have one last chance at the starting rotation, I — without the luxury of Joba's medicals — have to wonder if the Yanks are jumping the gun. Cashman spoke at length about sample sizes and even admitted that Joba's sample was arguably a small one. What if it took him a long time to recover from the shoulder injury? What if he's still building strength up to correct the damage? And why didn't the Yankees shut him down permanently in 2008 when they knew his shoulder was hurt and their playoff chances were slim?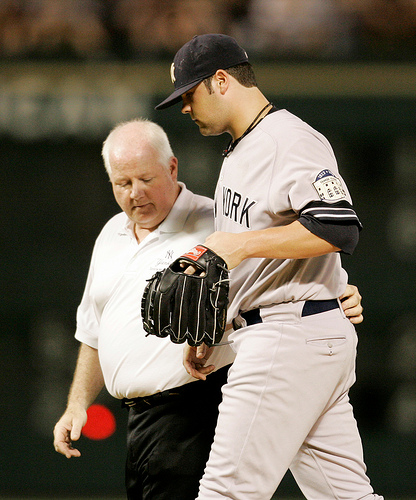 As Cashman's comments reverberated throughout the baseball world today, a few commentators took on his assertions. In an extensive post on Pinstriped Bible that covers familiar ground, Cliff Corcoran reviews Joba's injury and lays the blame on the errant throw from Ivan Rodriguez that sent Joba tumbling to the ground. Corcoran quotes himself and so will I:
. . . Chamberlain saw the home plate ump rule the ball foul and came forward off the mound pointing to both Kinsler and the umpire. Ivan Rodriguez didn't hear him, and Rodriguez's throw to second base came directly at Chamberlain's head. In ducking that throw, Chamberlain lept backwards off his feet and landed on his rump before tumbling over in a backwards somersault. Before Chamberlain's body hit the ground, however, his right arm reached back and attempted to brace his fall.

Chamberlain denied that the fall had anything to do with his injury. [Note: I suspect Chamberlain was simply protecting Rodriguez here. The moment he took that spill, I was worried about an arm injury.]

"I just got stiff," Joba said at his locker after the game. "It was a little tight in the fourth, and I came back out in the fifth and, it's not necessarily even in my shoulder. It's kinda in my deltoid below my shoulder, so my strength was fine and my velocity was fine, I just kind of got a stiff arm."

[snip]

Said Chamberlain, "It doesn't hurt in the wrong places to really, hopefully, be concerned, so I'm just gonna go and get everything taken care of . . . just so they can rule out everything and make sure everything's alright. This is just getting stiff a lot in a short amount of time. It's a little stiff, but other than that's why we go back and just rule everything out." Joba said he'd never had this sensation in his arm before, but when informed that Girardi intended to have him skip his next start, he said he'd, "hopefully just miss one if that's the case"

Of greater concern is the Chamberlain quote that appeared on Peter Abraham's blog last night in which Chamberlain said, "It was something where it grabbed and popped and got stiff." "Grabbed" and "stiff" I can deal with, but "popped" makes me panic.
That one start Joba hoped to miss turned into a month, and when he returned, he was used only as a reliever in low-pressure situations. His velocity was clearly off, and it didn't rebound until he moved to the bullpen in 2010. Cause and effect or just the effect of time heeling all wounds?
While Corcoran and I may be tilting at windmills in our efforts to blame Pudge for the decline and fall of Joba, we saw that game unfold and that disaster happen in August of 2008. It didn't look good, but not everyone agrees. Rob Neyer wonders if Joba is just another pitcher who can't stand the physical pressures of throwing 100 pitches every five days. It's certainly another reasonable explanation, but it makes you wonder why the Yanks were so eager to have Joba make his return before 2008 ran out.
Ultimately, Joba is still a wanted man. "Some teams have obvious reached out to us about him in a steal attempt," said Cashman. These clubs are "not necessarily giving up what I feel is fair value." But just what is fair value? Is Joba a future set-up man doomed to bounce around the league and never living up to his potential? Is he Mariano's heir apparent who is being groomed through tough love? Can the Yanks even get what they consider full value out of Joba is the whole world knows about a mysterious shoulder injury?
I think Cliff Corcoran said it best: "I'd still rather take my chances on a 25-year-old who has a 7.6 K/9, a low-to-mid-90s fastball, some bad luck on balls in play, and is another year removed from that supposedly career-altering injury than on the likes of Sergio Mitre or the slop throwing free agent alternatives, and I'd still be loathe to trade any significant prospects for a rotation solution without at least giving that 25-year-old a look first. Still, it's nice to have a somewhat more substantial answer to why the Yankees won't use Chamberlain that way, even if Cashman's admission has likely diminished Chamberlain's trade value in turn."