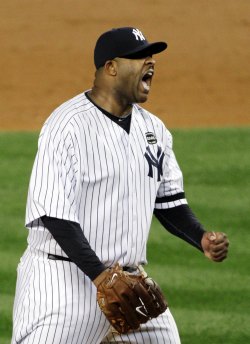 The first day of camp often functions as a frequently asked questions session. In years past we've heard reporters ask about the relationship between Derek Jeter and Alex Rodriguez and other similarly banal issues. This year they wasted no time in finding CC Sabathia and asking him about the clause in his contract that allows him to opt out after this season.
This topic gained some prominence earlier this winter, while the Yankees were still in pursuit of Cliff Lee. At first Sabathia kept his statements ambiguous, saying that he's "not going anywhere." During a TV appearance at Madison Square Garden CC was a bit more concrete in his language. Interviewer Jill Marting opened by asking him why he decided not to opt out of his contract. CC accepted the premise of the question, saying that, "that was an easy decision." Case closed, right? Of course not. It won't be closed until after the season ends. That means the question remains open, and that reporters will question Sabathia about it.
This morning Sabathia held court. When asked about the opt out, he again walked the tightrope. According to Joel Sherman, Sabathia said that he wouldn't exercise the opt-out, without actually saying the words. This is exactly what we've heard from him in the past. "I'm here," he said repeatedly. But we know that: Reporters made it clear this morning when they noted the weight he lost this winter, around 25 pounds. What we're all wondering is whether he'll be here next year, and the year after. That question remained unanswered, and by Sabathia's indications it will remain unanswered. He won't speak about the issue for the rest of the season.
Yet he did speak to the New York Post after his press session. In that interview he came across as a many willing to explore his options. "Anything is possible," he said. Later he said that he's "not thinking about anything beyond Opening Day." Those don't sound like the words of a man committed to remaining in New York under the current terms of his contract. That isn't to say that he's going to leave or even that he's going to opt out. It does mean that he's going to wait on that decision and make it based on what's best for him at the time.
There are indications that Sabathia will stick around beyond this season. He has established his family here, buying a house and making it his year-round residence. His kids go to school here, and apparently he has asked about high schools for his son, who is currently seven years old. But he could exercise his considerable leverage in order to work out a new deal with the Yankees after this season. Conceivably, he could go as high as Cliff Lee's current contract. Sabahtia has a longer track record of success than Lee, and he'll be a year younger than Lee when the latter reached free agency. After all, Sabathia did say that he wanted to pitch another eight to ten years.
I have confidence that Sabathia will remain a Yankee for the forseeable future. I can even see him retiring in pinstripes. But I do not think that he will play the 2012 through 2015 seasons under the original terms of his contract. The Yankees need him, and they have the resources to pay him. Thankfully, as with most hot stove issues, we can put this behind us until November. He won't talk about it, so we can forget about it for the time being and enjoy his performances every five days. It's just another sign that baseball is that much closer.